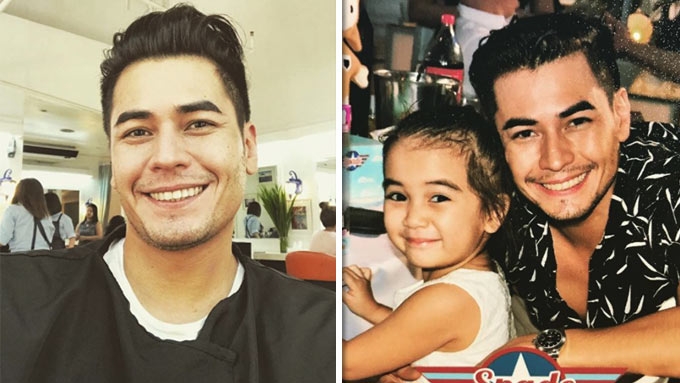 IMAGE fabioideofficial / Instagram
---
Fabio Ide totally loves being a dad.
At the opening of his latest food venture, Nomi Matcha, at the W City Center in Bonifacio Global City, last April, he told PEP.ph (Philippine Entertainment Portal) how fatherhood changed him.
"Before, when you're single and you're not father, you just kind of don't care a little bit, you just do your own thing.
"But it's just amazing how a kid can really change your life for the better.
"How I'm more focused now, how I'm really striving and doing my best to succeed.
"I'm just hungry to succeed, that's why I don't put myself in something I don't believe."
BEING A CO-PARENT. His introduction to fatherhood was unconventional.
In 2014, he posted this "official announcement" on Instagram:
"I'm truly a blessed man to have this beautiful baby girl by my side. 14 months ago (2 months before I met my present girlfriend), I had a casual encounter with Denisse Oca, and I later found out I got her pregnant..."
He chose to "accept " the baby and "support her no matter what."
Denisse is Melissa Mendez's daughter.
Looking back, the Brazilian-Japanese entrepreneur said what happened was hard in the beginning.
He continued, "It wasn't really the way how I planned it…
"But it's nice, you know, because even if Denisse and I are not together, we work as a team for our daughter.
"Her mom and I are friends, even if we're not together.
ADVERTISEMENT - CONTINUE READING BELOW
"We're trying to give her the best we can in terms of education, love, affection…
"You know there's someone out there who needs you, needs your time, your love...
"And it makes you work because you need to bring her to school and all of this!
"It's not easy, you know, everything related to kid is expensive. It's not a joke!
"So, you know, I'm a single dad, but I'm trying my best to give her everything I can."
FAMILY DREAMS. Fabio shared what he has enjoyed most about being a father.
"I can teach her what my parents taught me in terms of values, education.
"That was my dream before, especially about having a family.
"I just want to have what my parents had. I want [my kids] to grow in the kind of environment that I grew up in.
"I wanna be able to pass that to my daughter…"
Fabio said providing her daughter with a safe, caring, and positive environment is paramount to her development as a good person.
"If you didn't grow up in a good ambience or a good environment, you cannot teach something to someone that you haven't experienced because you don't know it, e!
"I'm not perfect, okay? I'm far from perfect, but I know what's right and what's wrong.
"I want her to know that, despite not being perfect.
"We're trying our best to be the best for her and her future."
ADVERTISEMENT - CONTINUE READING BELOW