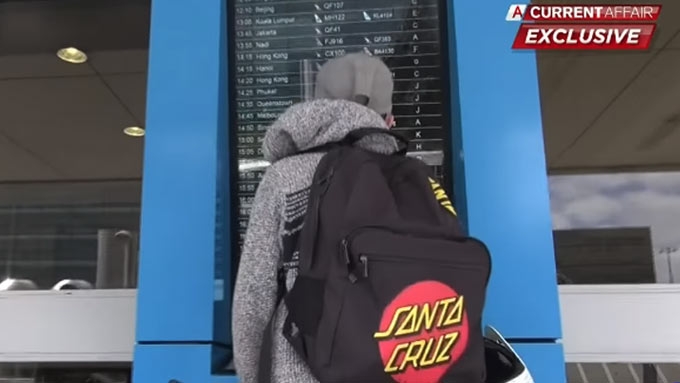 IMAGE Screencap / ACurrentAffair9 / Twitter
---
We've heard the story before: a parent and a child get into a heated argument, and then the child reacts by running away from home.
Panic and worry ensue from the parents' side as they figure out where their child might possibly be.
But the commotion somehow simmers down when they find their kid staying over at a relative or a friend's house.
Of course, that's the common narrative, but you haven't heard of 12-year-old Drew's story yet.
For the past few days, the young Drew has made headlines around Australia and across the web for his epic act of defiance.
Not only did this 12-year-old decide to run away from home after a fight with his mom Emma, but Drew "borrowed" the family credit card, booked a flight to Bali, Indonesia, and checked himself in to a five-star hotel for four days!
It was a parent's worst nightmare!
Drew specifically chose Bali because he and his family had been there before, but how exactly was a child allowed to book a flight and ride an airplane all on his own?
Well, in Australia, it could be possible for children to travel and ride a plane alone.
According to an official government site called smartraveller.gov.au, "Children travelling alone, with a guardian or with one or both parents are able to depart Australia just with their passport and the appropriate visa for their destination.
"No additional documentation is required."
The only possible regulation that could prevent a child from traveling unaccompanied was an airline's own regulation.
Most airlines often have their own rules and regulations regarding unaccompanied children boarding their planes, and this did prevent Drew from purchasing a ticket for a brief time.
Before he was able to acquire an actual plane ticket, Drew attempted to book a plane ticket online twice.
ADVERTISEMENT - CONTINUE READING BELOW
The boy first tried his luck with Qantas Airways, Australia's carrier airline, and Garuda Indonesia, the country's national airline.
Thankfully, both airlines required Drew to present a written permission from his parents before confirming the booking.
But the boy then stumbled across Jetstar, an Australian low-cost airline, and it was where he got his ticket.
In an exclusive interview with Australia's local news channel program, A Current Affair, Drew revealed that he skipped the check-in booth and checked in his flight through a self-service machine to avoid any pesky questions.
At his stopover in Perth airport, officials only asked him for his student ID.
After that, Drew was off to Bali.
FOUR-DAY BALI VACATION. Upon arriving in Bali, Drew's last possible hurdle was the Immigration officer.
There was no possible way to shortcut the process, so Drew had no choice but to answer questions.
Of course, the Immigration officer asked, "Are you with anyone?"
Drew cleverly replied, "No. My mom's waiting outside because she lives in Bali, and I'm going to meet her outside."
The officer asked nothing else and stamped his passport.
Drew was officially on his own in Bali.
He made his way to the All Seasons Resort Legian, where his family had previously stayed.
Again, the boy managed to convince the receptionist that he had family with him and managed to book himself a room.
According to his interview, Drew spent four days in Bali.
He passed time between his hotel room and the nearby beach, renting a motorbike to commute around and enjoying a bottle of beer at one point in his trip.
He ignored all the frantic calls and text messages on his phone; but thanks to a social media post, the Australian Federal Police was able to track down his whereabouts and report it to his parents.
ADVERTISEMENT - CONTINUE READING BELOW
Drew's mom Emma revealed she "collapsed" when her suspicions about her son were confirmed.
She said in the interview, "The worst words of my life. They confirmed that he left Australian waters four days previous…"
Upon hearing the news that Drew was under police custody for his protection, Emma and her former partner were given 24 hours to get him.
As quickly as possible, the two parents booked themselves a flight to Bali.
Their reunion was emotional.
Emma said, "We just wanted to know, 'Why? How? Why did this happen? Why did you want to go to Indonesia when we go there every year anyhow?'
"Yeah, there was a lot of emotion there."
She then called out on the system loopholes that made her son's trip possible.
"We're still in shock… They never done their job. If they done their job, this wouldn't have happened."
According to a report by Agence France-Presse (AFP), Jetstar airlines had already modified their policies regarding minors traveling alone.