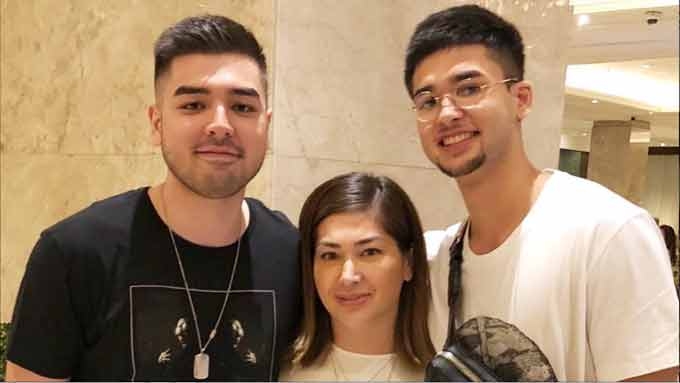 IMAGE @jackie_forster on Instagram
---
Jackie Forster considers her reconciliation with sons Andre and Kobe Paras, her children with ex-husband Benjie Paras, as the beginning of a new chapter in her life.
They are separated by distance—Jackie is based in London;her sons Andre and Kobe, in Manila.
"Right now, with our situation, I can only just continue to talk with them on a daily basis while I'm here," she told PEP.ph (Philippine Entertainment Portal) in an exclusive interview via phone.
"I want to try to spend as much time with them as possible.
"They know they can talk to me about anything. 'If kaya ko, gagawin ko. If hindi ko kaya, I will be honest with you.'
"But once mom says, 'I will try my best,' I think Kobe knows that I will really try my best 'coz he's seen it, and that's how I've always been.
"And I'm just gonna really show them what I've been wanting to do for them and how I've been wanting to be with them for the past few years.
"I think actions speak louder than words, that's why when Kobe asked me when can I come, I will be there next week."
She was referring to her reunion with Kobe in Los Angeles in January 2018.
"DON'T GIVE UP." To parents who are estranged from their kids, Jackie said, "Don't ever give up on your children."
In her case, the stress is greater "because we're celebrities, we are in the public eye."
She said, "It was different because you're more exposed to criticism and to a bigger audience."
The mother of six continued, "But I'm gonna tell you now, none of my efforts were in vain.
"No matter how irritating it was for people to hear me talk about my children again and again...
ADVERTISEMENT - CONTINUE READING BELOW
"To reach out to them in any way I could. None of them was in vain.
"So for people in the same situation, I feel, like, whatever avenue you have to reach out to your children, you need to take that.
"Because any message that you can send to them, to let them know that you're there, you love them, and you care is gonna be a message that won't go unnoticed.
"You have to exhaust all your means with all efforts, and I think that's what it is when they say it's unconditional.
"Kids just need to know that they are loved, that's what important to them, that you care whether or not that you're being portrayed on that light, you have to let go and let God deal with that part of it.
"But for you, kung ano ang kaya mong gawin as the other parent, I think as positive as you can make it, just keep pushing through."
Again, she stressed, "Don't give up, and you have to pray and believe that one day, it's gonna come true."