A lot of parents want to raise their children to be fearless so that they can follow their dreams.
But if the tables were turned, will they be able to pursue their advice? Mom Cathy Cantada-Dizon, 39, can say yes.
You see, Cathy has been juggling four different jobs, and none of them requires her to sit behind an office desk.
"I would always think about getting a corporate job before because it felt more stable and you have a set schedule," she tells SmartParenting.com.ph in an email interview.
"But I really wasn't built for that. I don't think I would excel in an office job."
Instead, Cathy is a freelance makeup artist, a yoga and spinning instructor, and an entrepreneur running a small fragrance business.
Why so many hats, you ask?
The mom of one says it's because of her personality.
While other people crave for routine, Cathy loves having different schedules every day.
"In conversations, I naturally jump from one topic to another. It also applies to my work," she explains. "Today, I'm your yoga teacher, tomorrow, I will be [part of] your glam team," she explains.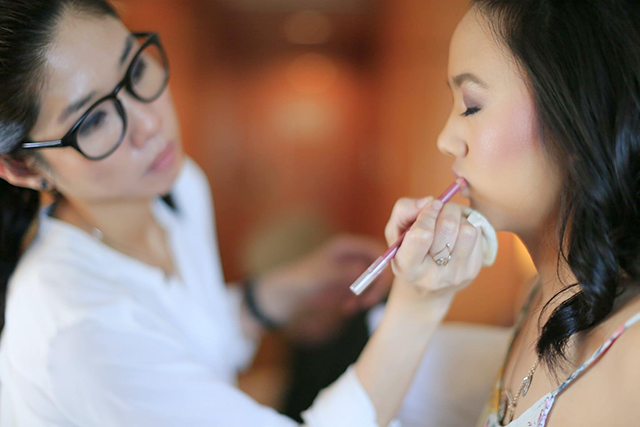 It was 2004 when Cathy landed gigs in the Philippines as a freelance makeup artist after attending Glauca Rossi School of Makeup for Fashion and Photography in London.
"It's my first love and my main job at present," she said.
She became a favorite of the print magazine and newspaper editors for their beauty and fashion editorials and even cover stories because she was easy to work with.
She was also doing makeup for commercials, weddings, and fashion shows, aside from collaborations with various international makeup brands.

Two years after the birth of her son Damien in 2008, Cathy, while still working as a makeup artist, decided to open a nail and waxing salon with her best friend, Isabel de Dios.
And then in 2013, they put up a fragrance business called Sparrow. They closed the nail salon in 2014, but Sparrow remained.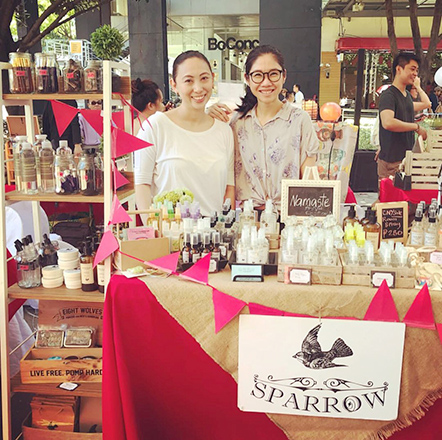 "When we closed our nail salon, we didn't let go of this passion. We enjoyed creating foot scrubs and sprays for our nail salon," she explains, adding they also started to make scents for the body and the home.
Sparrow products used to be available in bazaars, but Cathy and Isabel launched an online store in 2017. They've also consigned their products in Common Thread in Makati.

At this point, Cathy, a Marketing Management graduate from De La Salle University, was now doing two jobs; no, make that three since she also develops Sparrow products aside from helping manage the business. The stress levels of being your own boss can take its toll.
"The biggest challenge was really 'starting out' itself. You stumble and fail the first few times in any new job. But then you realize that these failures need to happen to improve yourself," she says.
If anything, her jobs enable her to become the best version of herself.
"I've reached a point in my life where I can accept my weaknesses and not be ashamed.
"Before I'd probably cry, sulk, and beat myself up for my mistakes, but I'm more accepting of myself now.
"It's all part of the journey and becoming a better teacher, instructor, makeup artist, and entrepreneur."
Cathy also has a secret stress-reliever, as we like to believe. She tried yoga for the first time after she gave birth to lose the pregnancy weight.
She fell in love with it, so much so that in 2016, she took the Vinyasa Yoga Teacher Training program at Yoga+, a local yoga studio, to become a certified instructor.
"It was the best decision I've ever made."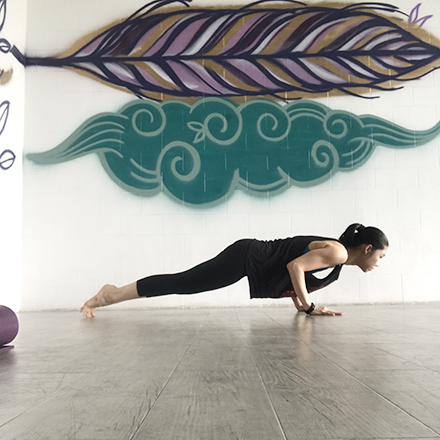 And, as if that wasn't enough, she became a spinning instructor last year.
Why? "I tried out indoor cycling to pass the time," she remarked to our surprise like she still had a lot of time with her workload. "Like yoga, I fell in love with it. I teach about three to four times a week."
How does Cathy make having different jobs look effortless?
"Every week, I kind of look at my planner and like a jigsaw puzzle, I allot time for each of my jobs. I set aside time for yoga, indoor cycling, and Sparrow.
"My makeup jobs are booked during the weekends for weddings and events, but if I'm free I sometimes add more classes or join bazaars and pop up events for Sparrow," she explains.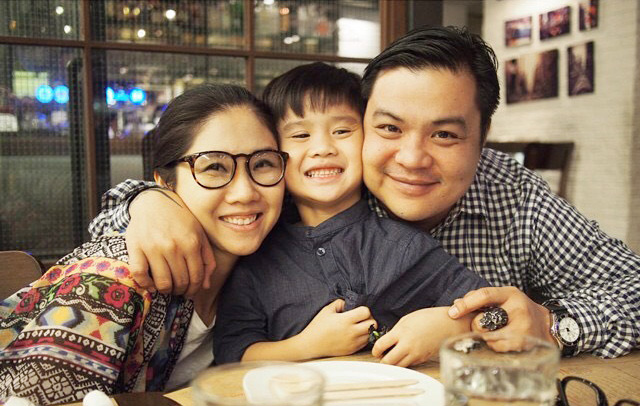 Cathy isn't worried about missing any of her son's important milestones or spending quality time with husband, Dante.
The biggest perk of having a business: you're in charge of setting aside time for what is essential.
"If it's a priority, you will always make time," she explains.

"The best gift you can give to your family is time. Life is too short. All that you worked hard for, all the jobs that you keep, and all of this that you do is for your family."
Of course, Cathy acknowledges that there are unavoidable circumstances that force you to weigh priorities.
A freelancer's life means 'no work, no pay' after all.
"I always ask myself, 'Is it beneficial for the family if we accept this job or not?" she says. If it is, she can count on her husband's support.
"Parenting is all about teamwork. You need each other."

The multitasking momma also emphasizes the most critical part of learning time management: how to make time for one's self.
She wanted to take care of herself first by pursuing passions that made her happy.
"It gives you endorphins, but it also inspires you to do your best in all the other things you do," she says.
Whether it's meditation, having a coffee break or movie, having time for yourself is important to clear your mind and reset.
"It will keep you sane!"
This story originally appeared on SmartParenting.com.ph.
* Minor edits have been made by the PEP.ph editors.