Remember Jane Zaleta from Ang TV?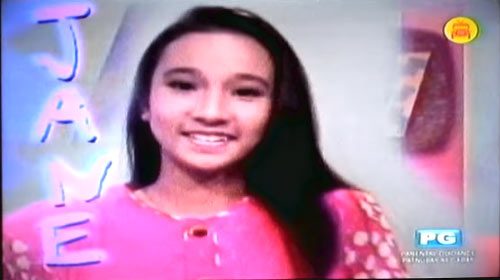 It's been a long time since we last saw the Ang TV alumna on screen.
Her last appearance was in 2001 when she played a guest role in the youth-oriented show, F.L.A.M.E.S.
Afterwards, Jane completely stepped away from showbiz to focus on her family.
The former actress told PEP.ph (Philippine Entertainment Portal) via email, "Yes, it has been 20 years since I left showbiz—exactly as long as I have been married…
"I started a family at a very young age of 18.
"Whenever we talk about it at home, my kids would say, 'My goodness, that's so young!'
"But Aris and I embraced the changes that came along with our decision.
"The very reason why I chose to live a private life."
Jane is still happily married to former PBA basketball player, Aris Dimaunahan.
They have two beautiful daughters: Christiana (center, left) and Chanel (center, right).
TRIALS AND TRIUMPHS. Jane described her transition to motherhood as an overnight event.
"Instinct!" she remarked. "Motherhood has completely changed me as a person—360 degrees in a very positive and matured way.
"I always say this and will never fail to tell my children that they are the best thing that's ever happened to me.
"I am at my proudest being called MOM."
But Jane's journey to motherhood actually began with a tragedy.
She recalled, "Not everyone knows that our eldest is Aristeirre Jared.
"We were supposed to have three children, but we lost him to a congenital problem called diaphragmatic hernia only four days after birth.
"That was one of the most difficult thing any parent could ever endure—burying your own child."
The former actress could still remember her dread the moment she heard the telephone ring, knowing it came from the hospital's Neonatal Intensive Care Unit.
"I drew my strength from my mama, my papa, my husband, my brothers who never failed to make me feel that there's still a reason to live—them."
A year after their son's passing, Jane and Aris were blessed with another chance to become parents.
They had Christiana.
"We thought she couldn't make it too, because she was [born prematurely] at 33 weeks.
"But even when she's as tiny as a pea in my tummy, I know she's gonna be tough.
"We got discharged from the hospital together two days after delivery without any complications or tubes attached to my baby."
Four years later, they welcomed their second daughter Chanel or "buchokoy," Jane's pet name for her.
CLOSE KNIT. Jane has found two best friends in her daughters, Christiana, 18, and Chanel, 14.
"Parang kaming barkada with respect," she said.
"I super enjoy our trips to salon, the kaartehan, coffee-milk tea dates, movie dates.
"Simple stroll around the mall, grocery shopping, working out together… I am so in love with my relationship with them.
"I love it every time they would ask us to take them out or with anything they want.
"It makes me feel so needed, loved, and appreciated by my children.
"Kinikilig ako that they would rather be with mom or dad than with barkada!"
Jane also loves that they share the same interests.
"Life is a lot more fun having two teenagers who dress like you, have very similar taste in everything you do—from reading to exercising—we share the same passion in sports.
"We all have this competitive spirit in us, we share the same taste in music, too.
"Ate Christiana and I eat almost anything.
"Although Buchokoy is very picky, we still enjoy eating, especially that of Daddy's cooking!"
Jane specifically loved the feeling that her daughters genuinely enjoyed their parents' company, "Believe it or not, I still prepare their outfit—and I like it like that!
"I like it that they need me, I like it that they still ask my approval for everything.
"I love the way we are so much!!!
"Not to mention their undeniable resemblance with me!
"So, it's much more fun dressing alike every time we go out.
"Seeing the confused reaction of people when they start yelling, 'Mooooom!!!' in the mall particularly make the experience of motherhood more exciting!"
HER PRIDE AND JOY. The proud mom likes talking about her children and their achievements.
"They both participate in school activities where they showcase their talent, not just acting, singing, dancing, but also in poem writing, impromptu speech, quiz bees, too.
"All these while they train for the school's basketball and volleyball team."
They've been consistent honor students, too, "since pre-school," the mom exclaimed.
She continued, "Ate Christiana is graduating from senior high school with high honors.
"Chanel has been consistently in the principal's list (high honors in the entire batch) and regent's list-conduct award."
Her children's achievements are her priceless rewards.
"It makes us happier parents…
"Both our daughters have academic ambitions, and our dream is for all of their dreams to come true.
"They can be whatever they want to be.
"Their dad and I will always be here to support them all the way as long as there's balance, and priorities are set and followed."
Christiana, their eldest, dreams of becoming a CPA-lawyer, and she's halfway there as she's about to study Accountancy at University of Santo Tomas.
Meanwhile, Chanel dreams of becoming a doctor.
Are Jane and Aris open to the idea of their daughters entering showbiz?
Jane told PEP.ph, "I think it's something we couldn't prevent from happening.
"I won't deny that it has been a topic in our family dinner.
"We allow them to do endorsement, print/social media/TV ads, photo shoots, modelling part-time actually.
"Since I used to be an actor, I must have passed on the traits to my children…"
LESSONS LEARNED. Motherhood has taught Jane to be "a stronger woman in all aspects in life."
She said, "Even if I am already on the verge of giving up, I can't and must not.
"My beautiful daughters will always remind me how beautiful life is. That there is always, always something good to look forward to.
"They have strengthened my faith in God."
Jane also learned how to "not waste time."
"Never invest your energy towards something that's temporary, and to never fail to communicate.
"And most of all, no matter how hard you fall, you can always get back up stronger than ever."
When asked about the most important values she wants to instill in her daughters, she answered respect and honesty.
"We have always taught them the value of respect—for themselves and the people around them.
"It is earned, so they have to work for it… [show that they] deserve to be respected in return.
"Whatever they do, wherever they are, they should value themselves, always do good, learn to stand up for what is just, and always try to uphold the truth. Lying is never an excuse.
"But they're not going to be right about everything. Each of us has our own set of preference and beliefs, and what is right for one may not be right for others.
"We are really hoping to bring up strong women in our kids.
"Most importantly, we teach them to pray. We can only do [so] much as parents…"
Didn't Jane ever feel like she missed a lot because she and Aris started building their family at a young age?
"I've been living a good life. I'm more than grateful, and there's really nothing to regret."