Fathers are every child's first protector, a daughter's first love, a son's first partner-in-crime.
For the young professional Anna Dela Cruz, her dad Rene is all of the above and more.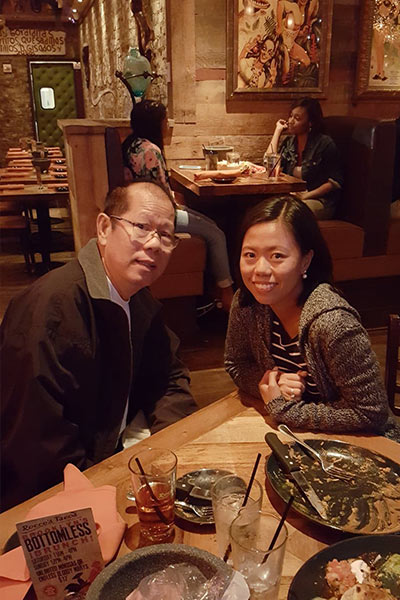 How her dad is the most important and influential person in her life, Anna counts the ways.
"Dad as a parent, as a friend, and as a professional share a common denominator—doing the right thing, no shortcuts, or you face his fury!" Anna tells PEP.ph (Philippine Entertainment Portal) through Facebook Messenger.
"He passed down to me his temperament, so don't you be wasting our time with nonsense!
"Integrity, ambition, and humility are three of the most important philosophies Dad lives by and continues to impart with me."
Rene is a long-time employee of ABS-CBN and has celebrated his 30 years with the company.
He began his career in 1986 as a personal assistant in the shows Palibhasa Lalake, Dick and Carmi, and Abangan ang Susunod na Kabanata.
He currently works as floor director in the Sunday variety show ASAP.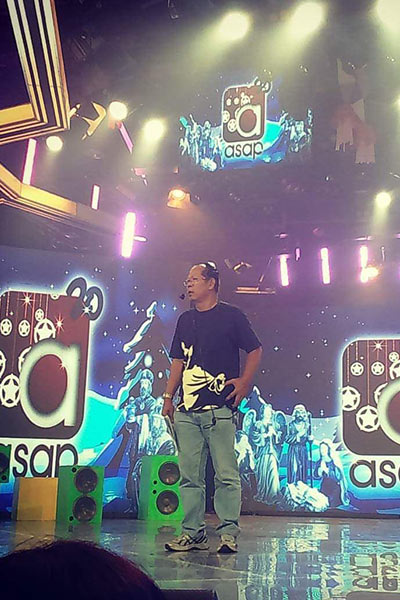 Even though work in the entertainment industry entails irregular work schedules and sleepless nights, Rene has managed to be a single dad to his unica hija, Anna.
"My dad was and still is a strict parent—which isn't surprising and is very typical of a Filipino parent," Anna recalls.
"I remember when I was a little kid in grade school and refused to go to class on one particular day.
"Dad went into my room and asked if I was ok. I told him I didn't feel like [going to school].
"He basically said that it was a lame excuse to miss out on education, but he relented and told me to rest and prepare for a new day so it won't happen again.
"I took that learning with me and now, whenever I need a little motivation, I reverse my perspective so it makes me think of the great things I'd gain if I just GO and make today happen!
"He really taught me the importance of self-discipline."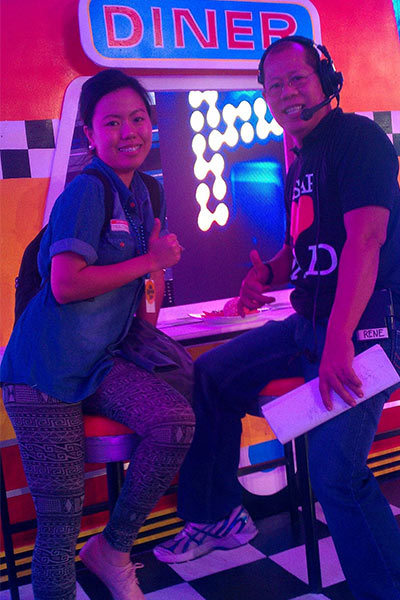 LIKE FATHER, LIKE DAUGHTER. Anna credits her dad for teaching her everything she needs to know about life, "My dad is the ultimate handyman.
"From a very young age, he's taught me plenty: from proper house maintenance, driving stick and fixing a car, financial and resource frugality, career development, having 'pakisama' with everyone, to always giving thanks for the many blessings.
"I have always admired Dad's passion, dedication, and perseverance in literally anything that he does!"
On top of that, Anna says her father has always treated her like an adult at whatever age she is.
"I love how he never really 'babied' or 'spoilt' me even though I am an only child.
"I didn't always get my way and for perfectly understandable reasons.
"Dad's always talked to me like a grown up even when I was a kid which I think, made me take in life in a mature manner.
"I also love how Dad and I are very straightforward with each other that whenever somebody overhears our conversation, they almost always say 'That sounded harsh.'
"But that's really just our dynamic. We can be blunt if need be.
"It also doesn't help that we both have [resting bitch faces]—it's part of our appeal!"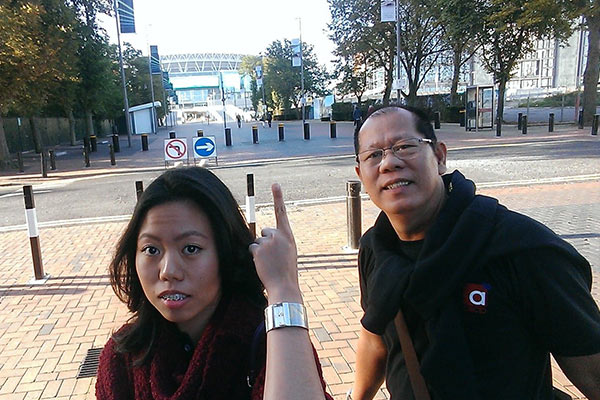 The father-daughter duo shares the same line of interests, particularly when it comes to music.
"My favorite childhood memories with Dad were when he would accompany me to singing contests at school, when he would blast out that good old 80's music at the house and we would both sing along, or when he would actually coach me on my singing techniques—which he still does!
"We both love music, and it really does play a major role in both our lives."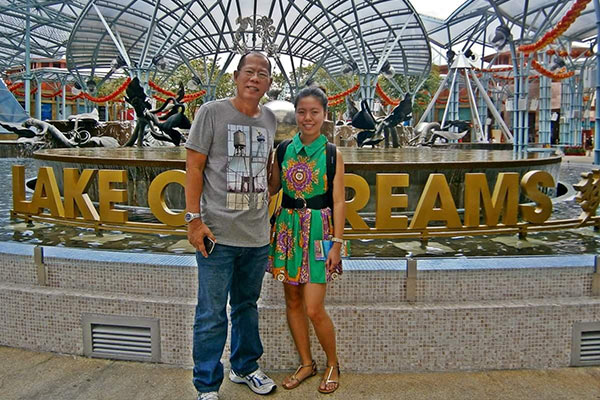 PROUD DAUGHTER. After graduating from college in 2014, Anna took the chance to pursue a new life in the U.S.
It was a difficult decision to make since it meant living oceans apart from her dad.
Anna is now based in Texas, U.S., applying all the life lessons her dad taught her throughout the years.
"[My dad] is definitely more trusting of me to call my own shots and to strategize and navigate life on my own," she tells PEP.ph, "He's still my voice of reason and, once in a while, he would remind me to slow down and think twice before dashing off with a decision, which is never a bad idea."
Even though Anna is living her own life now, she never hesitates to give her dad a call when she's not busy.
"Today, since I now live in Texas, all I have to do is give him a call and as soon as Dad and I talk, it was as if I never left!
"I miss hearing his jokes and 'pangaral' every single day when I was still living in our house in the Philippines.
"Whenever I tell him about having a bad day, he would always lighten up my mood by making a joke about it or by telling me 'it's part of the job'.
"He reminds me always that life can be cruel, but I can always have a proactive attitude and make the best of it...
"I'm blessed to have him as my dad, and he really makes me proud to be a Dela Cruz!
"Love you so much, Dad!!"