LJ Reyes had a proud mama moment last weekend.
For the first time ever, the celebrity mom had the chance to share the stage with her seven-year-old son Aki (front row, left) during the launch of Cadbury's newest chocolate creation on July 7, at the Mind Museum in Bonifacio Global City, Taguig.
Though LJ used to have her son tag along at work, this was the first time Aki went onstage and talked to an audience.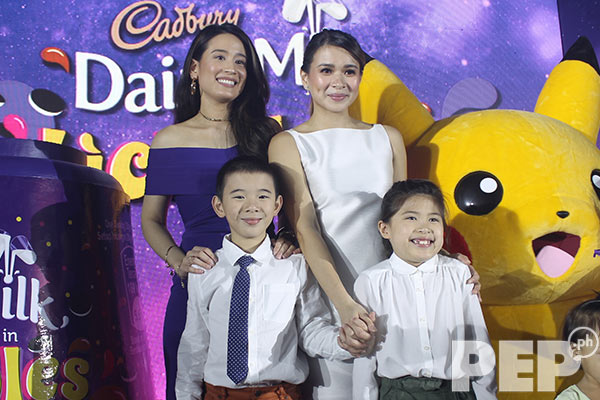 "Alam mo, it's surprisingly—sobrang nakaka-excite pala siya kasi sa totoo lang, I don't want him to get into showbiz so early," LJ told PEP.ph (Philippine Entertainment Portal) after the event.
"Pero iyong mga ganitong events, it's nice to have him also with me...
"Medyo shy pa siya konti, but he did good, he did okay.
"Nahihiya lang siya kasi he's very surprised that there are a lot of people. He's not used to it."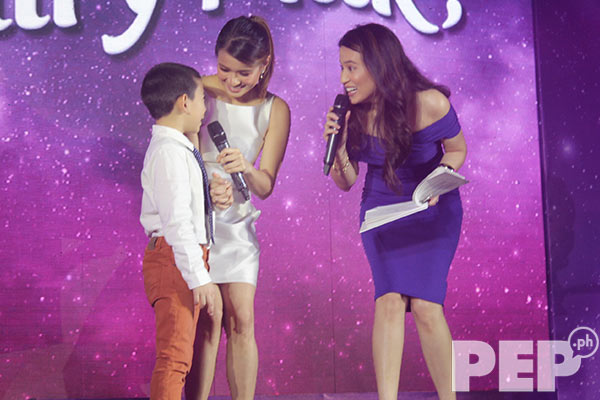 Clad in a navy blue polka-dotted necktie, long-sleeved shirt, and rust-colored jean ensemble, Aki gamely posed for photos and smiled for the camera.
Also in photo: His cousin Lexi (rightmost)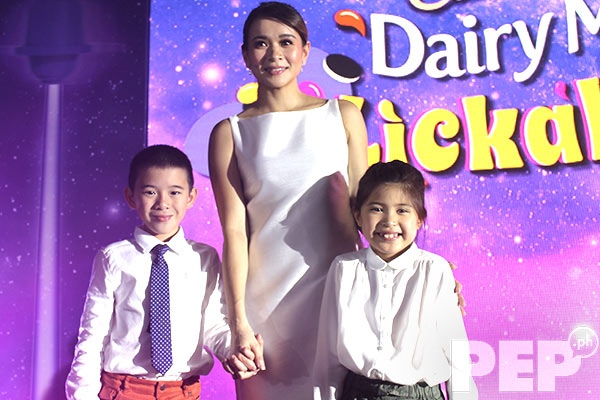 But even with these opportunities to partner up with mom for events, LJ revealed that Aki doesn't seem to show any interest in joining showbiz.
LJ continued, "I don't think so... Not yet.
"Sa ngayon, he wants to be a scientist. Sa ngayon, ah!
"I don't want to put any kind of pressure on him, but now he wants to be an athlete and a scientist. Let's see."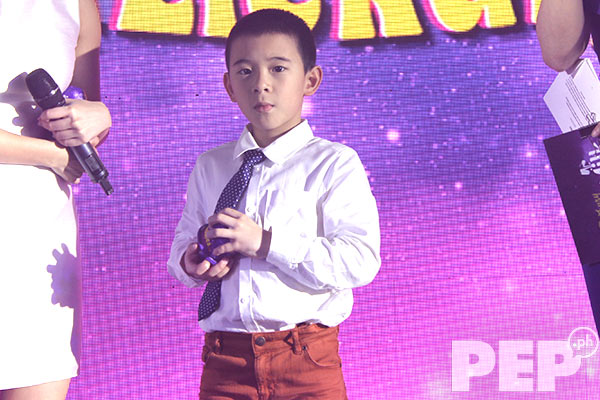 GOING TO "BIG BOY SCHOOL." With showbiz not yet among Aki's interests, LJ chose to direct her focus on helping her son with his studies.
So far, Aki's experience in grade school has been a learning process for the single mom.
LJ said, "Actually, ever since he got into big school, it's really different. Parang ikaw iyong nag-aral all over again.
"Kasi, especially nowadays, iyong mga school they want parang active parents kasi they encourage the parents to be involved.
"So may mga homework ngayon na involved talaga iyong parents, and I'm really happy about it kasi gusto ko rin naman."
LJ loves being present for her son's milestones that it greatly affected her when she couldn't be with her son on his first day of school.
"Oh my god, umiyak ako!
"Last year, it so happened na super busy ako—kahit nung itong school year when it started, super busy ako 'tapos lagi akong umiiyak kapag hindi ko siya nahahatid.
"Especially the first week, ganyan.
"And then, actually every year, parang laging I'm nervous, especially since every year it's another stage for him.
"'Tapos, siyempre, kailangan laging meron siya ma-reach na maturity level, ganyan."
KEEPING AKI MOTIVATED FOR SCHOOL. LJ described her son as an active boy.
As seen on LJ's Instagram account, Aki is particularly passionate about basketball.
With that kind of energy in him, LJ always makes sure to give Aki time to play.
This way, she also gets to teach Aki the value of time management.
The Kapuso celebrity mom said, "He likes moving around, so I give him time to move around.
"Then I tell him na, 'Oh, when it's time for eating, time to eat. There's time to play, there's time to do your homework, there's time for school.'
"Everything has a time for itself.
"So laging kong ini-instill sa kanya iyon. Sana mag-stick na. Hopefully mag-stick na!
"You just really have to be patient with kids kasi siyempre, ang gusto talaga nila is to play, di ba?"
DEALING WITH "THE BULLIES." With Aki's world expanding in school, how does LJ help her son prepare for the so-called "bullies," who come in different shapes and forms.
She said, "Well, I don't want to say that there are bully kids. I just wanna say that all kids are different, di ba?
"I always remind Aki that all people are different. Lahat tayo, we are raised differently.
"We have different attitudes, personalities, characters, so he has to learn how to deal with each kind of person.
"Every person he encounters every day, he needs to interact with them without, parang, creating tension, ganyan.
"It's very difficult for kids, actually, kasi iyong comprehension nila, siyempre, it's very shallow pa.
"But you have to be patient with them in explaining to them."
With these complicated situations, LJ appreciates that Aki never hesitates asking the question, "Why?"
Though LJ sometimes struggles in finding simple ways to explain complex things, the single mom sees this as a sign of Aki's maturity as a kid.
She said, "The good thing with Aki is hindi siya iyong basta lang makikinig na basta lang magpa-follow.
"He wants to understand it.
"For me, it's better that he comprehends the situation kaysa na sunod lang nang sunod.
"Laging may 'why.' 'Why mommy?' I like it better like that kaysa sunod lang siya nang sunod, and then he doesn't understand.
"Or yes lang siya nang yes or no lang siya nang no, and then he doesn't even want to try to understand it.
"Curious child ibig sabihin!"
Aki is turning eight years old this month.