Paula Peralejo is proud to be a stay-at-home mom.
The former teen actress has turned her social media feeds into a mommy diary of sorts, chronicling the "smooth rides, tumbles, and turns of this crazy and exciting journey called Motherhood."
Recently, on her Facebook feed, she saw this installation art, which represents the invisible workload of a full-time mother. The former teen actress felt a strong connection.
The art featured a woman and a baby, and depicted the daily work that mothers do every day.
On Instagram, Paula wrote, "Such a powerful representation of the weight a mom carries!
"To all stay-at-home mommas (or papas)…
"Many take pride in being 'working moms,' when in fact, ALL moms are working moms.
"Unless you have a nanny and a helper and a wet nurse who [do] ALL the work for you, girl, you ARE a working mom!

"No salary, 24/7 work, and doing things you never would have done pre-baby (like cleaning someone else's poop), please know there are many people who appreciate what you do—and yes, we know this is also important work."
Paula's Instagram post resonated with her fellow Instagram moms who shared some of their personal realizations, experiences, and struggles.
One stay-at-home mom was "happy" to choose such a life despite having a law degree.
Her comment read: "People still [do] not understand my choice, but hey, I'm happy with what I do more than what my degree can offer to do."

Another mom said, "I am working... and I am a Mom. But I only get 1 paycheck and lots of hugs and kisses! Couldn't ask for more [red heart]
"I have nothing against stay at home moms. Actually, I super admire them for their dedication and selflessness."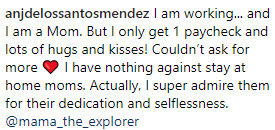 One fellow work-from-home mom got teary-eyed upon reading Paula's post.
She shared, "I'm a stay at home mom and at the same [time] work from home… no nanny ever since… it was only me, my daughter and my partner.
"And I understand all the heavy workload upon our shoulder and yet we (moms) still able to provide everything that our family needs.
"Cheers to all mommas!"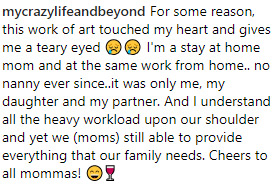 Another follower affirmed the true hardships of a mother.
The comment read: "Someone told me how lucky I am to not do anything. I didn't say anything back because I felt really really sad [pensive emoji]
"The maternal loads are incredibly hard no one ever tells you about it. But regardless I'm happy and proud to have chosen this path…"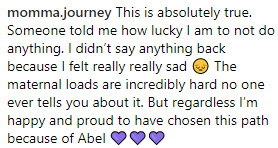 Believe it or not, some stay-at-home moms experienced discrimination, too.
One comment read: "I was once refused to be hired by a male boss when I tried to go back to the corporate world after being a [stay-at-home mom] for more than a year.
"His words were, 'I mean you have to understand, what value can you give to my team given that you just stayed at home for more than a year washing bottles and making milk?'
"All these happened while I was struggling to get back on the horse, doubting myself if I can ever get my career back, and worrying about leaving my baby with a yaya.
"I got the same job I was applying for in a different company."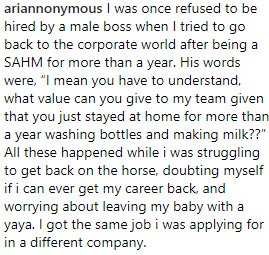 It is a thankless job, but its perks are priceless.
The feeling was perfectly expressed by one stay-at-home mom, "I found my calling as a teacher in my late 20's. I had my first baby at 35.
"Back when I was pregnant, I couldn't imagine giving up a job that I loved so dearly—until I delivered my baby and saw her for the very first time.
"Fourteen months on, I feel incredibly blessed to be able to watch her grow and develop every day.
"I am proud to be a stay-at-home Mom and I choose to embrace everything that motherhood entails—the good, the bad, the ugly and the crazy.
"My heart is full [red heart]"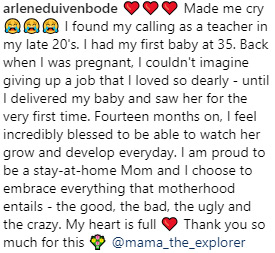 Cheers to all the mamas out there!