A generation of Filipinos grew up knowing Bea Lucero as a sports champion.
She was the young gymnast who brought home five medals from the 1987 Southeast Asian Games.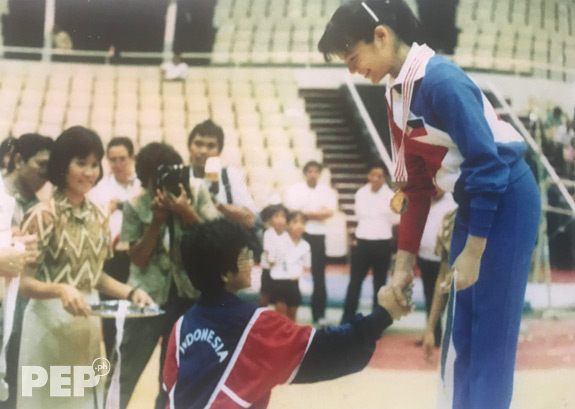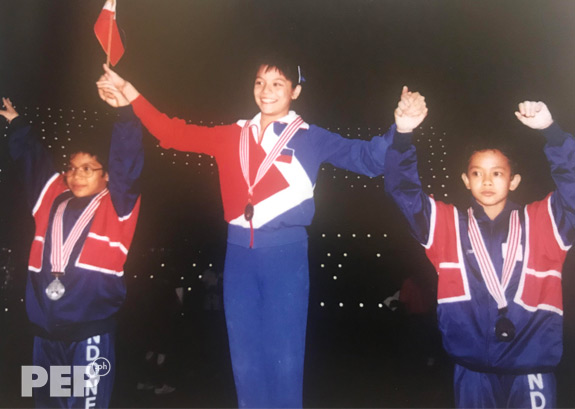 She was also a bronze medalist in taekwondo (as a demonstration sport) at the 1992 Barcelona Olympics.
Now a wife and a mom to four children, sports still figures prominently in her family life.
At 45 years old, Bea Lucero-Lhuillier looked like a mom-on-a-mission during her exclusive interview with PEP.ph (Philippine Entertainment Portal) on September 21, in Taguig City.
Her hair in a fuss-free low ponytail, Bea was dressed down in jeans and a black and yellow T-shirt emblazoned with the logo of her kids' school.
She had just come from the school's Spirit Day, and was there from 7:30 in the morning until early afternoon.
With a firm handshake and her signature smile captured in several Milo commercials, Bea let us in on her life after being an athlete in the spotlight.
Her life these days usually revolves around the schedule of her kids Stephan, 18, Sebastien, 15, Dominique, 11, and Julien, 9.
"My day typically starts at about 5:45 when I get the kids up and off to school," she told PEP.ph.
"And then I do some of my errands, I work out maybe three times a week, and then I just, I mean I do few things at home before the kids start coming home."
She continued, "It depends, actually there's no day that's ever the same, especially because I have things that I have to take care of that is not always consistent.
"So I don't go to the office full time, but I do have a few things that I need to take care of so between all of that, I have four children, my days are pretty much full."
RAISING SPORTY KIDS
Having grown up an athlete, it was inevitable for Bea to make sports a part of her children's lives.
Stephan and Sebastien both play tennis, Julien is into golf, and unica hija Dominique dances ballet and tap.
Meanwhile, Bea's husband Jean Henri is a sportsman himself. The honorary consul to San Marino loves softball, and has also played basketball, tennis, and golf.
Although doing sports is a non-negotiable for her kids, Bea said she gives them the freedom to choose how much time they would invest in it.
She explained, "To what degree is very negotiable. I mean it's not even a negotiation, it depends on what they want… what sport they want and how many times a week, and at what level. So it's really up to them. But I really encourage sports."
The lovely Olympian noticed that the boys are more engaged in their chosen sport.
"My daughter dances once in a while… ballet or jazz. But very social, like once a week or twice a week. And then she plays tennis maybe twice a week."
Even though she went on to become an accomplished athlete, Bea did sports as an extra-curricular activity, that's why she has the same approach when it comes to her kids.
Studies remain the kids' priority.
Bea recalled, "I was a student and had sports in the afternoon, and then I just got better, and then I became an athlete. But professionally, I never really became a professional athlete. I always did it after school.
"Education is more important than sports. Sports helps develop their character, but they need their education first and foremost."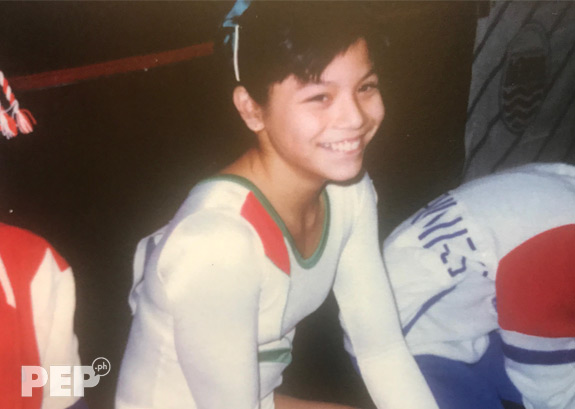 And because Bea competed for most of her athletic life, she knew firsthand the values that sports could instill in a child.
Winning or losing a competition, for instance, goes hand-in-hand with playing a sport.
She does not pressure them, she lets them enjoy it.
"Well I think that they also learn about it by playing their sport," Bea said when asked how she teaches her kids about failure.
"So it makes it easier for me to raise them because they have sports. They learn how to lose gracefully. There's no choice but to learn, especially when you start. So they learn on their own.
"I mean, my husband and I also talk about it, so hopefully that helps."
SPORTS AS A WAY TO GIVE BACK
Bea the multi-awarded athlete remained effusive when talking about her accomplishments, but the mother in her beamed with pride when talking about her family.
When asked about her eldest Stephan's project, the Pinoy Tennis Trainers (PTT) program, Bea talked generously about it.
The PTT is a Philippine Tennis Association-sanctioned program which aims to help improve the lives of tennis trainers. Young Stephan collaborated with National Team coach Rolan Kraut in teaching trainers to become coaches. The program has toured around different provinces and regions in the country including Bacoor, Olongapo, Palawan, Cebu, Bohol, and Negros Oriental.
"The Pinoy Tennis Trainers Program, it's been amazing," Bea remarked. "Like, [Stephan] has been able to help not sure how many already, I think about 500 or so tennis trainers."
Aside from helping others, Bea also cherished the fact that her son has been learning life lessons from this advocacy.
She added, "It's been so good for him. And I know it's helped a lot of people, but from a mom's point of view, it's just been such a good social engagement for him because he's been going to provinces, staying in hotels that are just close to the tennis center.
"Usually those are just, you know, basic hotels, and it's just been a very good eye-opener and it just made him grow as a person."
When Stephan approached his parents about the idea, she and Jean Henri were more than willing to help.
"We talked about it.
"So I encourage the kids to think about ways that they can help others in whatever way possible. And because Stephan is into tennis, he thought, 'I wanna do something with tennis.'
"And he started, maybe four years ago, or something like that.
"So we kept on talking about it, seeing how he could help, until he came up with this idea and then we honed it and kind of streamlined it.
"So that's how he came up with it. So that's been very good."
It seems giving back has been second nature to Bea and her family.
Her husband Jean Henri, who's also the president and CEO of Cebuana Lhuillier, has been at the forefront of helping athletes. The chain of pawnshops has a dedicated sports advocacy program that supports events and tournaments for softball, tennis, basketball, and others.
"My husband is a big sports advocate, really big sports advocate," Bea enthused. "He supports in a major way the sports that he enjoys. And it comes from heart because he knows these people.
"It's different, it's not just to give money. First of all, he does put in a lot, but also emotionally, he puts in a lot, and physically he really goes to support."
To her fellow parents, she gave this advice on weaving sports into the lives of kids for growth.
"I think, right now, my advice is don't think about competition. Don't think about, 'Oh can they be a champion in this or that.' It will come.
"Right now, just get your kids into sports. Let them enjoy, let them be healthier. Take one step at a time. And if they become good, support them, continue supporting them.
"But more importantly, make them healthy, make them happy, and teach them the disciplines of life but in a sports setting, at an early age. So it's easier to manage them as they grow up."