With a few months left before giving birth to her second girl, Andi Manzano is making the most of her solo time with her firstborn Olivia.
"Spending lotsa time with her alone with our restaurant and grocery dates, laying in bed an hour before bed time to tell stories and cuddle," the celebrity mom wrote in her Instagram post early this week.
"As if it wasn't enough that I'm a stay at home mom already and I miss her.
"I know it's silly and probably the baby blues... but I'm gonna miss my alone time moments with my firstborn.
"Did you guys feel the same way?
"Don't get me wrong but I'm also so excited for the coming of her baby sister too!"
Many of Andi's fellow moms on Instagram were quick to share their similar experiences.
Isabel Oli-Prats, who is also pregnant with her second child, replied, "Same here!"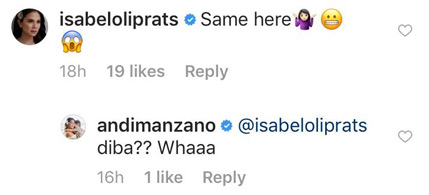 One mom said she once ended up crying in the shower.
As for Andi, she would watch Olivia sleep and it would bring her tears.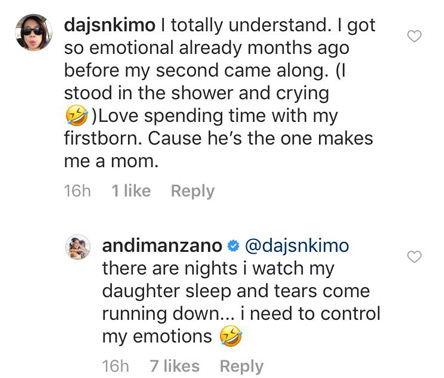 Another mom said she was "literally crying and saying sorry" to her firstborn while she was getting ready for her scheduled delivery.
Andi said she's getting "more clingy and emotional" the closer her delivery date arrives.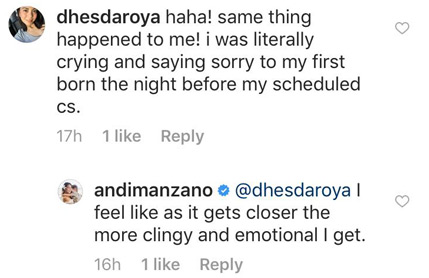 One comment had Andi tearing up.
This mom revealed that her eldest daughter gave her a tight hug before giving birth to her youngest.
"Iba yung hug niya," the mom told Andi. "Yung feeling na she don't want me to let go..."
Andi replied, "Whaaa this is making me cry! I can imagine Olivia. Whaaaa holding in my tears. Sniff."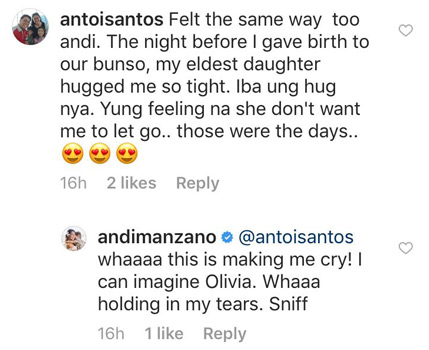 Meanwhile, this comment by a mother of two assured Andi, "You'll be amazed of how much your love [will] expand for them both!"
Andi agreed, "All the mom's who have two or more always say that you'll be amazed how big [our] hearts are!"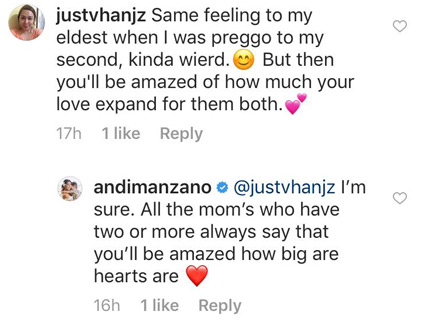 In a separate Instagram post, Andi wrote a sweet letter to her three-year-old daughter.
"Olivia, you're the daughter I've always dreamt of having, you are my princess, my little dancer, my sweet soul, my sunshine and my very best little girlfriend.
"I'm sure you'll be the best big sister, and I'm excited to see you grow and bloom.
"I love the bond we share and I promise to protect it and hold it close to my heart always.
"I love you more and more everyday."