"PLEASE, I am begging you, I am crying as I type this, do not abort your baby. Please."
Karel Marquez sent this plea to a female netizen who personally sent her a message to ask for advice.
The actress was alarmed when she read about the netizen's current situation.
In a two-part direct message on Instagram, the female netizen revealed to Karel that she is six months pregnant with her now ex-boyfriend of 10 years.
She followed this introduction with a quick narration of their toxic relationship.
The message read: "My relationship to him was up and down. Ilang beses na din nya akong niloko before I found out that he had a daughter already then after 2 yrs. Nasundan ng another baby with the same [woman.]
"Pinatawad ko sya and I accept [that] he has already kids. He [promised] to behave and naghiwalay na sila ng mommy ng kids, so ako [naman] naniwala."
The netizen said that she and her former partner "had a great time until last year" when she found out she was pregnant.
Upon telling him the news that they were expecting, the guy reacted violently and asked the girl to not have the baby.
Thankfully, the female netizen insisted on keeping it.
Later on, the girl did some sleuthing and found out that the guy was still in a relationship with his supposed ex-girlfriend.
And to add insult to injury, she found out that they actually had four kids instead of just two.
The rest of message read: "Sobrang sakit nalaman ko. I ended up splitting up with him a while ago.
"I'm waiting for him to explain his side, pero di na sya nagpaparamdam.
"Sobrang gulo ng isip ko [ngayon]. I'm just praying and praying now, but the pain won't go away.
"Kanina naiisip ko [lang] na ayoko na ituloy yung pregnancy ko [because] ayoko matulad sakin yung ako walang kinilala na father.
"What will I do? Please advise me. Please."
KAREL PLEADS NETIZEN TO KEEP BABY
Karel, who recently got pregnant with her rainbow baby, posted a screenshot of the female netizen's message, and posted her response on Instagram.
Her reply read: "I'm one [of] those who got this message today. You know, no matter how IMPERFECT I am, I have my own voice to share because I can.
"Maybe because I've also been through rock bottom, and also maybe because I face any challenge in my life with such a powerful and strong persona, even though I may look calm and chill.
"We all have different opinions, but I would gladly share mine.
"1, no one wants to fall in love with the wrong people, but sometimes we do, even if it's too late. Do not regret this, it already happened.
"What he did to you, the lying alone about so many things, especially about having kids is already a mega red flag.
"A partner who has kids though (past) doesn't matter when you fall in love, but hiding about them to you is wrong. Or hiding another affair!
"It was obvious what he wanted to do. And yes, you are now in pain after all this.
"Also knowing that you are pregnant now, and he says he wants to abort this. He is a coward. He is stupid. He doesn't deserve ANY OF YOU (you and your child inside you).
"It hurts, I know, but please, have this mothersucker out of your life. This is not good.
"And as for you, PLEASE, I am begging you, I am crying as I type this, do not abort your baby. Please.
"6 months na sya. He/she is the best gift you have RIGHT now and you need each other. He/she needs you.
"Let the baby stay away from that weakling, manloloko, gago who said to abort.
"Do you have friends/close fam? Find a support system to help you get through.
"If alone, you will NEED strength from The Lord.
"Please, stress is a number 1 no no, BUT I KNOW it is easy to say. What you are going through hurts so much, I feel your pain.
"Please message me anytime, and please be strong. Please be strong for you and your baby.
"Again, it is hard to say but, please move on starting today (since you already did step 1 anyway by 'breaking up' with him).
"You know what else, PRAY. Pray, pray pray. This really is also the most important part for anything you are going through.
"The Lord will NEVER let you down. He won't make you go through this pag alam niyang hindi mo kaya. KAYA MO YAN. It will be painful, but do NOT give up.
"If I can, if they can, YOU CAN."
A number of Karel's Instagram followers also gave the female netizen some encouraging words.
One follower wrote, "Be still sender and know that He is Lord. Gift yang baby kahit bunga pa ng kasalanan yan. God is a forgiving God."
Another comment read, "love urself and ur coming baby angel... I'll pray for u dear."
A follower added, "Give the child a chance to live...he/she is surely a blessing...be strong...let that guy know that he is not worth it...show him that you can succeed even without him.... Fight... we are here to back you up...we will pray for your safety...God Speed."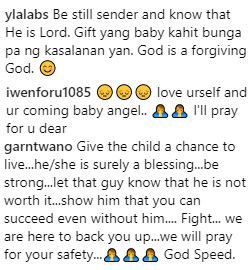 One said she would pray for the female netizen.
The comment read, "Whatever has happened is in the past. Know that Life is unfair but GOD is fair. I know you are a good person and do not stop being good because of bad people. I know how it felt to be abandoned. Take care of yourself and your baby. Pray. God will help you. You'll come out of this stronger and wiser. Praying for you."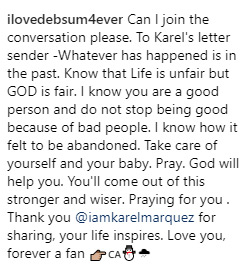 Some Instagram followers revealed that they experienced the same pain.
One reply read, "Dear anonymous sender, I know how you feel even if my story is in a different context. But please let me tell you, choose the baby. Choose to love the little person inside you. It may be difficult now but you will get by one day at a time until you completely recover and forgive that creature of a human. There is more than what you choose to leave behind. Trust me. Kayang kaya yan! Will pray for you and the baby in your tummy and the kids as well."
Another added, "Stay strong for the baby. For now masakit, walang kasing sakit. But believe me, that feeling is temporary. Our God is bigger than our problems."