Lovi Poe is livin' la vida lovely in Los Angeles, U.S.A.
The Kapuso actress landed in the City of Angels back in January, after stomping the busy streets of New York in the East Coast.
For Lovi's first Instagram post upon landing in the West Coast, she featured a photo of an almost-iconic L.A. scene: the orangey pink sky, swaying palm trees, traffic at a standstill.
Captioning the photo with a line from Bright Eyes' "The Difference in the Shades," Lovi wrote: "But these are days we dream about when the sunlight paints us gold." She ended with a heart emoji and her hashtag #LaLaLovi.
And because the L.A. sky needed no editing, Lovi made sure to add an appropriate "#nofilter."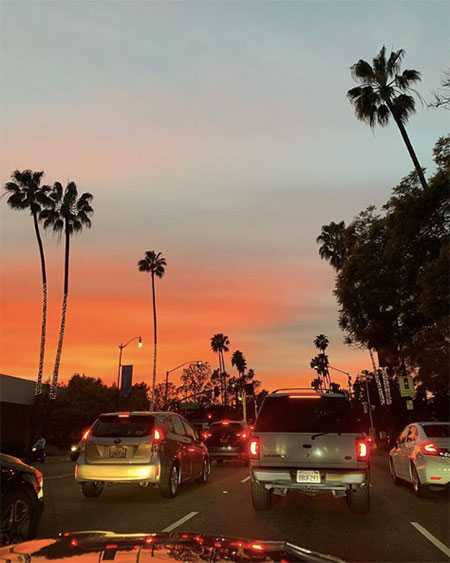 Lovi then cozied up with a cup of what she described as "liquid optimism" at Gracias Madre, a meatless Mexican restaurant along Melrose Avenue.
At the Beverly Hills Hotel, Lovi asked her followers how they liked their eggs. She herself liked hers poached, set on English muffins and topped with Hollandaise sauce.
Lovi snapped a photo of her Eggs Benedict, along with other brunch items from the hotel's menu.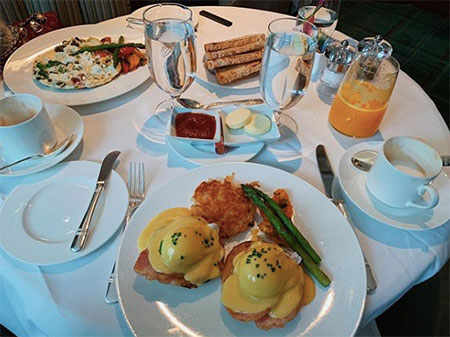 Ever the "pasaway," Lovi said, "Patience isn't a virtue."
That's because in the photo she uploaded, a hand was caught midshot forking what looked like a piece of calamari.
Lovi dined with a companion at Porto Via Palisades, and enjoyed good fried, greasy food with a glass of red.
Of course, there is that selfie with Canadian-American actor Terrance Coombs, which has garnered over 120,000 hearts.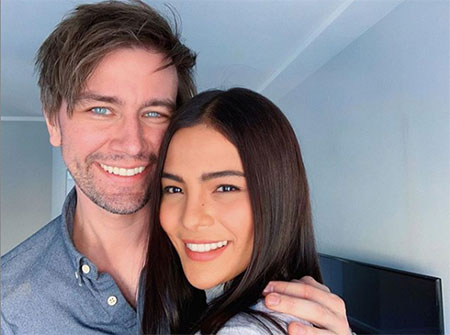 In what could either be a candid or posed photo shoot, Lovi met up with her high-school classmate Shari Poquiz, aka The Misty Mom, and hammed it up for the camera.
Picking up a souvenir at the Bubba Gump restaurant, Lovi inspired her followers by telling them that they, too, are special.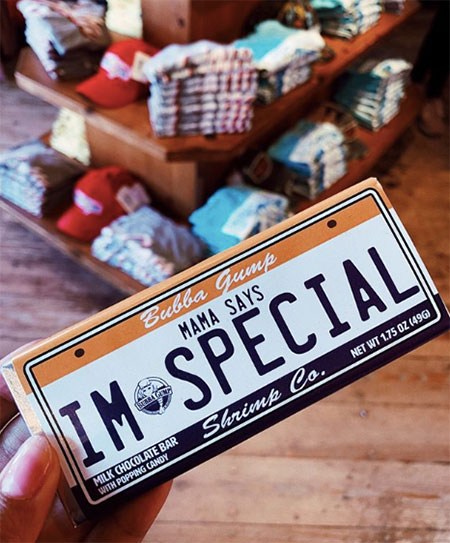 The gastro-traveler also uploaded a shot where she seemed to be deep in thought, although the reality was, in her words: "Just finished dinner and I'm already thinking about what I'll be having for breakfast. Who here is just like me"
She certainly celebrated happy hour at Employees Only L.A., as she enjoyed cocktails and captioned her shot "Sip me baby one more time!," a take from Britney Spears' smash song "Hit Me Baby One More Time."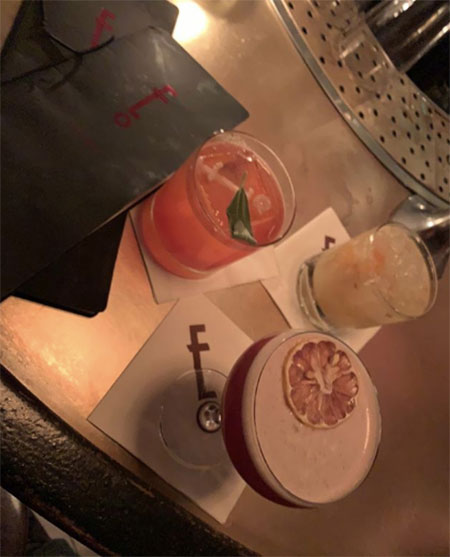 Lovi also met up with reunited couple Maja Salvador and Rambo Nuñez at Napa Valley Grille, where the actress obviously did not mind being a third wheel.
She wrote, "Great catching up with these lovebirds."
Looking like she'd fit right in Hollywood, Lovi strut around Beverly Hills with photographer @servantbyheart, and did a real good pose in front of the lens.
"Napalingon lang," she wrote, but what a turn!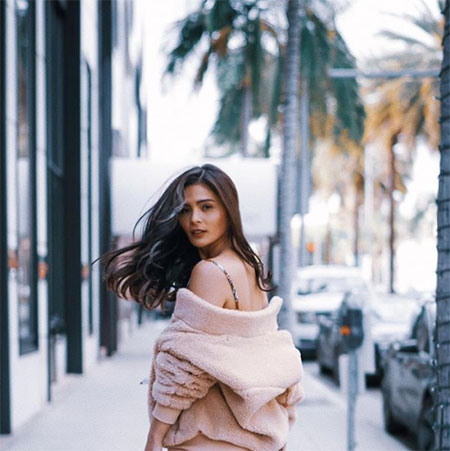 Continuing her gastro-tour around L.A., Lovi dined at Mastro's Steakhouse, and ended her meal on a sweet note.
Posting a photo of a decadent butter cake a la mode, Lovi wrote, "Butter me up. #ButterCake"
In another post, Lovi spread positive affirmation to her followers, featuring a sidewalk signboard that says, "You look f**king amazing." She told her supporters: "In case no one tells you today..."
The Kapuso actress also dropped by Abbott Kinney Boulevard, a mile-long stretch of establishments in Venice, a beach neighborhood in Los Angeles County.
Lovi commented, "Abbot Kinney... showing us what street style is really all about."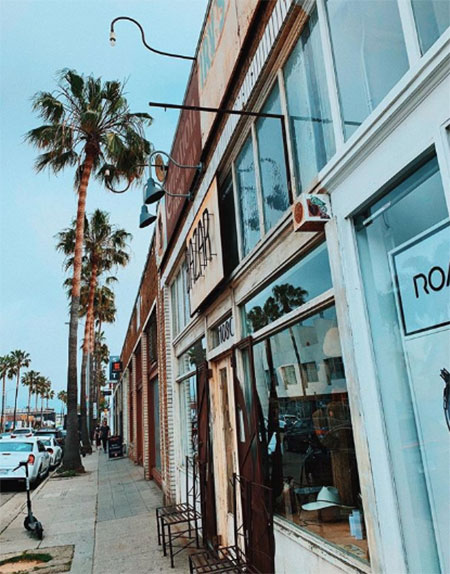 In another post still along Abbot Kinney, Lovi posed with a brick wall in the background and told her followers, "You can tell, I didn't sleep well last night."
She wore the disheveled look to a T, and still had humor to go!
The actress-model also couldn't help dropping a line from Roy Orbison's "Pretty Woman," as she walked along Rodeo Drive, where a scene was shot for Pretty Woman, starring Julia Roberts and Richard Gere.
Lovi wrote, "Pretty woman, walking down the street..." as she posted a photo of the N. Rodeo Drive street sign post.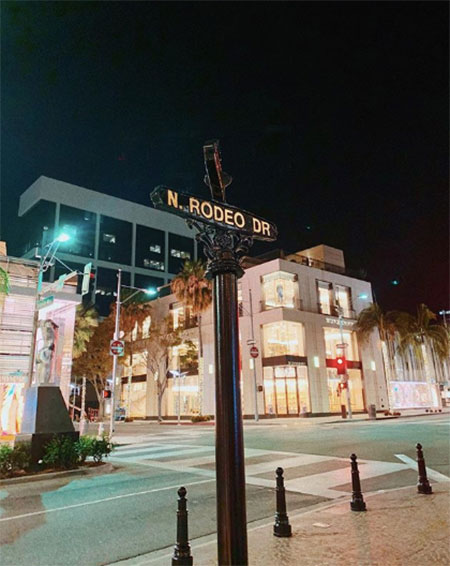 Active and workout-hungry, Lovi burned calories during a run around Westwood, and took a selfie for posterity.
"Trying to mask my 'tired face' after my 15km run...#LoviYourBody," she wrote, neither looking tired nor sweaty post-exercise.
She also showed the fruits of her labor with a post-gym selfie at Lagree Fitness Studio.
She said, "Better sore than sorry. Do you lAgree?"
We agree!
And because life is all about balance, Lovi savored a slice (or two?) of pizza from 800 degrees—and, in her black tube top and slouchy sweater, Lovi made eating pizza look so good.
"You want a pizza me?!" she teased.
Back at the Conservatory in West Hollywood, Lovi snapped a powder-room selfie, showing the restaurant's chic art deco interiors that were a good backdrop for her OOTD and Carolina Herrera insignia purse.
"My high pony made me do it," she confessed.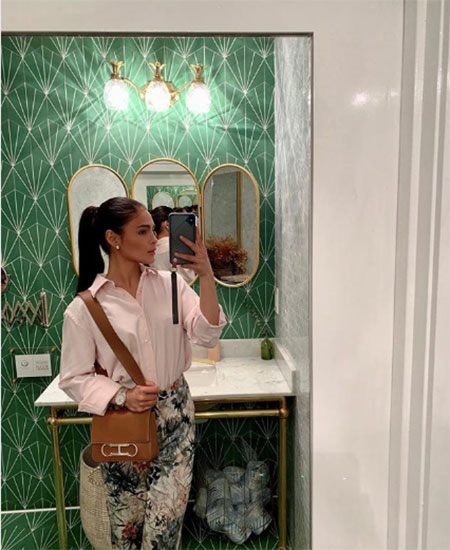 Poolside, Lovi noshed on whole food and wisely told her followers: "Skip the diet... just eat healthy."
At the coastal city of Santa Monica, Lovi couldn't help but drop lines from D'Sound's "People are People" as she snapped a vista of the beach.
"Excess, temptress, big mess | Phoney, lonely, it's a test," she wrote.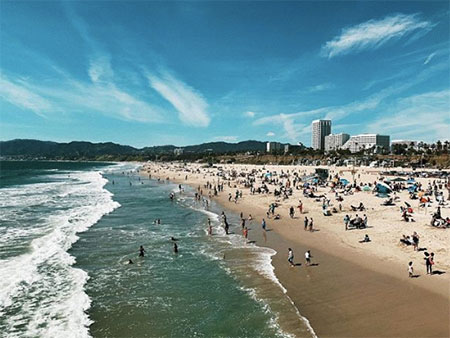 Still taking a page from her #LoviPlaylist, Lovi posted a picture of her post-hike at Griffith Park and sang:
I'm beyond your peripheral vision.So you might want to turn your head. Cause someday you're gonna get hungry and eat all of the words that you just said.
The lines are from Ani DiFranco's "32 Flavors."
Schooling us all on how to be long, lithe, and ripped, Lovi posed in front of a Westwood gym mirror in nothing but an athleisure top and loungewear bottom, saying: "Nothing like breaking a sweat first thing in the morning. #LoviYourBody"