Angelica Panganiban got her much-need time to relax in April 2019.
Since 2015, she has been recharging, which essentially means "self-care and rest."
With travelling—either solo or with friends—as her form of recharging, she has so far visited a number of countries: United States, Sweden, Bhutan, Nepal, Dubai, Japan, Australia, South Korea, to name a few.
Her recent trip helped her momentarily forget the pressure of her work as an actress.
On Instagram, she summed up the entire experience this way:
"35 days of no call times, no scripts to read. No lines to memorize. No crying scenes. 35 days na walang 'on the set na po.'
"35 days of saying yes when I want to. And saying no if necessary…"
WHY THE NEED TO RECHARGE
According to studies, stress weakens the immune system, and takes its toll on both the physical and mental health. Recharging helps the body repair itself, and induces feel-good hormones.
Dr. Farrah Hauke, a licensed psychologist interviewed by NBC News in June 2018, elaborated: "It is incredibly important because it can decrease as well as anxiety and depressive symptoms. It also helps us to be more productive and mindful of our needs which helps us to proactively address problems."
Angelica's sojourn in New York and California let her experience life sans its usual conveniences, and meet new friends.
In the same Instagram post, she said, "Days of riding the subways and nights on uber. Opened myself to strangers and for sure they're now my friends…"
Dr. Sarah Gray, a clinical psychologist, also told NBC News, "Mindfulness provides many opportunities to recharge our mental, emotional and physical 'batteries,' especially if we're feeling depleted by life."
But recharging can be done daily, and does not have to entail travelling. It can be as simple as taking deep breaths and quick naps.
HOW ANGELICA PANGANIBAN RECHARGED
Angelica's 35-day break began on April 7, with Hong Kong as her destination.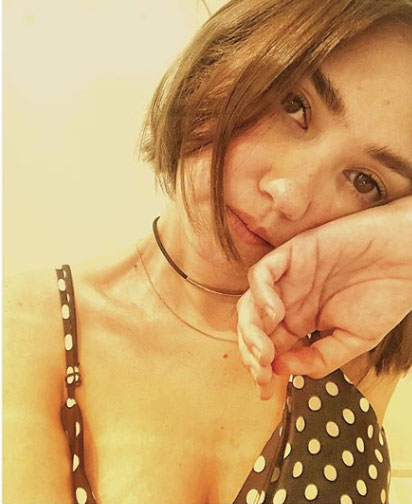 Her next stop was Japan, where she did a bit of partying and watched the concert of her "boyfriend" John Mayer and "ex-boyfriend" Ed Sheeran.
She exclaimed, "My love surprised me and the crowd by jamming with my ex boyfriend @teddysphotos last night. isn't he the sweetest?! Thank you for the surprise my love!!!"
The Kapamilya star also had her first "Sakura experience," together with "sweet couple" Maxene Magalona and Rob Mananquil.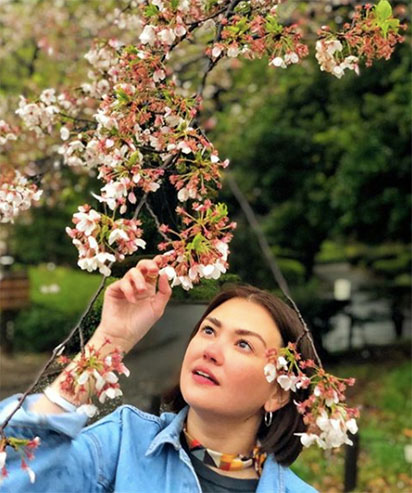 It was marred however by a minor accident.
On her Twitter account, Angelica detailed, "Umabot! Although umikot sa freeway yung taxi ko sa Japan. Masakit lang batok ko at may bukol. Pero ang importante, ligtas kami ni kuya driver. Nagtaka lang ako pinag bayad pa niya ko kahit muntik na kaming mamatay."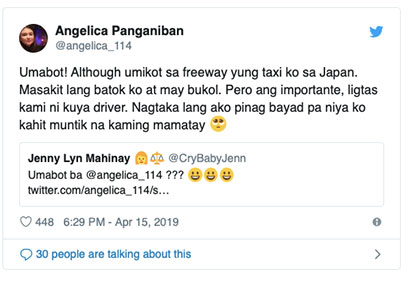 Nonetheless, she was back to her playful self when she arrived in New York, her favorite city.
In her hotel room, she played with the phone.
"So dito sa hotel ko merong 'press here for bedtime stories,' ita-try ko siya ngayon kung talagang may bedtime stories."
Pretending to hear a prompt, she said, "Meron nga. Paint the town red? Press 2 to go out with DJ. O, press 3 daw if I want to pass out."
Laughing, she made her choice, "I want to pain the town red."
Part of her itinerary was to chill at the Magic Hour Rooftop Bar & Lounge, a cocktail bar in Moxy Times Square that has an amusement park theme and mini-golf course to boot.
Angelica's caption simply read, "Where Magic Happens…"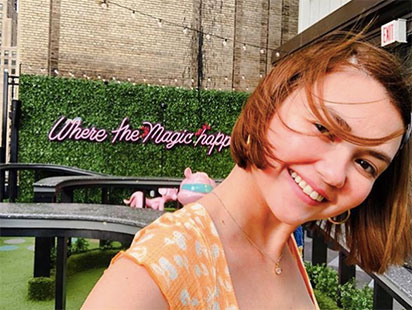 What a small world, guess who she bumped into? Fellow Kapamilya Bea Alonzo.
Angelica's caption for this photo, which was taken by Bea, was: "Hold yer Halo Mare."
The two ladies really meant to have a great time.
Angelica captioned this with, "Boss: Work starts in 5,4,3 —US."
In the comments' section, Bea threw in, "Hahahahha! nag-eenjoy pa po kame!"
Her visit to MoMA, The Museum of Modern Art in Manhattan, was the "best morning stroll of my life."
Since 2015, the actress has been recharging by traveling solo.
And what's a trip to New York without catching a Broadway show?
The 32-year-old actress picked Network, which was top-billed by Tony, Olivier, Emmy and Golden Globe winner Bryan Cranston.
Her lengthy caption read:
"NETWORK, ThankYou for inspiring us to look not inside the tube. To live outside of the tube and live your life. ThankYou for telling us that it's fine to be mad. ThankYou for reminding us that the tube is the past and we are the future. What a wonderful feeling to be alive and to see incredible human beings perform in front of you. Keep telling stories with a burning passion."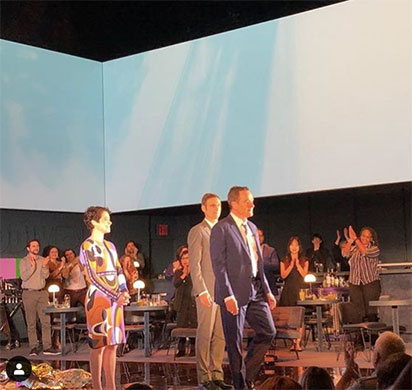 From the Big Apple, she took a six-hour flight to California to watch performances at The Coachella Valley Music and Arts Festival in Empire Polo Club, Indio, California, a.k.a. Coachella.
One of her dreams came true: She got to see Ariana Grande perform live!
The American singer headlined the third night of Coachella's second and final weekend, and brought Justin Bieber as her special guest.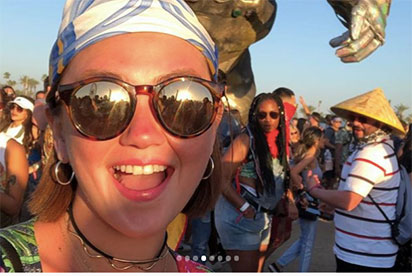 She spent Easter Sunday at Coachella, and attended a Sunday service led by Kanye West, American rapper and disruptor extraordinaire, also known as Mr. Kim Kardashian.
Aside from enojying at Coachella, she did some sightseeing in L.A., too.
Among her stops was Openaire—a restaurant found on the second floor of Line Hotel—which was created in collaboration with two-star Michelin Chef Josiah Citrin.
Angelica's witty caption was, "When in LA., hilamos lang ang puhunan. I got it."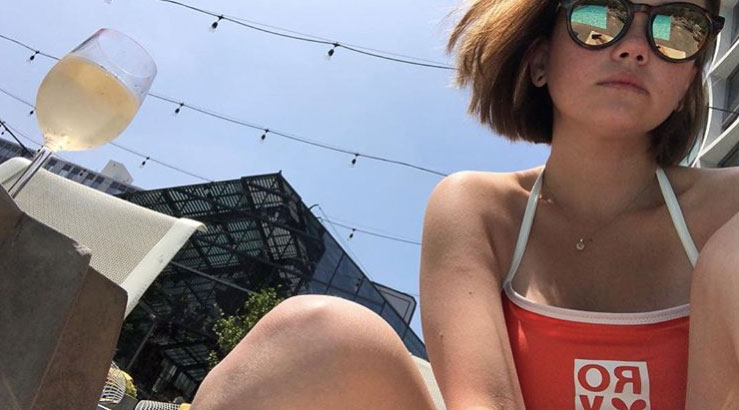 She also went to Santa Monica Pier, a seaside destination with a carousel, an arcade, an amusement park, a trapeze school, restaurants, and outdoor concert series.
Striking a carefree pose, the actress' caption was, "At the end of the day, Your feet should be dirty, Your hair messy and Your eyes sparkling. -Shanti-"
Angelica, of course, did not forget to meet up with some friends and relatives.
When she returned to the Philippines, she had some good news to her fans on Instagram: "5 Million Followers. basta, positive sa life, No Problem. may all of you, 5mil creatures, be as happy as I am in this picture. sending love, light and happiness. celebrate good things."
And before switching on her "work mode," she told herself, "Chin up Lady. 730 days of hard work now begins."
How to be you po, Angelica?