Unlike most parents, celebrity couple Judy Ann Santos and Ryan Agoncillo trained their kids Yohan, 12, and Lucho, 10, to follow a "no gadget" rule at home.
Asked about their imposed rules, Ryan said in a previous interview, "One of the basic rules for Yohan and Lucho when they started to go to school, Sunday afternoon to Friday afternoon, they can't do the iPad thing, they can't go on the laptops, they can't touch their video gaming consoles.
"They can research though on their iPad or their laptop, but only if it's for school and we're always covering."
Agreeing with her husband, Juday, as she is fondly called, has been very vocal about their common desire to lessen their kids' addiction to techie stuff.
She said in a separate talk, "Puwede silang mag-iPad only to research on something.`
"Hindi puwedeng mag-games, hindi puwedeng mag-YouTube, nothing.
"So they always research on something and they have to learn something from that research."
READ: Ryan Agoncillo, Judy Ann Santos set gadget rules at home
Instead of using gadgets and wasting their time and energy on meaningless "cyber" pursuits, the couple encouraged their kids to get involved with more productive and satisfying outdoor activities.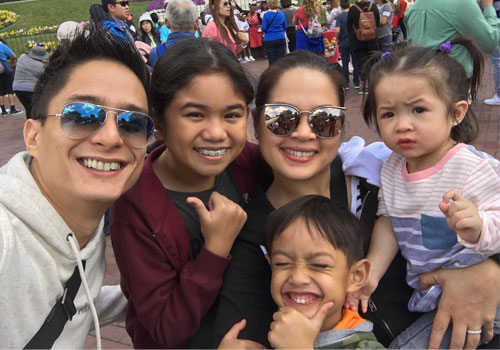 Last June 14, 2017, the Agoncillo household, sans Ryan, enjoyed a "no gadget day."
And how did they spend the day?
They did a quick tour of the Manila Ocean Park in Pasay City.
Part of Judy Ann's caption reads, "If only for those priceless smiles and wonderful memories with our kids, worth it ang 'no gadget day!' (Hulas lang ang lakas at ganda, pero care ko naman.)
Yohan and Lucho loved their close encounter with the baby sharks and stingray.
The kids, and the celebrity mom, obviously had so much fun watching the sea lion show.
"And since they enjoyed our bonding so much, looking forward na sila for our next 'no gadget day."
Meanwhile, Ryan is currently in India to for his Himalayan motorbike trek adventure.