Sisters Alodia and Ashley Gosiengfiao had the "worst" trip in Mexico City last October 16, Monday (Mexico time).
The cosplayer sisters were the special guests at a cosplay convention that was held in the city.
Coming home to Manila, they missed their return flight as the ground staff of Mexico's flag carrier AeroMexico failed to return to them their signed immigration forms at the check-in counter.
Ashley recounted their travel nightmare on her Youtube channel last October 18.
She began her video in tears, "I'm crying, [Alodia's] crying because she freakin' missed our flight—not for our error, but for the airline's error!
"We checked in on time!
"They asked for our freakin' immigration form and they didn't give it back!"
According to their story, the immigration forms were handed to the sisters upon their entry to Mexico.
They were told they would be needing the documents for their flight out of the country.
It was the first time Alodia and Ashley encountered the procedure in their travels, but they willingly obliged and "guard those green immigration forms with [their] lives."
Upon check-in, the airline did ask for the papers, but for some reason failed to return the signed forms to the sisters.
They were only given their boarding passes, and Ashley showed proof of that in her video.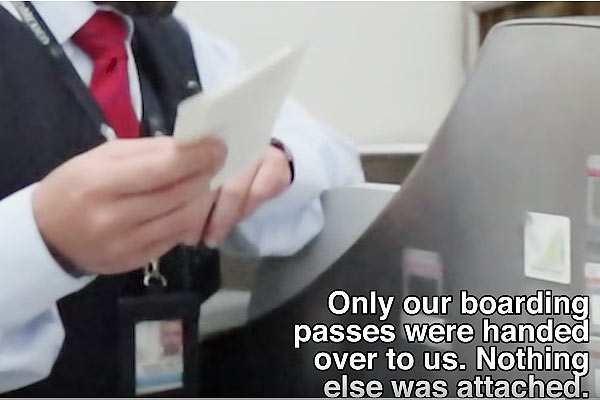 Their "worset travel experience" began from there.
Since their immigration forms weren't given back, the sisters thought it was all part of the check-in process.
They didn't know the signed documents were supposed to be stapled in their boarding passes.
Ashley said, "We knew that we needed [the forms], but they didn't give them back.
"So, we didn't know we needed it at the gate…
"And then when we were starting to board, they told us to go back all the way to Immigration."
At the immigration office, Alodia and Ashley had to pay 500 Mexican pesos or roughly PHP1,364 for new forms.
They knew that passengers were already boarding their flight, so they were moving fast.
But the whole journey back to the boarding gate turned out to be an ordeal.
Ashley continued, "Ang tagal nila mag-check ng bags dahil lahat ng gadgets had to be out of our bags, and that took so much time!"
Their flight was set to depart on 6:35 p.m.
Alodia and Ashley reached the gate 6:37 p.m., but the plane had already taken off.
"And now we missed our flight because of their stupid error!
"We were two minutes late!
"Hindi lang man kami hinintay...
"At nagsusungit pa sila… They weren't even nice to us at all!
"They were treating us like sh*t!
"We are so upset right now!"
Alodia added, "Ginawa naman namin lahat ng tama, e.
"And they weren't even so considerate.
"They're not even helping us."
Alodia and Ashley collected themselves and went back to AeroMexico's check-in counter to figure out what happened.
They then found out that the staff had the immigration forms stapled in new boarding passes.
The sisters couldn't believe it.
Ashley reacted, "They had it all along!"
Alodia threw in, "This is so unprofessional!
"Minsan lang po ako magalit, and I can't believe how much time they wasted because of this!"
To add insult to injury, the Gosiengfao sisters had to pay $1,657 or roughly PHP85,277 to rebook their flight.
AeroMexico reached out formally to Ashley once she had uploaded the video via the Youtube comment section.
Watch the full video below: