It was a bright, sunny day as eight Miss Universe 2017 candidates explored the wonderful tourist attractions of Camiguin Island on Friday, December 8.
The candidates—which include Miss Canada Lauren Howe, Miss India Shraddha Shashidhar, Miss Italy Maria Polverino, Miss Korea Sewhee Cho, Miss Netherlands Nicky Opheij, Miss Singapore Manuela Bruntraeger, Miss Spain Sofía del Prado, and Miss USA Kára McCullough—were able to visit at least five destinations in Camiguin.
PEP.ph (Philippine Entertainment Portal) was also invited to explore the volcanic island with the Miss Universe beauties for a whole day.
Department of Tourism (DOT) Assistant Secretary Frederick M. Alegre said it was DOT Sec. Wanda Corazon Tulfo-Teo who picked the island for the ladies to visit.
He told PEP, "Sinabi naman niya na kailangan ma-promote yung ibang tourist spots. Camiguin was not promoted nung nandito yung Miss Universe.
"Lahat nung binisita ngayon like Camiguin, Batanesm, and Bohol ay hindi nabisita ng Miss Universe so eveytime they come to visit, we wanna bring them and ang ganda-ganda ng Camiguin, dapat lang ma-promote ito."
Below are some of the photos from their Camiguin trip.
Upon the arrival of the candidates at the airport, they were greeted with a tribal dance performed by young Camiguin teeners. The candidates took selfies with the performers after they finished their dance routine.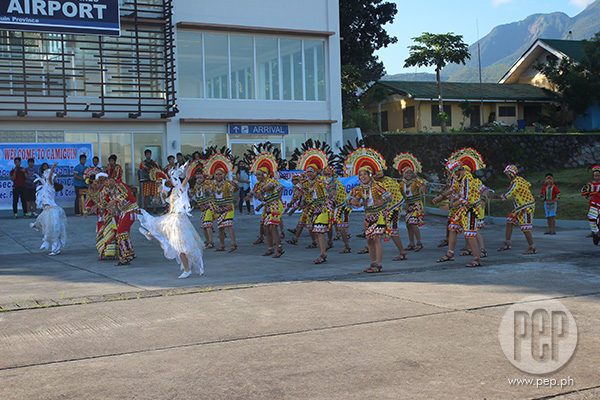 Probably one of the most memorable highlights of the whole trip for Miss USA Kára McCullough was when they were surprised by a choral group singing Christmas carols on the plane.
She told PEP and other members of the press in an interview, "It's just amazing to know that regardless of the different religions you have, the different cultures, we could all come together through music.
"And I feel so much energy through music so when they came on the plane and surprised us with all these Christmas carols, it just really brought a lot of emotions through my body and I was crying."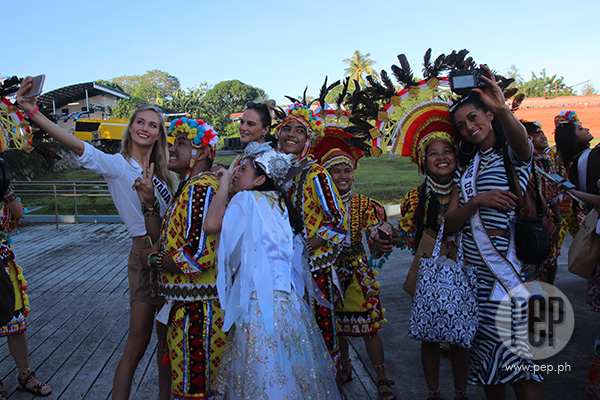 WHITE ISLAND. For their first stop, the ladies enjoyed a Pinoy-style breakfast at Camiguin's White Island.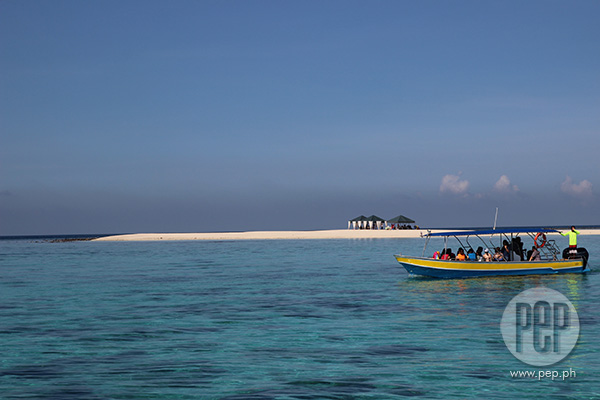 Miss India Shraddha Shashidhar and Miss Canada Lauren Howe taking some photos with the main island of Camiguin as their backdrop.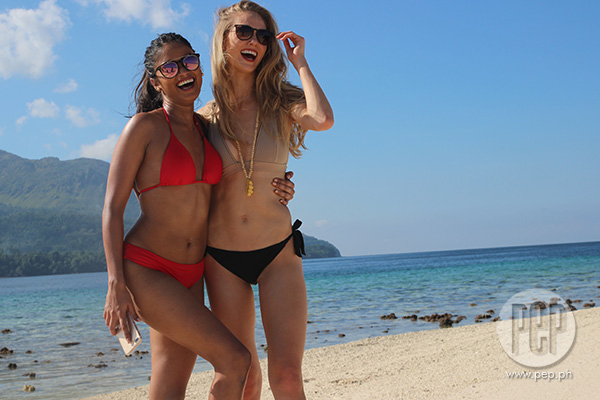 In a short chat with PEP, Miss India admitted that she was definitely charmed by Camiguin's beauty.
She said, "We do have islands in India but this is out of the world!
"Look at the volcanoes on your right and then the ocean on your left, so it's a blend of everything and the people are so good!"
When asked how her trip was so far, Shraddha only had one word to describe it: "Amazing!"
The 21-year-old model explained, "It's been the most hospitable, warm, and friendliest country that I every visited.
"It's so overwhelming to see that there's so much love that the Filipinos have to give."
"Coming from India, I know that a lot of Indians love the Philippines and I have a lot of friends that who would love to visit the Philippines."
She added, "I'm so thrilled to be here and I'm dying to come back!"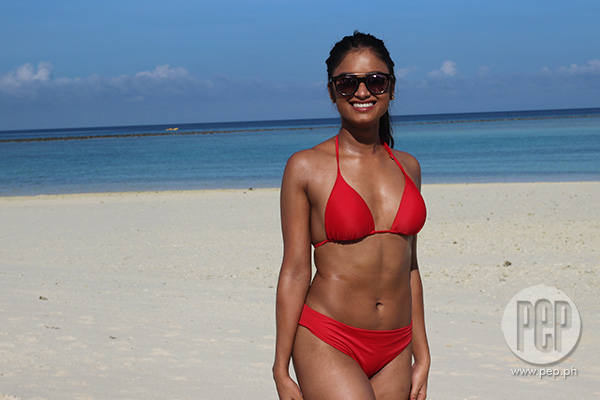 Shraddha's White Island visit wouldn't be complete without a mini-photo shoot. This photo even looked like a scene from Baywatch.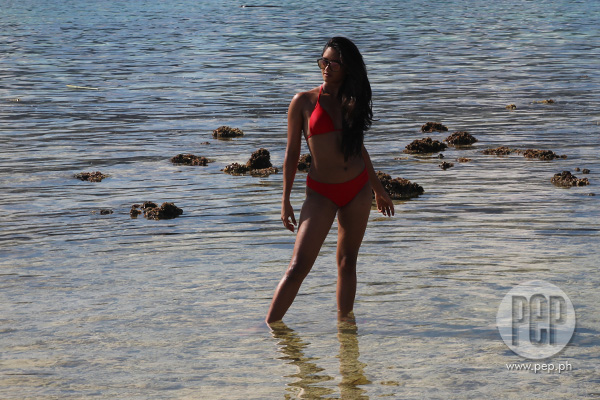 Miss Italy Maria Polverino getting her tan.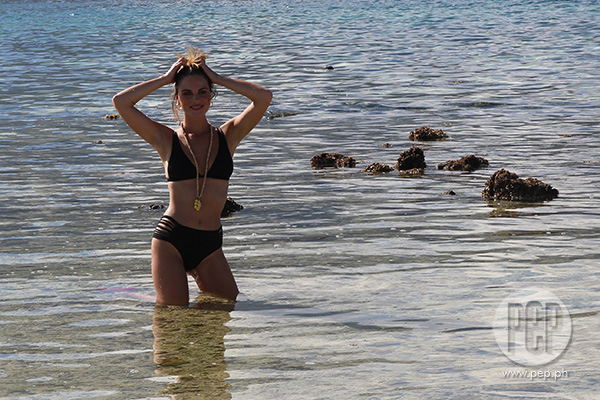 Meanwhile, Miss Singapore Manuela Bruntraeger said it's her second time to visit the Philippines after her stint at the Miss Earth 2016 pageant.
The 24-year-old mode/TV host told PEP, "It feels like I'm coming home!"
Manuela noted, however, that it's her first time to visit Camiguin and was happy to cross off two things from her bucket list.
The Singaporean beauty queen narrated, "It's been on my bucket list for the longest time to see a volcano and a water fall and today I've done those two things in one day."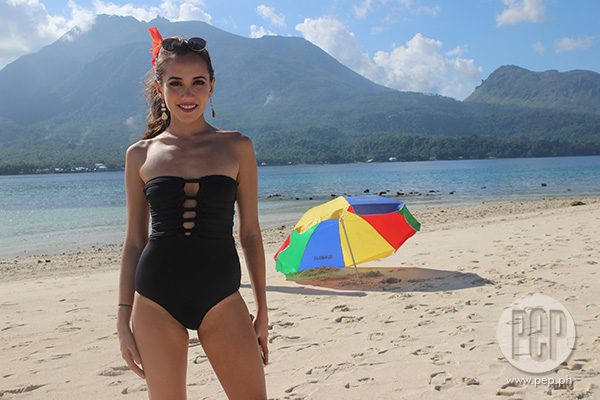 Miss Korea Sewhee Cho with some of the local policemen of Camiguin.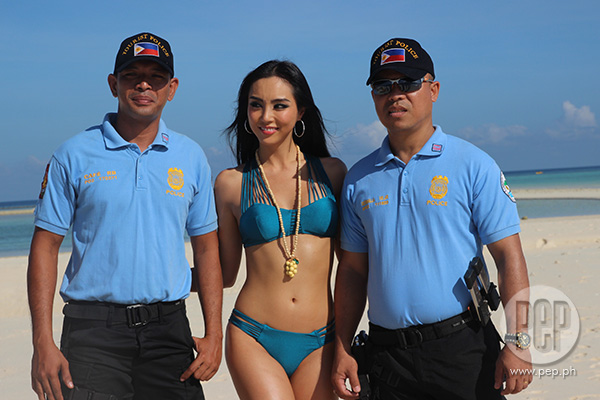 Another highlight of their White Island visit was an unexpected culinary adventure— eating fresh Black Sea Urchin roe with a splash of coconut vinegar,
Miss Korea was excited to see the urchins up close and said that it's one of her favorite sea foods.
It was a first for the other ladies, especially Miss Canada and Miss USA.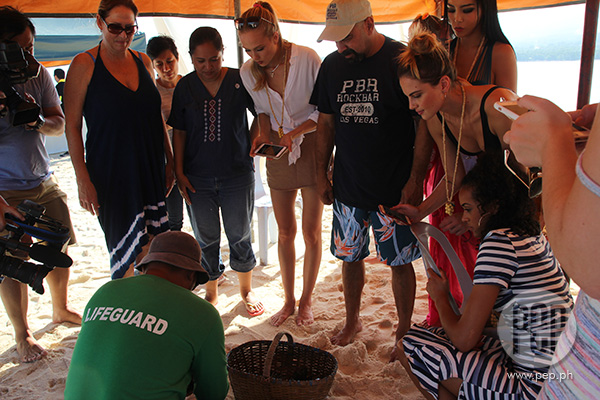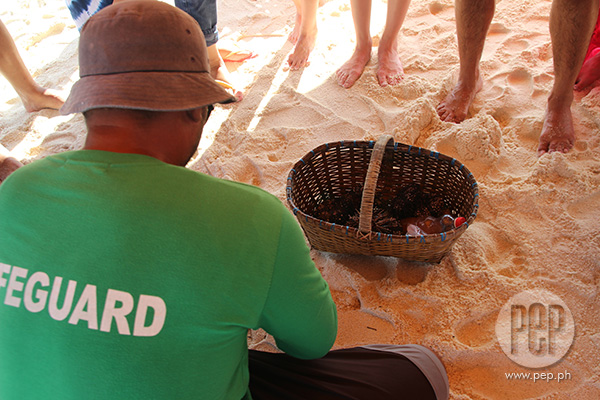 SUNKEN CEMETERY. Their next stop was the Sunken Cemetery.
Miss USA Kára McCullough told the press, "It's amazing, I have to come back. I tried to extend my stay but I'm unable to so I'm gonna come back."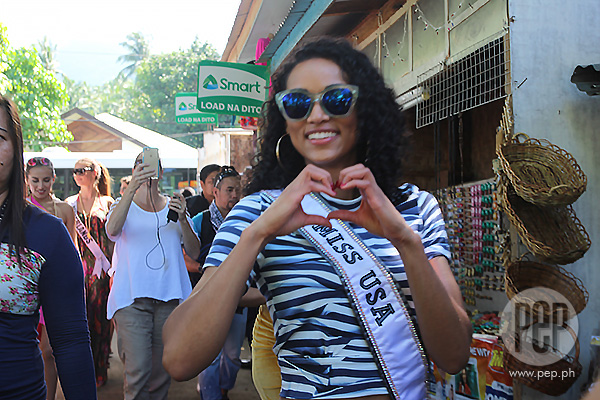 The cemetery was submerged underwater after Mt. Vulcan Daan erupted during the 1870s. The large cross was erected as a memorial for all the departed buried in the cemetery.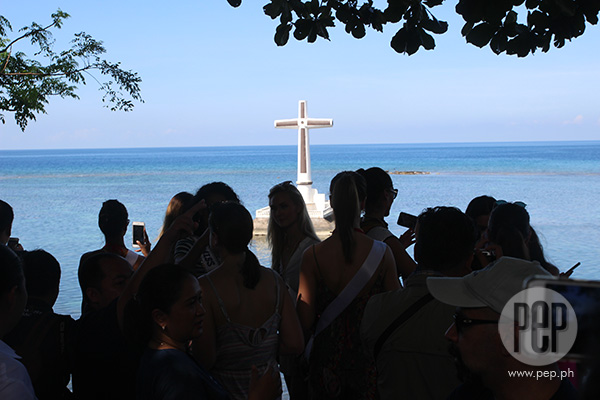 OLD GUIOB CHURCH RUINS. A few minutes away from the Sunken Cemetery is the Old Guiob Church Ruins.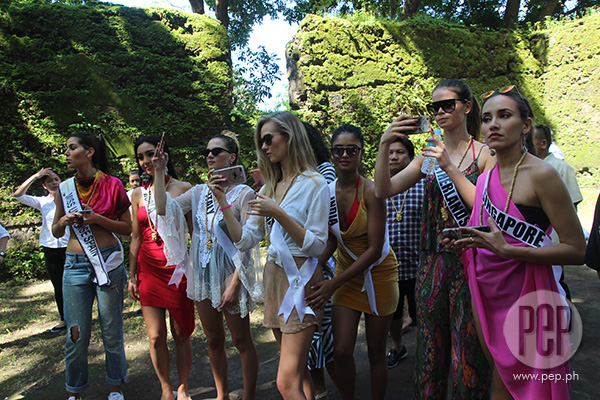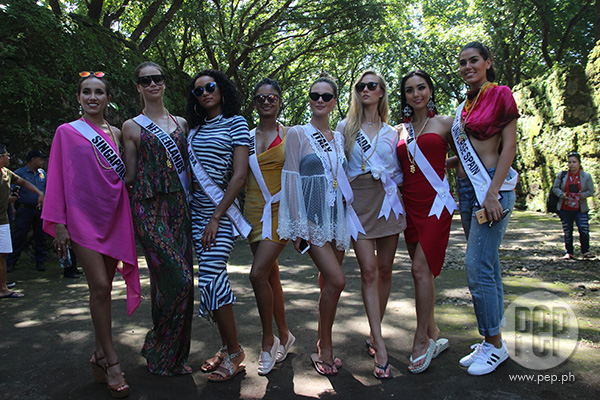 The walls of the the church and its bell tower were the only structures that survived when Mt. Vulcan Daan erupted in the 1870s.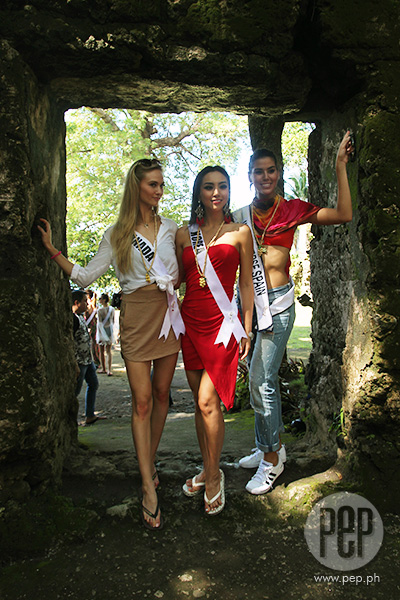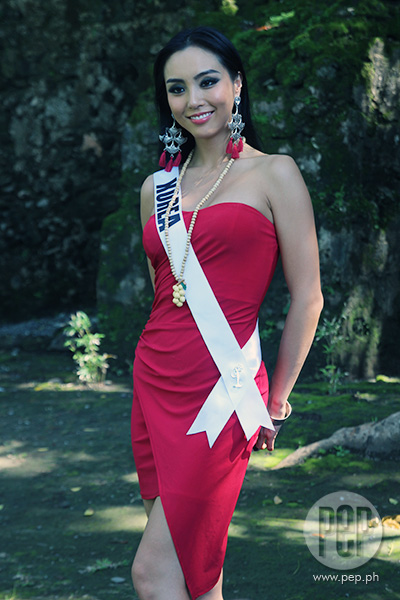 Miss Canada Lauren Howe also fell in love with Camiguin. She explained, "Camiguin is the most relaxing, despite us bouncing a lot, it's been the most relaxing especially the blue, blue waters."
Asked what her favorite activity was, she told PEP, "I'm an ocean person so I love being in the ocean so probably the White Island is my favorite."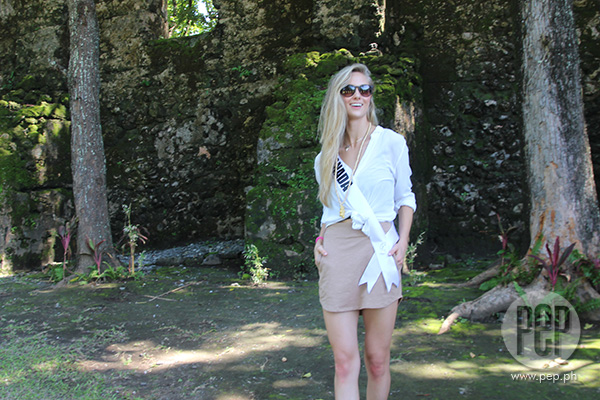 TUASAN FALLS. The candidates also enjoyed the cool waters of Tuasan Falls, one of Camiguin's fast-rising tourist destinations, located in Barangay Mainit, Catarman.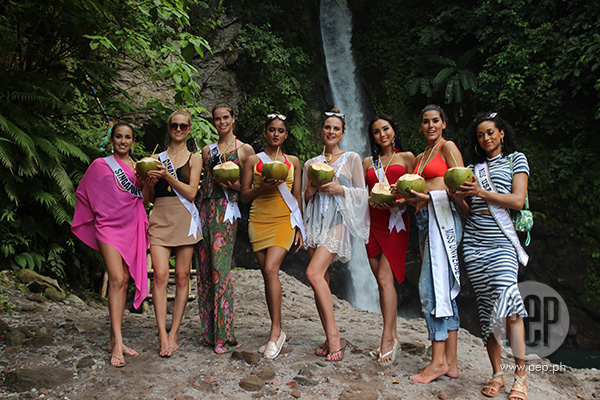 In an Instagram post on December 9, Miss Spain Sofia del Prado shared her island experience and wrote, "The vibes in the island were AMAZING and definitely one of the best places I have visited so far."
She also thanked the Department of Tourism for having her and the other candidates.
"Thank you Camiguin for the welcome and of course @tourism_phl for making it possible. Enjoying this unique experience with these women makes me feel priviledged and honored."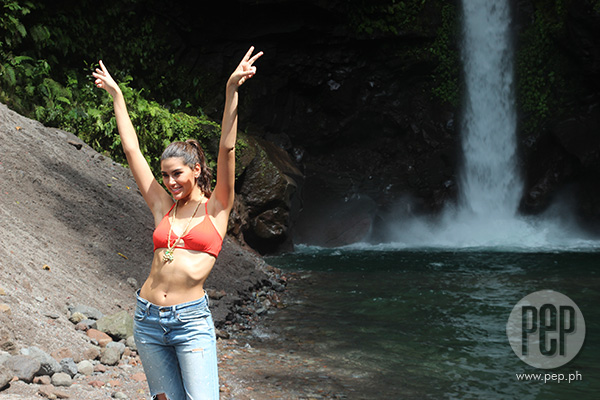 BALAI SA BAIBAI. For their last stop, the candidates enjoyed some down time and refreshing drinks at Balai sa Baibai, a private beach resort in Mambajao.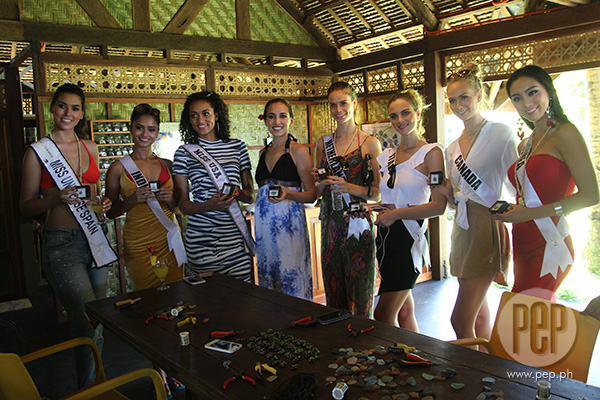 The ladies also received necklaces made of sea glass as souvenirs. These necklaces are the product of the resort's livelihood programs for the women of Camiguin.