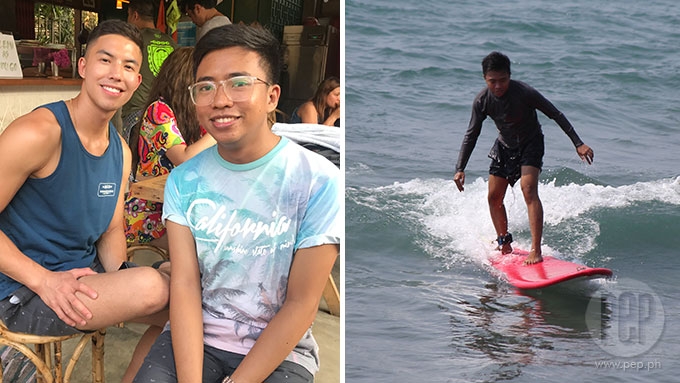 IMAGE Nikko Tuazon
---
I had always wanted to go to La Union, a paradise for surfers.
And I had always wanted to learn how to surf. 
But I didn't know how to swim, although I do enjoy other water sports and activities.
I tried inviting friends over the years, made plans, but nothing ever pushed through. Drawing, bes?
Finally, I was able to enjoy La Union in the town of San Juan for three days courtesy of Smart Philippines, the company behind the app Paymaya, which has a cashless payment system. 
Day one of my first La Union trip began on March 28, after a five-hour drive from Manila.
MAKE A WISH AT MA-CHO TEMPLE. One of our group's memorable stops was at the Ma-Cho Temple, which was built in 1977 in honor of the Chinese sea goddess, Mazu, whom Taoists believed as the protector of fishermen and sailors.
The temple has since become a tourist destination in San Fernando, La Union. It does not require an entrance fee, but tourists usually leave donations after making their wish inside the temple.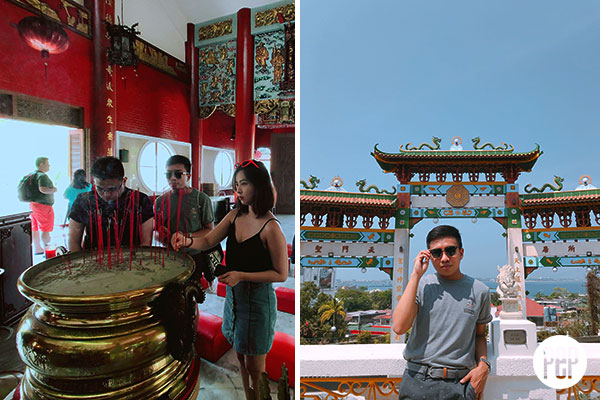 ADVERTISEMENT - CONTINUE READING BELOW
SEE THE PINDANGAN RUINS. This church was built in 1786, and said to have served as a unifying symbol for two sitios or settlements called San Vicente de Balanac and San Guillermo de Dalangdang during the Spanish era.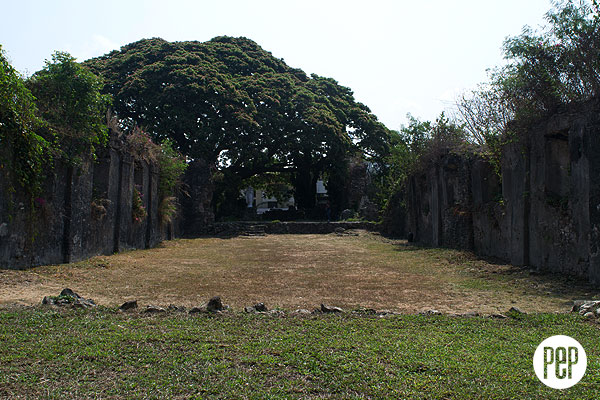 Only the walls of the church were left standing after an earthquake hit the area in 1892. The 200-peso entrance fee goes to the preservation of the ruins.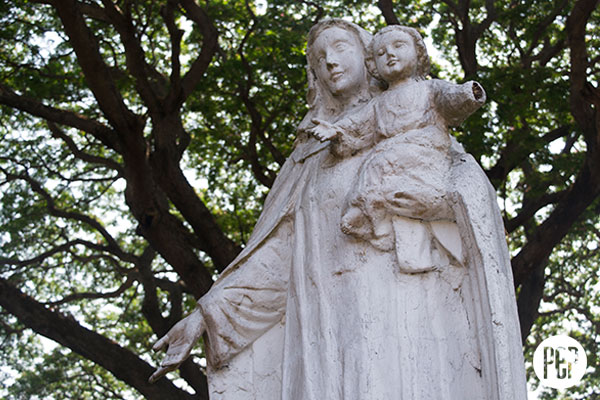 ADVERTISEMENT - CONTINUE READING BELOW
BINGE ON SPECIAL DISHES. Good food establishments abound in La Union towns.
I recommend Ol' Pub Restobar in San Juan, which has a vintage-rustic vibe that is Instagram-worthy.
Some of the restaurant's must-try dishes are Spam fries (PHP129) and Roasted Honey Glazed Chicken (PHP189).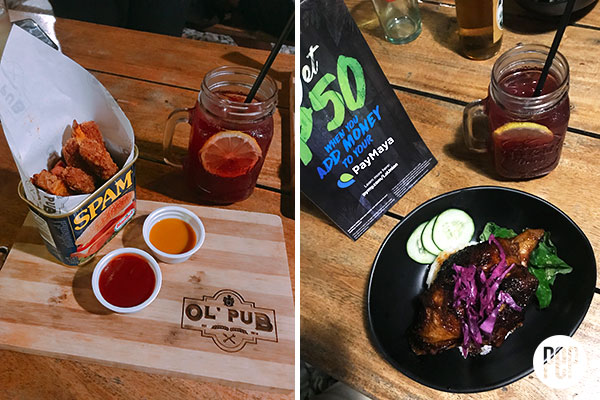 Beach Bum Food Park also has several interesting offerings.
Food stalls found here are Bondi Station, Beach Break, Tokyo Go, PizzTacito, Chanco Loco, BBLU Main Dining, Papak Sa Dagat, Beach Bum BQ, and Beach Yard.
We tried the PizzTacito's Four Cheese Pizza (PHP350) and Mojos (PHP180) for lunch on our last day in La Union.
ADVERTISEMENT - CONTINUE READING BELOW
The Great Northwest Philippines Travel Stop & Viewing Deck (GNPTSVD) located at Urbiztondo in San Juan, La Union, is also go-to spot for foodies.
The place first served as a co-working space in La Union before it was turned into a hub for start-ups and well-curated food choices. Some of the establishments found at the GNPTSVD are El Union Coffee, Makai Bowls, Great Gamble, Artek Wine Yacht, Curious Creatures, Papa Bear, Sabong Fried Chicken, and 55 Tinta.
During our stay, we tried the Horchata (PHP120) and Indoor S'mores (PHP160 small/PHP300 large) from El Union (middle frame), and Papa Bear's soft-serve (left frame) called Milo Dinosaur (PHP100) to help cool us down.
I also tried Sabong Fried Chicken's Honey Bagoong Glazed Chicken with Kare-Kare sauce (PHP220), which was featured by TV host Alex Gonzaga on her vlog.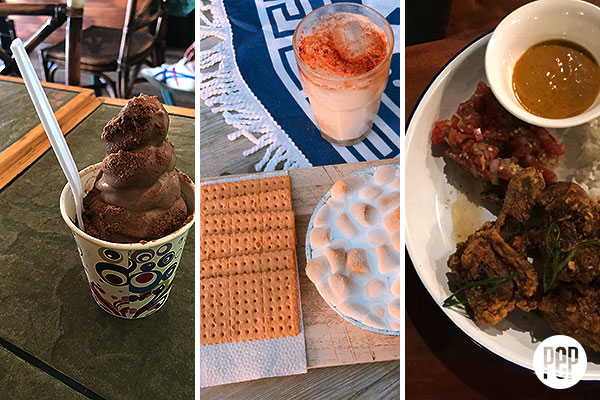 DINE AND WATCH THE SUNSET. We enjoyed our food while listening to acoustic music at the sunset viewing deck of GNPTSVD.
ADVERTISEMENT - CONTINUE READING BELOW
Must-do after eating: Clean up our mess and return all the utensils to the respective stores.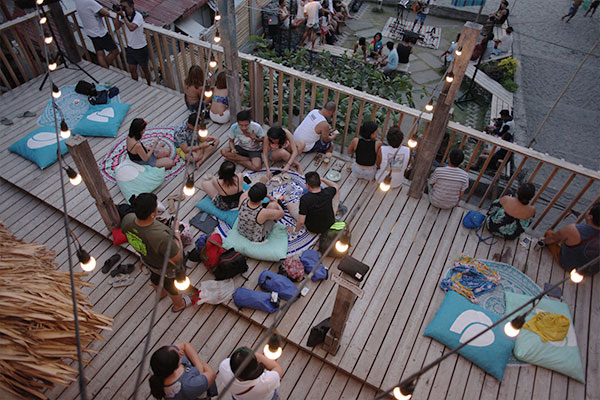 We were lucky to have this view as we dined.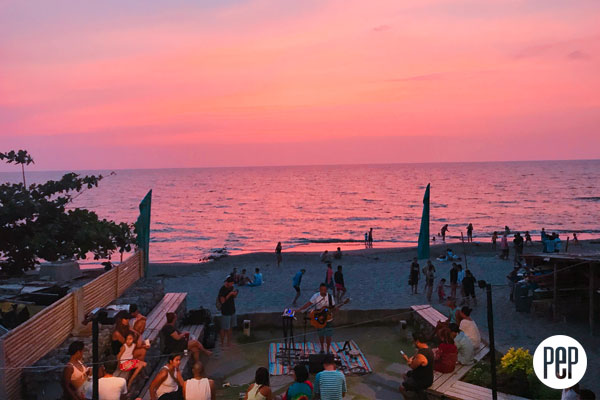 PARTY ON. After enjoying the sunset, we had a chill beach party at the Flotsam and Jetsam.

Local beers starts at PHP80 while cocktails start at PHP220. Their "five-minute drink" is a must-try!

ADVERTISEMENT - CONTINUE READING BELOW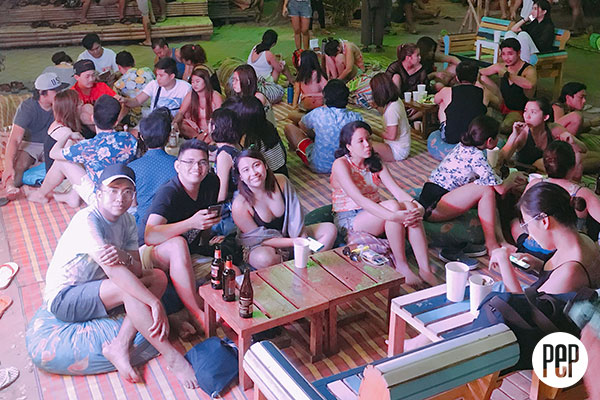 CELEBRITY SPOTTING. We also spotted celebrities roaming around the Surf Area freely.
We found out their usual hangout places in La Union are GNPTSVD and the Flotsam and Jetsam hostel.
We caught sight of Star Magic talent Tony Labrusca, GMA-7 actress Ashley Rivera, and Filipino-Australian surfer Luke Landrigan with his wife Danika Nemis.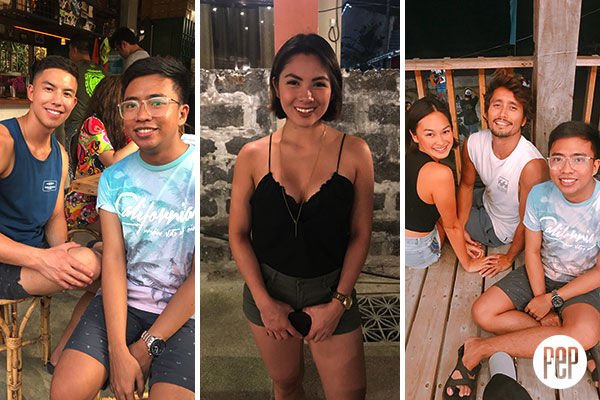 ADVERTISEMENT - CONTINUE READING BELOW
We also spotted basketball stars Thirdy and Kiefer Ravena (not in photo), and volleyball star Alyssa Valdez, during our stay.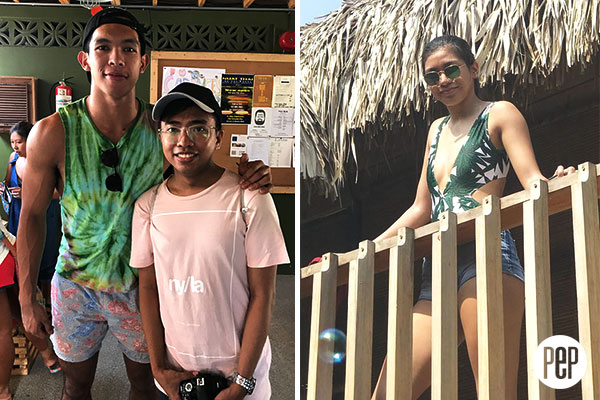 We were told that ABS-CBN actor Jericho Rosales and his wife, Kim Jones, frequent these places.
SURFING. But of course, our trip wouldn't be complete without surfing. Surfing season usually starts in October and ends around April.
Surfing lessons for beginners starts at PHP400 an hour; surfers can rent a board for PHP200.
It was my first time to try this water sport, and I enjoyed it with Garage's September Grace (left frame, middle), MBody's Kevin Rebultan (left frame, right), and MBites' Jules Vivas (not in photo).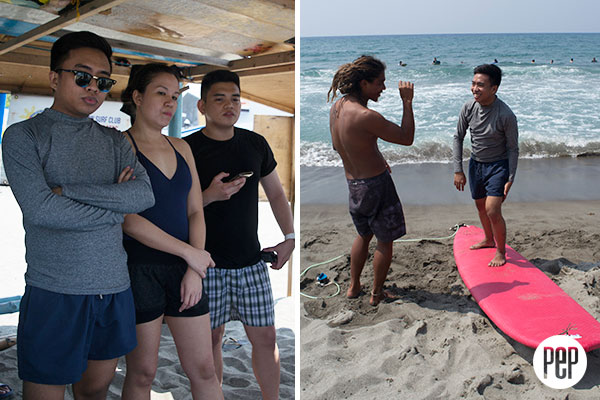 ADVERTISEMENT - CONTINUE READING BELOW
Kuya Marley of LA Union Surf Club Inc. gave me a lot of hugot-inspired instructions on how to surf.
I was able to stand on my surf board on my first try!
(One thing I learned about surfing, it has a lot of similarities with the ups and downs of relationships.)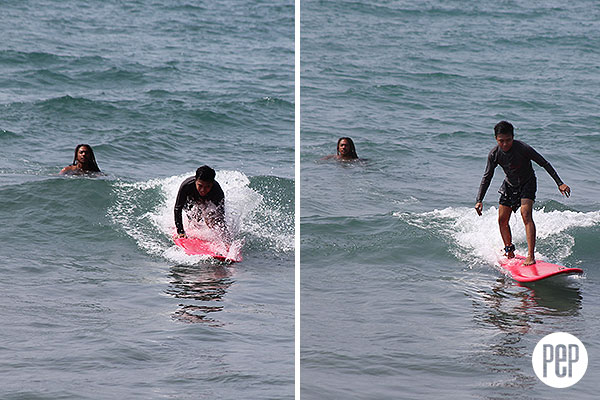 COST OF TRIP. I would say PHP4,000 is enough for a two-night stay, the expenses for food, including surfing lessons.
Daily bus trips to La Union are available via Partas, Dominion, and Viron Transit. Fare starts at PHP382 to PHP524, depending on the amenities of the bus.
For accommodation, my advice is to choose the hostels around the area. Flotsam and Jetsam has dorms available for PHP850/bed/night.
Other hostels could even go as low as PHP500.
Interestingly, Paymaya picked San Juan as a pilot for its cashless city. 
The brand's consumer business unit head, Raymund Villanueva, further explained the concept that works like a credit card minus the swiping of card.
ADVERTISEMENT - CONTINUE READING BELOW
"The frequency of transaction's a lot faster and a lot more convenient kasi mas mabilis yung turnover sa cashier kasi there's no change, and everything is basically done through the mobile phone."