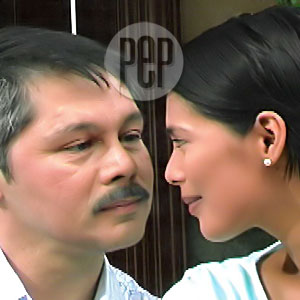 ---
National Artist Eddie Romero hasn't directed a film in almost 20 years—his last was Hari Sa Hari, Lahi Sa Lahi back in 1987. After 19 years, the Philippine movie industry is rejoicing because the legendary director is back behind the camera.
Mr. Romero recently finished a digital movie—his first—titled Faces of Love, starring Christopher de Leon, Angel Aquino, Alfred Vargas, Juliana Palermo, Chanda Romero, Bembol Roco, Rodel Velayo, Mon Confiado, and Jackie Aquino.
The Cinema Evaluation Board (CEB) graded Faces of Love an A. This means that the film will be given a full tax rebate. The other good news is that the government will take care of the expenses of transfering the film from 16mm to 35mm prints, for the film to enjoy nationwide distribution.
Face of Love, also written and produced by the National Artist tells the story of Don Arcadio Silvestre's (Christopher) quest to find out who has been writing him anonymous letters for the past ten years, which started after the death of his beloved wife.
To help him in the investigation, he hires Toby Villamor (Alfred), a criminal defense specialist with a police background. Meanwhile, Don Arcadio's niece, Skip (Juliana), also offers to help in the search. During the investigation, one name stands out, Ligaya (Angel), the former nurse of Don Acadio's wife. Recently widowed following the killing of her insurgent husband, she has become the object of a police investigation.