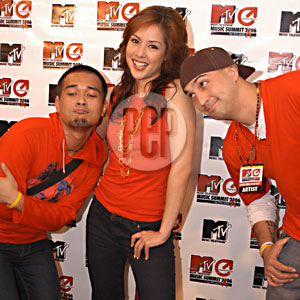 ---
Throngs of people, most of them dressed in red, trooped to the Bonifacio Global City Open Field last December 5 to take part in the 2006 MTV Music Summit for AIDS. Hosts for the evening were VJs KC Montero and Cindy Kurleto as well as Kjwan frontman Mark Abaya.

The crowd screamed and sang along with some of the biggest names in the local music scene, which included NU Rock Awards Artist of the Year Kamikazee, Dicta License and Urbandub. The last two bands collaborated with each other for the event's theme song entitled "Future."

Gabby Alipe, vocalist of Urbandub, said of their collaboration: "It's an honor because it's for a cause. They even asked us to write a song for it. We were able to collaborate with Dicta License. Masarap. Madali lang. Nung umupo kami ni Pochoy [lead vocalist of Dicta License], akala ko sa sobrang iba ng style namin, hindi kami magkakaintindihan. Happy naman ako, pag-upo niya, eto yung idea ko, eto yung idea niya. Ang bilis naming nakagawa ng same thought."

Kamikazee kept the crowd lively with their singles "Doo Bi Doo" and "Chinelas." Adding to the fun were the crazy antics of lead vocalist Jay Contreras, who stripped down to his boxer shorts, sending the audience roaring with laughter.

Before their electrifying performance, PEP (Philippine Entertainment Portal) had the chance to interview Jay, who said: "Sana pakinggan nila yung mga katulad nitong event na 'to. Tsaka sana yung mga pumunta, hindi pumunta dahil sa sounds. Yung cause kung bakit may mga tugtugan na ganito. Kaya ginawa to, para maging aware yung tao sa AIDS. Mag-ingat."

Hale guitarist Roll Martinez identified the key issue: "Yung discrimination. Yung pagka may AIDS, parang madumi o makasalanan. Tanggalin na lang natin yun. Accept na lang natin na may problem. In our little way, tumulong tayo kahit sa maliit na bagay lang."
ADVERTISEMENT - CONTINUE READING BELOW

One artist who also stole the night was RockStar: INXS's Mig Ayesa, who told PEP, "I was really nervous about this. I'm singing two songs I've never sung before with a band I never played with before. We haven't even rehearsed. Now I'm just excited. It's rock 'n' roll. I'm just gonna have fun out there. If we go down in burning flames, we go down hard. We do it with style. We do it with a smile on our faces."

The fellow added, "This gig is a huge festival. They play music a lot harder than what I did on my album. I'd better step up my rock factor."

Mig performed with the band Razorback for the Beatles original "Come Together." After his performance, he gave away a copy of his album to the crowd.

The Fil-Australian rock singer is all-praise for Filipino performers. "I think they're great. I don't mean this as a putdown, but I was really surprised. I was really impressed by the talent in the Philippines. I came here last year and I heard these live bands and I was really impressed. They really got a thriving music industry here. The rock has become so huge. When I was growing up here, it was more of the pop artists like Gary V."

The event is not just limited to alternative bands and rock bands. The event also had a mix of pop and R&B. Jay-R was backstage with long-time girlfriend Lisa. He said: "It's always nice to do a good thing for a good cause. Medyo mahirap kasi lahat rock and alternative. I'm nervous pero it's for a good cause naman e. We're all here for the cause. Medyo kasi iba yung music ko e, sana hindi ako i-boo."

Laughing a bit, the R&B prince said: I'm still gonna get up there. I'm still gonna sing."
ADVERTISEMENT - CONTINUE READING BELOW

Even MTV DJ Mark Abaya and the rest of Kjwan joined the party. Mark said: "It's a dream come true. It's the year-ending concert. We're able to surpass last year. So many people showed up. No violence. Just music. Again, [it's a] concert for a cause. Good vibes all around. This is a rock concert yet we try to integrate hiphop and R&B. There's the explosive performance by Gary V. The vibe is just so positive, unlike most rock concerts. You'd expect chaos and mayhem. I'm proud to be part of it. Being a musician, this is great. It's like Woodstock 2006. No other event this year can compare."
Other bands that made the crowd go wild include Greyhoundz, Sugarfree, Spongecola and Sandwich. In addition, 6 Cycle Mind, Orange and Lemons, Itchyworms, Cueshé, Join the Club, Pedicab, Mojofly also performed for this year's event.
The audience was further entertained by the bands Pupil, ChicoSci Kala, Mayonnaise, UpDharma Down, Soapdish, Mojofly, Barbie Almalbis, Imago and Moonstar 88.

Upcoming bands Amber, Hilera, Jeans (with Jericho Rosales as lead singer), Lokomotiv, Chillitress and Love Me Butch also lent their support to the cause.

Other performers that night included bossa nova singer Sitti, Rachelle Ann Go, and Lovi Poe.

MTV Philippines also launched its "Wear Red" campaign as part of its advocacy for AIDS Awareness.