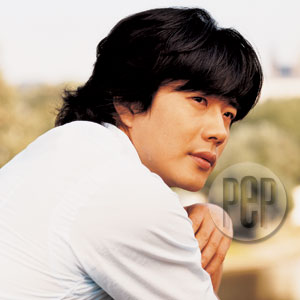 ---

Stairways to Heaven's "Cholo"—Kwon Sang Woo—appeared before the press yesterday, December 18, at Shangrila Makati, to promote TheFaceShop, a Korean line of beauty products that he endorses. ETC anchor Sam O served as host and translator for the Korean superstar.
TheFaceShop top honcho Mr. Jung Woon Ho gave the reason why the company chose Sang Woo as its image model: "He has a healthy image, clean looking, and he is also the hottest actor in Korea."
It was a win-win situation for both parties as this endorsement also served Sang Woo well.
As Sang Woo himself said, "Endorsing it [TheFaceShop] is a vehicle for me to show my fresh, natural and positive side. This is also meant to show the different side of me and also help with the concept of naturalism. It also helped [me] give a good image to the public."
MALE VANITY. The Korean actor also called the attention of men who have not yet opened up to the use of beauty products.
ADVERTISEMENT - CONTINUE READING BELOW
"Those guys will not end up with pretty girls. It takes only ten minutes of your time to get yourself some attention and care. That's all you need to meet a beautiful and a wonderful lady," said Sang Woo.
On how to convince men to visit TheFaceShop, he replied, "It's not that difficult. You just drag them to TheFace Shop. I also use female products. It's not harmful so you just have to drag them to TheFaceShop outlet near you."
The press asked Sang Woo about his diet and beauty regimen.
"On my diet, I don't really deprive myself of anything as long as it's in moderation. I do not overeat no matter how hungry I am. I eat a lot of fruits and vegetables and drink a lot of water and fruit juices," said the popular actor.
Aside from dieting, Sang Woo also maintains a healthy lifestyle, which includes going to the gym.
ADVERTISEMENT - CONTINUE READING BELOW
"I also try to create a regimen three-four times a week, especially in parts of the body that I need an exercise. Nothing really structured but I really try to maintain that regimen."
He was also asked how he keeps his skin flawless. He said, "It's also genetic because my mother has a flawless skin. I'm not vain, but in the industry that I'm in, I'm supposed to take care of myself. On cleansing, I use facial foam and wash it with warm water. Then rinse it three to four times with cold water. Then, I use the basic men's line of lotion and skin essence."
GAWAD KALINGA EXPERIENCE. Kwon is here not only to promote TheFaceShop but also to bat for a cause. The actor participated in the Gawad Kalinga project where he helped paint houses in Baseco Compound.
He talked about his unforgettable moments with the project: "I was very, very touched by the special presentation of the kids, the youngest members of the Gawad Kalinga yesterday. Despite of the difficult surroundings, the kids are very bright. They are very hopeful and that made me very happy. I hope that these houses can be built already so that the children will be provided with stable environment. No matter how difficult the surroundings, if you can keep your dream alive, you can get out of it."
ADVERTISEMENT - CONTINUE READING BELOW
ON FILIPINO FANS. Kwon said about the Philippines: "Korea is a country a little far away from the Philippines. We have all these people supporting me. I'm very happy because of you. The Philippines is a place with beautiful beaches, nice people, nice people. It is my place of refuge. I'm very, very happy to be here."
He then added, "After doing a good project in Korea, I would like to bring along my family on a personal pleasure."
Kwon has always been fond of his fans. PEP (Philippine Entertainment Portal) asked for his general impression of the Filipino crowd.
He said, "My fans are generally the female population. Filipinas' faces are very small. They have beautiful eyes [and] their bodies are beautiful and sexy."
Talking about his female fans, he was also asked a hypothetical question about whether he would go out with an older woman.
He candidly answered: "I do not discriminate on age. I'm okay with that. I believe that men fantasize older women. But I have to meet her now! Age doesn't matter as long as you love the person. I think that men have fantasy on older women."
ADVERTISEMENT - CONTINUE READING BELOW
Popularly known in the Philippines as Cholo in Stairway to Heaven, Kwon talks about his character in the popular Korean drama series.
"I identify myself with my character Cholo. In particular, Cholo's passion when he's in love. I also think that way in real life. Cholo also happens to be my favorite character. He also jokes around a lot," he said.
Like Filipino actors, Kwon will feel honored to appear in a Hollywood movie someday. He said, "I would also love to be in a Hollywood movie but I am aware of the language barrier. It's not just the character that I consider but also the overall plot. I would love to do the main character in a love story. But I also realize that there is a huge language barrier there."
TheFace Shop stores are located at Glorietta 3, SM Mall of Asia, and The Block SM North Edsa, Bonifacio High Street, and Robinsons Galleria.
ADVERTISEMENT - CONTINUE READING BELOW