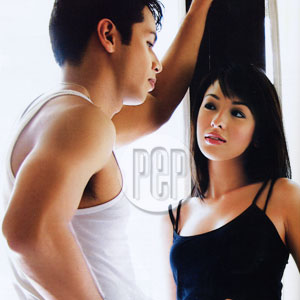 ---

Real-life couple Nicole Hernandez and Paolo Villavicencio bring love to Men's Health magazine for the month of February. The gorgeous pair has been a couple for the last six years. They both lived in Alabang and went to the same college, De La Salle University, where their love blossomed.
Nicole graduated with a double degree of BS Psychology and Business Management. On the other hand, her boyfriend, Paolo, earned a degree in Organizational Communication.
This is the first time that Nicole has posed for Men's Health. However, she has had pictorials with other Summit magazines such as Seventeen and T3. In 2006, Nicole ranked 50 in FHM's 100 Sexiest Women. She is also a print model for Bayo and Whoops! (Men's Health, Seventeen, T3, and FHM are affiliate companies of PEP, the Philippine Entertainment Portal.)


Nicole is also one of the most sought-after commercial models. Some of the products she endorses are Pepsi, Addict Mobile, Astring-O-Sol, SanMig Coffee, and Camay. But of all her TV commercials, it was her stint with Pond's that made her memorable. Who can ever forget "Carla grasa"?
Right now, Nicole is taking up a fashion course in New York.
Paolo's Corner. In the celebrity muscle section of Men's Health, cover boy Paolo shares his secrets to attaining that firmer body. He reveals, "For a while, I used to exercise to stay in shape and not gain weight. But now, I exercise to stay physically strong and healthy."
He also gives the readers some tips to keep them motivated as they exercise: "Work out regularly, eat properly, and get enough rest. Change your lifestyle into a healthy one."
"Under the covers." Inside Men's Health, Nicole and Paolo modeled for the feature article entitled "Under the Covers." The article focuses on the importance of having good underwear when making love.
ADVERTISEMENT - CONTINUE READING BELOW
Cosmopolitan editor-in-chief and "Ask the Girl at the Office" columnist Ianne Evangelista says, "Choice of underwear may affect how his partner will perceive him. On an aesthetic level, wearing ratty or tacky underwear may eliminate sexiness in the environment, as opposed to clean, tasteful underwear, which can hold a lot of promise. It reflects his choices in life, how groomed he is, how responsible, or how much thought and care he puts into his dressing." (Cosmopolitan is an affiliate company of PEP.)
Grab a copy of the February 2007 issue of Men's Health, now available in leading bookstores and magazine stands nationwide. Log on to www.menshealth.com.ph to join Men's Health growing community.
(With reports from Men's Health)