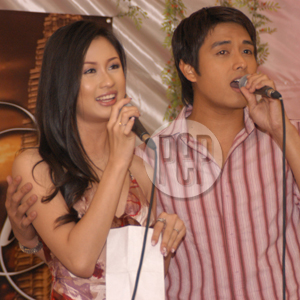 ---
The lead characters of Muli might be shooting a romantic teleserye but they appear to be unlucky when it comes to their own love lives.
In the process of shooting this Philippine-Malaysian co-production, the lead stars of Muli—Alfred Vargas and Carrie Lee—parted ways with their respective partners. Alfred recently had a "cool off" with StarStruck Batch 2runner-up LJ Reyes while Carrie broke off for the second time with her Malaysian boyfriend.
On Valentine's day, GMA-7 hosted a press conference at the 17th floor of its Quezon City office to herald the launching of Muli (same title in Malaysia), which will be shown in the Philippines starting February 19.
The Malaysian beauty queen-turned-actress admitted to PEP (Philippine Entertainment Portal) that she did not take formal acting classes but she did receive a lot of instruction from the show's director, Mac Alejandre, and her fellow co-stars.
"The person I really like the most is Alicia [Mayer]. She taught me a lot. She explained things to me...she helped me out. I found out that she is really talented. Actually, I'm very new [in] show business and I need some suggestions. Sometimes even without asking her, she would just tell me, 'I think if you do this, it would be better.' I really appreciate it so much," narrates a grateful Carrie.
Her fellow co-stars didn't have to worry about the language barrier since Carrie is a certified linguist who can speak several languages and dialects. "I speak English, Indonesian, and I understand a little bit of other Chinese dialects like Hokkien. For Chinese, I speak Mandarin, Cantonese—which is my home dialect."
She took up a business course in Help University in Malaysia, a two-month English course at the British Council, and received a Chinese scholarship from Jinan University at Guangdong, China.
ADVERTISEMENT - CONTINUE READING BELOW
LOVE LOST. Miss Chinese Cosmos International 2006 Carrie can relate well to the heartache felt by her leading man, Alfred, who recently decided to put off his commitment with LJ.
"He told me on the third day when he broke up [with LJ]. I'm sorry for that because he told me it was the publicity and because of the timing as well. I know part of it because Alfred explained it to me," says Carrie.
She confides: "I actually have problems with my boyfriend as well because he cannot accept my job. He cannot accept his love [sic] to be hugged or kissed by someone else. Because of this issue, we broke up.
"We still remain friends. We give time for each other. I just started in this career and I love show business so much. I don't want to give up my career so I chose my career instead of my love but in my heart, I still love him so much."
Carrie explains that they broke off last month but they got back together again for two days before she finally decided to end their relationship. "I have a lot of guy friends and he doesn't like it. He is a businessman and he cannot accept it so I decided to take a break."
When asked to describe her leading man, Carrie gushes: "Alfred is sweet and he is caring, responsible and helpful. He asks me, 'Carrie, do you miss me?'
"Back in Malaysia, during the last day, before he came back to the Philippines, I [gave] him a tour in KL [Kuala Lumpur]. I brought a girl friend with us and we went for a drink. There were three of us—I brought a girl friend. If not, I will be killed by my boyfriend," she jokes.
ADVERTISEMENT - CONTINUE READING BELOW
She ends the interview by saying, "This is the very first year when I did not celebrate Chinese New Year because I came to the Philippines for the promotion [of Muli]. And I sacrificed my Valentine's day also."
For now, the Malaysian stunner is content taking care of her current love—her blossoming career in show business.