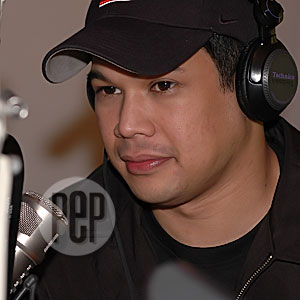 ---
Controversial DJ Mo Twister—Mohan Gumatay in real life—revealed that he has gone out with "Pantasya ng Bayan" Joyce Jimenez in "Forbidden Questions" in his own radio show Good Times.
However, after that 28th question, DJ Mo tapped out when co-host DJ Mojo Jojo gave a follow-up question, "Have you ever slept with "Pantasya ng Bayan" Joyce Jimenez?"
DJ Mo came back last Monday after visiting his daughter with Bunny Paras named Moira. And as a welcome for him, Mo took the hot seat to answer his own "Forbidden Questions," just like his other co-hosts Mojo Jojo and Maui Taylor—who is now permanently replacing DJ Andi9.
It took DJ Mo a long time to answer the question "Have you ever gone out with anyone else that's famous that no one knew about?" and he hoped that the girl [Joyce Jimenez] was not listening during that time. However, Mo explained that it happened "long, long, very long time ago."
Aside from that, DJ Mo also admitted that he almost had a fistfight with RnB singer Jay-R.
DJ Mo recalled, "Jay-R and I got into it because I went out with his [former] girlfriend when he told me not to. I was in the wrong... This is what I really love about Jay-R, he was really nice about it. When he found out he forgave her, he forgave me, and he told us not to do it again."
Then, Mojo Jojo asked, "Did you do it again?"
DJ Mo honestly replied, "Yes. When he found out about the second time he got pissed. But in the end, what happened, this is how great of a guy he is, he forgave me for the second time. Now we're almost best friends. Jay-R and I are really really good friends."
According to DJ Mo the girl is now married and lives abroad. In fact, after saying that him and Jay-R are good friends already, he thought that, "I'm sure she would flip if she knew him and I are close now. This guy is a great guy. I mean, I deserve an ass-kicking and all he did was be really nice about it. I've apologized a million times."
ADVERTISEMENT - CONTINUE READING BELOW
Towards the middle of the program, DJ Mo disclosed that had tried to pleasure himself while watching his co-host's video with Wendell Ramos and Katya Santos. Then, Mo got uneasy when he found out that Maui, who was not in the program at that time, was on the phone.
He even said to Maui, "Quit. Maui, resign because we can no longer work together."
Maui, on the other hand, took it lightly. She assured DJ Mo, "That's okay, don't worry about it." Then she said jokingly, "You wanna do it again while you're right in front of me?"
Meanwhile, here were the other questions that DJ Mo thought the showbiz programs would also pick-up, especially on Wazzup Wazzup and The Buzz.
Worst billboard along EDSA? There's so many. I'm gonna say that the [Ellen's] is terrible. Then, there's Glady's Reyes in Edsa, Cubao. But I think the thing that takes the cake right now is Belo ad with [Richard] Gomez on it. It doesn't make sense. "One hope, one vision, one nation," for dermatology?
There's a movie coming out called "We are the Worst Actors," who do you think will play the leading man and the leading woman? Leading man Troy Montero and worst actress Nancy Castiglione.
Who in showbiz do you dislike working with? If I had to pick, you know I host Y Speak... Do you know the show called Let's Go? We guested a group of them on the program, and they are just the most irritating bunch of people. I mean, I was vomiting on set. You can see it in my face that I was just pissed because they're just so annoying. They didn't take anything seriously.
Name 3 celebs that you tried flirting with but they didn't flirt back. I can't ask a girl for a number, I can't flirt. They usually have to make the first move. How about girls I'd like to flirt with? I don't get to flirt that much because I can't do it. I can't physically do it, I'm so embarrassed. How about I say I had a long time crush on Rica Peralejo, Anne Curtis, and Joyce Jimenez.
ADVERTISEMENT - CONTINUE READING BELOW
Which local reporter do you dislike the most and why? That's easy, isn't obvious that I hate the hypocrites Cristy Fermin and Jobert Suca-- Whatever.
Give a celebrity email address for Cristy Fermin. Cristy Fermin's email address is... How about this? Itshalloweeneverysunday@thebuzz.com.
If you could say the following line to a local celeb, "Dude we all know you're gay so just admit it", who would you say it to? I don't know that he's gay, I just watch the television and I was like, "Could be gay"-Paolo Ballesteros, Erik Santos.
In your opinion, which female celeb could admit having plastic surgery done on them? I'm gonna go with Karel Marquez. I don't think that something that big can grow on her skinny body.
Before answering the 23rd question, DJ Mo answered a phone call. The caller just uttered a common Tagalog curse then hung up. Ignoring what the caller did, DJ Mo simply said, "Thank you. That's my name," then, moved on with their show.