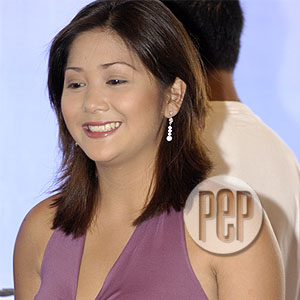 ---
Katya Santos joined Mo Twister, Mojo Jojo, and Maui Taylor at the Magic 89.9 radio booth for the Good Times segment, "Forbidden Questions," this morning, March 14.
As expected, Katya gave juicy answers to juicy inquiries. Question after question, the sexy star answered each candidly and without hesitation. She scored 40, placing her at the top of the pile with Lolit Solis, Luis Alandy, and Borgy Manotoc.
Boldly, she revealed her dislike for Iwa Moto, kissed Maui, and showed her breasts to the hosts!
IWA MOTO. Mo Twister asked Katya if she ever had a bad encounter with a celebrity.
She answered, "I'm a very patient person pero this person, this artista, which is Iwa Moto—I don't even know her. [She's] the StarStruck whatever... I had a taping with Posh, a [defunct] TV show. Of course, I went there early because it was just for the promotion of my video, so I told them unahin nila ako.
"And then, she [Iwa] got there and she was like looking so bitchy. She was bitching around. I don't know ha, pero hindi lang ako nakapansin... She told other people that she's really like that, but for me, she was bitching around.
"She was walking around in front of me, and looking at me... When I was taking a scene, my aunt saw her looking at the screen, parang they were talking about—whatever—me siguro, with her friend. Super-irap talaga, ha!"
Katya said she didn't confront Iwa about the alleged incident.
"The day after it happened, it was written sa mga tabloids," she added.
Katya was asked who she would cast in the movie We Are the Worst Actors.
Her answer: "Leading man, Mark Herras... I don't really believe in competition/reality shows, that's why. I think if you want to be a good actor or actress, you have to invest everything... For leading lady, Iwa na nga."
ADVERTISEMENT - CONTINUE READING BELOW
The sexy actress was asked to create a fictional e-mail address for Iwa. She creates a website URL instead, "www.japanesebiatch.com."
Here are some of Katya's answers:
What's the better TV station?
"I think ABS-CBN because of the TFC. It's really shown everywhere in the world, but when it comes to [treating their stars], I have a different experience. [GMA-7 is] friendlier."
Girl crush?
"Claudine Barretto."
Which local celebrity looks better on TV than in person?
"Sam Milby, parang he's goodlooking, but it wasn't what I expected."
Worst billboard on EDSA?
"Judy Ann Santos for Pacific Blue Shades... I have nothing against her, okay? But it's just really the billboard. I think the stylist was making her really sexy, but she's not... Like the shot, the face."
Worst dressed?
"Jolina Magdangal before... I think you should accessorize by your age."
Celebrity who had plastic surgery, but hasn't admitted it?
"Angelika dela Cruz, the chin."
Worst body odor?
"Carlo Maceda, bad breath."
Most plastic person in show business?
"Lara Morena 'cause we had a taping for All Star K Videoke Challenge. She was talking to me and she was like so close, 'Good luck to you!' And then she was like the first [to get booted out], she was saying that I should be the one who should be [eliminated] because she sings very well, better than me."
Celebrity that she dislikes working with?
"Miss Cherie Gil, she's really scary. She's so professional so you'll really be intimidated."
Who do you think are the gays in show business?
"Piolo Pascual... Of course, Paolo Ballesteros... Uma Khouny... I want one more. There's a lot... Sam Milby!"
Of the Viva Hot Babes, who did you dislike the most?
"Jen Rosendahl because, at first I was really, really nice to her. I don't really say bad [things] about them. What I usually do, ipinagtatanggol ko pa nga sila, especially her."
ADVERTISEMENT - CONTINUE READING BELOW
Of the Viva Hot Babes, who had the least amount of talent?
"Hazel Cabrera. She's not really concentrating on what she does, that's why I think she has the least talent."
What is not real on you?
"My butt... [My boobs] are real! It's real. It's hereditary. It runs in the family." (She went on to reveal that her bra size is 37-C.)
"I had [my butt] injected by Doktora Vicky Belo... Lipo, twice—Smart Lipo and the Liposuction."
Have you ever cheated on a boyfriend?
"Yes, twice. But he wasn't really a boyfriend. Of course, you meet a lot of people and sometimes you can't resist them. It has a [long] story behind it. And then, somebody told me that she said that my ex-boyfriend who died, she said that he died because of overdose, or whatever. For me, you don't have the right to say that 'cause you really didn't know what I've been through that time."
What's the most amount that was offered to you as an indecent proposal?
Katya said P250,000 from a Japanese guy, but said she opted not to take it. She also said that if the guy had been cute, she might have agreed.
Age when you lost your virginity?
She said she was 16 years old, and it was with a dancer from the dance group Abztract Dancers.
Last time you pleasured yourself?
"Yesterday with my boyfriend! [By myself,] I don't. I honestly can say I never did. I don't know how. I don't really like."
Spit or Swallow?
"Swallow!"
Is there a Katya Santos sex tape somewhere?
"Yeah, [it was] with my boyfriend. I have my copy of course. [It's] about 30 minutes. It was shot in Boracay on Halloween."
Have you ever slept with anyone famous?
"Not yet."