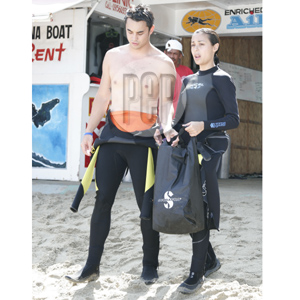 ---
Puerto Galera, Oriental Mindoro—Visitors to this summer destination last March 10-11 were treated to sightings of showbiz couple Brad Turvey and Nancy Castiglione. The two arrived on March 9 and were spotted HHWW (holding hands while walking). The next day, they joined other volunteer scuba divers for an underwater clean up as part of Nestea's Love the Beach campaign.
Brad and Nancy, clad in their wet suits, walked side by side, talked incessantly, and kept smiling at each other. While hundreds of volunteers from Mindoro and Batangas combed the sands of White Beach for litter on Saturday morning, the scuba divers retrieved trash underwater and came back with a number of bottles thrown into the ocean.
"We should respect what's living in the water. When our beaches are well kept and protected, we'll enjoy them more," says Nancy. For his part, Brad says that as a diver, he wants to help in the conservation of the underwater world: "Once you take an interest in something, you'll want to act upon it based on your hobby." Nestea is also selling limited edition Nestea Beach items, part of the proceeds of which will go to a coastal rehabilitation fund set up by the Philippine Business for Social Progress (PBSP).
Both water babies and sports enthusiasts, Nancy and Brad are excited to play during the celebrity games of the annual Nestea Beach Volley in Boracay mid-April. "I love the beach!" Nancy exclaims, with eyes glowing. Observers can't help but comment on how the foreign-looking couple—Brad is Australian while Nancy is Canadian—look so bagay.
According to a PEP (Philippine Entertainment Portal) article that came out on March 2, the two have been going out for the past ten months already, prompting Nancy to say that she hopes Brad will be the last man in her life.
ADVERTISEMENT - CONTINUE READING BELOW