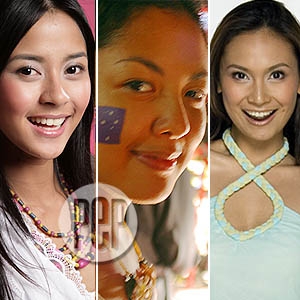 ---
This year, Candy Magazineis proud to present the 2007 Teen Blog Awards, the first blog awards forteens in the Philippines.Together with Dutch Mill Yoghurt Drink, the 2007 Teen Blog Awards willbe judged by the following celebrity bloggers:

BiancaGonzalez. The Barkada Log host returns to the blogging scene after a yearlong hiatus. Everyoneknows that 2006 was a very eventful year in Bianca's life, and now she resumesblogging to show how she is moving on from the pains of the past to thepossibilities of the future.
As she herself says on her blog, "We're onlyhuman, we're allowed to make mistakes, we're allowed to wallow in our hurts.But we just have to keep going. We actually have no choice but to keep going."
Patty Laurel. Viewers get the chance to see hereveryday on Studio23's Breakfast, but with her blog, Patty gives her fans a chance to seewhat goes on in her life away from hosting duties.
ADVERTISEMENT - CONTINUE READING BELOW
Filled with animated taleson her travels and other adventures, Patty also shares fun photos of her with Breakfastkabarkadas JC Cuadrado and Atom Araullo, showing everyonethat she really is just like everyone else who likes to blog about their lives.
Ala Paredes. The former MYX VJ gave up a lucrative career tomigrate with her family in Australia.Ala likes to blog about adjusting to life in Australia, andreveals her passion for trying new things. She also posts photos that she takesherself and her very own artworks, making her a credible judge for teens whoseblogs are rather image-heavy.
Rounding up the roster of judges are Candy managing editor MimiTiu and Candy web editor Macy Alcaraz.
Be a part of the 2007 Teen Blog Awards! Log on to www.candymag.com/blogawards tofind out how you can get the chance to win a 10.1 Megapixel touch-screen SonyCybershot. Hurry! Nomination period is ongoing until April 20, 2007!
Grab your copy of the latest issue of Candy Magazine, available in allleading bookstores and magazine stands at P85 per copy.
ADVERTISEMENT - CONTINUE READING BELOW