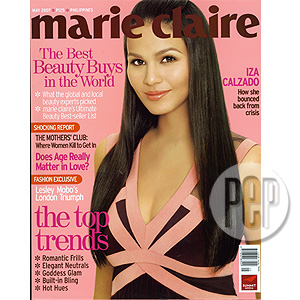 ---
marie claire magazine does not only emphasize physical beauty but also beauty from the inside. Even if it sounds like a cliché, fact is, in our world today little acts of kindness can truly make a person feel beautiful.
Iza Calzado, a passionate young actress/commercial model, is once again chosen as this month's cover girl after gracing marie claire's maiden issue in November of 2005. This May, the 24-year-old cover girl shares a heartwarming story of her own.
She says that at the height of the popularity of her soap opera, Te Amo, Iza began reaching out to the less fortunate. She even decided to celebrate her 21st birthday at the Philippine Children's Medical Center. The QTV-11 public service show, At Your Service, then got her as its host.
Somewhere in the middle of it all, the self-confessed sunshine-y person started to entertain dark clouds of doubt and confusion. Typical of girls her age, Iza began to question her purpose and slowly lost her drive. The star of Atlantika felt she was just going through the motions, and was undergoing the so-called quarter-life crisis. According to her, she was always tired and nothing really made any sense.
Iza recalled: "I'm always asking if I'm doing the right thing. Is this my purpose? Am I really happy?" The Gawad Urian Best Supporting Actress winner for the movie Sigaw even had the notion that she had to quit showbiz.
However, fate intervened and made her realize how fortunate she was to be working in an industry that she loved. Luckily for Iza—and multitudes of her fans—she decided to stay in showbiz. "I have no right to get tired. People are counting on me to deliver. I have to—no, I want to—deliver," Iza tells Summitmedia's marie claire this May.
ADVERTISEMENT - CONTINUE READING BELOW
Find out how Iza bounced back from her dark state as she relates her whole story in the May 2007 issue of marie claire. The Summit magazine is available at all leading bookstores and magazine stands nationwide at P125 per copy.