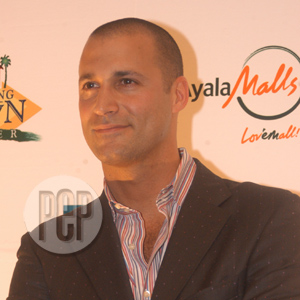 ---
When Nigel Barker talks about fashion photography, he speakswith authority, especially since he knows what it takes to be in front of thelens as well as behind it.
This permanent judge of America's Next Top Model wasa model for international brands before he became a noted photographer andopened his own studio called StudioNB in 1998. It was in this same studio wherehe took photos of Anna Bayle, aFilipina who reached supermodel status during the early '80s.
In a press conference held at MakatiShangri-La Hotel last May 7, Nigeltold PEP (Philippine Entertainment Portal) that he got to work with thesupermodel in his New York office around two months ago for the cover of alocal magazine.
"InAmerica, I've been calling her Bailey for years, 'cause I was corrected themoment I arrived in the Philippines. One step out of the plane, 'It's Bayle!'" hejokes.
Thecelebrity photographer continues: "She's a fantastic woman, very unique, veryunusual...feline to shoot. Just exciting, knows her body, a great woman. You cansee why she did so well..why she continues to do so well."
The 5'10" supermodel is now raising her eight-year-old childin New York. In her official website, Anna only has praises for Nigel. "Shooting with Nigel Barker was intriguing and a lotof fun. Here is a very good-looking TV celebrity who turned out to bedown-to-earth and a pleasure to work with. Having been shot by illustriousphotographers in my lifetime, I consider this photo shoot an honor as well,"she shares.
When Nigel was asked togive his message to Filipinos, he tells the members of the press: "Justkeep doing whatever you're doing. I see lots of beautiful young ladies. I justspent a few days here but just walking around the streets and everybody whoworks here, and with these ladies in front of me, you've got very good genesgoing here."
ADVERTISEMENT - CONTINUE READING BELOW
Nigel will be sharing his expertise in fashion through atwo-day event that will be held in Ayala Malls on May 10-11.