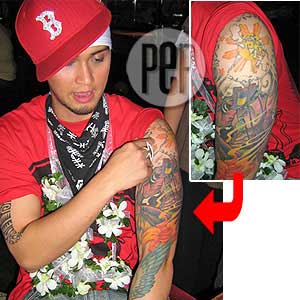 ---
Billy Crawford's energetic dance moves at the Music Museum last night, May 31, made no indication that he was experiencing jetlag. He had flown into the country just that morning in time for his press conference for his homecoming show, Move! The Billy Crawford's Search for Pinoy Dancers, which will premiere on June 10.
The former That's Entertainment star is now back in his mother studio, GMA-7, to host a reality dance contest that will choose the six Filipino dancers who will participate in his August 4 concert at the Araneta Coliseum.
PEP (Philippine Entertainment Portal) was able to talk to Billy and asked him to describe what Filipinos can contribute to the global dance scene. "Talent. Lots of good talents. [There are] a lot of good dancers and a lot of great, great, great performers here in the Philippines," says the former child star, who now stands 5'11" tall—a far cry from what most viewers remember of his That's Entertainment days.
Do you think Filipinos can penetrate the international market?
"Of course, of course. But it depends. Depende kung sinong hahawak sa 'yo or who's your contact. 'Yun 'yung pinakaimportante. It's just that, if they have it here [points to his heart], the dream will always come true but you have to work hard."
How would you define professionalism?
"Everything. Being on time. Being true to your self. Always ready to switch and be a perfectionist as soon as we perform onstage or even offstage, actually. You have to be, you have to do the best as you can and to compromise with a lot of people as well. So that's being professional."
ADVERTISEMENT - CONTINUE READING BELOW
TATTOOED IN PLACE. The 25-year old dance phenomenon has not forgotten his roots and this is clearly seen in the way he talks about his home country.
"It is the best feeling in the world coming back home and do a show in the country that you were born in," he says. Billy even gives trivia about his birthplace: "Sa Makati Med[ical Center], number 2 door."
When asked if he plans to conquer Asia this time, he explains that: "Actually, I did before...in my first album.
"'Yun nga problema ko at that time with my record company. I've been everywhere—Malaysia, Thailand, Japan—every country in Asia apart from the Philippines. It's kindda derogatory for me. I really didn't pay attention. I've been everywhere in Europe and America but I never really concentrated in my home country. And yes, I will be doing Asia because it's a big community.
"Actually, Apl.de.Ap was in the same plane as me today and it was the first time I talked to him. He said there are good things coming out from Filipinos. We also talked about his Jeepney Records ," recalls Billy.
Apl.de.Ap—Allan Pineda Lindo in real life—is a Film-Am hip-hop artist who is considered the first Filipino to win a Grammy Award, being a member of the Black Eyed Peas.
After wowing the crowd with his groovy moves, Billy sits down with the local press and shows off the colorful tattoos adorning his arms.
"My first tattoo was [when I was] twenty-one. It was a gecko. Dito lang [sa right arm]. That was my first," he recounts. Billy then points to the one on his left arm, which is a map of the Philippines superimposed over a sun and surrounded by Alibata characters. The multi-talented star explains that the Alibata characters mean "Isang buhay, maraming pangarap."
ADVERTISEMENT - CONTINUE READING BELOW
Billy seems to be already reaching his many dreams at the young age of twenty-five.