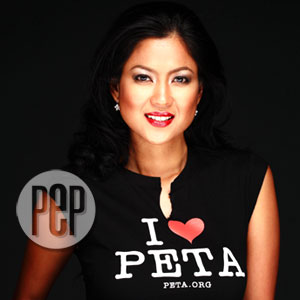 ---
Sexy actress Alicia Mayer is reportedly leading the World's Sexiest Vegetarian poll conducted by People for the Ethical Treatment of Animals or PETA.
The said annual contest was launched through www.peta.org and sponsored by PETA US to raise even more awareness on animals rights around the globe.
Interestingly, Alicia is slugging it out with well-known personalities, like Corey Wills, as well as with fellow Filipino celebrities Isabel Roces, Chin Chin Gutierrez, and Yasmien Kurdi.
The winner of the PETA contest will join other notable past winners—Carrie Underwood, Chris Martin, Andre 3000, Prince, Alicia Silverstone, Tobey Maguire, Shania Twain, Kristen Bell, and Natalie Portman.
Alicia, who previously played Sussy in the now-defunct comedy sitcom, Lagot Ka... Isusumbong Kita, decided to be a vegetarian after viewing some video footages of factory farms on PETA's website. She also admitted having a soft spot when it comes to animals.
"When you look at the more than 200 gorgeous celebrities in this year's poll, there are no bones about it—a vegetarian diet makes you beautiful inside and out," comments Jason Baker, PETA's Asia Pacific Director.
"After all, going vegetarian is the best thing that you can do for animals, the earth and yourself. Plus, everyone knows that there's nothing sexier than someone who exudes both passion and compassion," he adds.
To view the complete list of the vegetarian celebrities vying for the prestigious title, one can visit www.peta.org. The winner will be announced around late June.
Click MORE PICTURES to see photos of the PETA advocates.
ADVERTISEMENT - CONTINUE READING BELOW