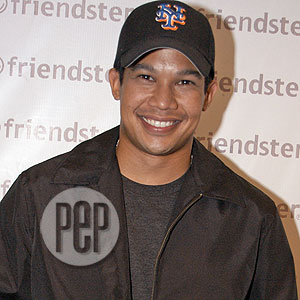 ---
"The past year, I've gone from generally being known as a nice person to just feared by a lot of people in the industry kasi they associate career suicide with me. That's a misconception that I hope to change in year two [of Good Times]," said Mo Twister about the first anniversary of his Magic 89.9 show Good Times.
Mo Twister, together with co-host Mojo Jojo, received a lot of flack the past year from some celebrities and entertainment reporters. The reason: the show's celebrity challenge segment "Forbidden Questions," which aimed to provoke more questions. Mo's list of foes include Cristy Fermin and Jobert Sucaldito .
He explained, "The game was an accident, how it came about... It has come to a point where celebrities, when they come up to me, they either say great job or nag-iiwas sila. When they see me, 'Oh no!' then they go away... It's gotten so much attention. If they would just sit down and talk to me for two minutes, they'll realize that it's really harmless. At least, I am harmless. I don't know about the media outside..."
Mo promises more gimmicks for the listeners on their second year on air.
"I'd really like to give more prizes. I think we already give the best prizes on radio, but I want to take it to another level. I want to give prizes in the hundreds of thousands. Before, giving an iPod everyday was unheard of. They're like, 'No way! It's impossible kasi sobrang expensive.' Now I want to give away laptops! Hopefully that will happen next season, parang more prizes for the listeners," announced the controversial DJ.
ADVERTISEMENT - CONTINUE READING BELOW
He added, "In terms of Good Times, we're only as good as what's available out there. If a celebrity is available, then you know... The genius of the show is not me, it's to have somebody there [on the hot seat]. Once somebody is there, then we can really shine. The hard part is getting [celebrities]. Hopefully, we can consistently do that."
Mo admits that there are times that he found it hard to book guests, but he somehow managed to have someone on the hot seat when airing time came.
"In the past year, we've only had people not show up, I think, once or twice. I think we failed to book a guest like once or twice. If you think about the 52 weeks we've been on air, we [didn't do] 'Forbidden Questions' four times because we couldn't find anybody. That's a pretty good success rate, 48 out of 52. The other times na walang guest is because I'm out of town," he said.
He noted, "It gets harder and harder as days go by kasi 'yon nga people are more and more scared... I like getting celebrities that are not as popular anymore because they have less to be scared of. Some people always ridicule us, 'Why do you always get has-beens or laos celebrities?' If you look back at the transcripts, the biggest stars sometimes were the most boring. The ones that are popular but not popular right now, those are the best ones.
"If we're talking about entertainment value, I don't think people should be choosy on who's gonna guest. Just enjoy the ride. If you don't like it, then you can always turn off the radio."
ADVERTISEMENT - CONTINUE READING BELOW
MO TOWN. Aside from being a DJ on a popular radio show and hosting stints on TV, Mo plans to invade the Internet next. Starting next week, he will be PEP's newest celebrity blogger.
"I'm excited! I think my mind is so much on radio... Sometimes when I say it, you can never hear it [again] because you weren't listening at that time. I might have said something that made a lot of sense, even ako hindi ko na maalala minsan mga sinasabi ko. What's great about a blog is it's timeless. It's there. You can always go back to it," he said.
Mo sees his blog, to be titled Mo Town, as an opportunity to connect with his audience.
He explained, "In radio, you have to get through the phone if you want to interact with me. Ang hirap, minsan there are so many people. At least with this blog, I can get the comments. Everybody gets to comment. I'll pick which ones are interesting enough to respond to. I'm interested in responding to what people have to say and of course, the worldwide reach of the Internet is really exciting. I'm really excited!"