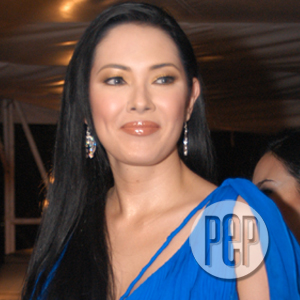 ---
Controversial actress Ruffa Gutierrez is still a few weeks away from officially co-hosting ABS-CBN's showbiz talk show, The Buzz. But being the subject of a major issue herself, Ruffa had no choice but to take the hot seat and answer, perhaps for the last time, all the controversies that continue to hound her ill-fated marriage with Turkish businessman Yilmaz Bektas.
Throughout the interview, there was an intense hush inside the studio, a tense atmosphere that breathed anxious anticipation. When The Buzz co-host Boy Abunda finally came to dwell on Ruffa's rumored Las Vegas wedding on January 19, 1999, to a certain Richard Daloia, the silence became even more palpable.
"When you're young, you do a lot of crazy things. You're impulsive... you're in love." Ruffa repeated the same line she gave to Startalk's Butch Francisco during a phone-patch interview the day before, June 9.
So, was there really a wedding that happened? Abunda frankly probed.
"Naging boyfriend ko siya and, yeah, nagpakasal kami sa Vegas. So what? People do that all the time," she revealed before a stunned audience.
Ruffa also added that Richard Daloia was the person Annabelle referred to as PG (patay-gutom). Ruffa's mother was not in favor of their relationship.
Ruffa disputed the picture of a Richard Daloia that appeared on the front page of the Philippine Daily Inquirer. It was reportedly sent by a reader whose daughter accessed Daloia's myspace.com account. The photo shows a tuxedo-wearing man who's currently 47 years old, according to his profile. Ruffa insisted that she and the Richard she married were still both in their 20s when they tied the knot.
ADVERTISEMENT - CONTINUE READING BELOW
"Richard was 20 and I'm 23. So that makes him 29 today," said Ruffa. But Ruffa must have miscalculated their age when they got married, if it was true that the wedding happened on January 18, 1999. According to Ruffa's biodata, she was born on June 24, 1974, which means she was about to turn 25 years old when she married Richard.
"You got the name right, pero hindi siya 'yon," she told Inquirer. "Lahat ng naging boyfriends ko, they're all young and handsome."
Her parents, as Ruffa said, did not know about the wedding, so she was basically on her own when she filed for divorce—that was year 2000. She admitted that one of her purposes on going back to Las Vegas last month was to do the necessary follow-up.
"Alam ni Yilmaz lahat. I told him everything the first month we met. But this guy [Richard] was not the reason kung ba't kami naghiwalay. Naghiwalay kami dahil binubugbog niya ko and that's very clear."