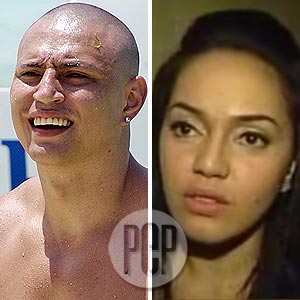 ---
Former cager Alex Crisano bluntly chastised ex-flame, comedienne Ethel Booba, for allegedly acting inappropriately and consequently coloring her "pasaway" image even more.
"The people don't want the way she acts," Alex told Showbiz Central in a taped interview aired yesterday, June 24.
Alex then went on by saying that if Ethel demands respect from the public, she must take the initiative first by respecting herself.
The burly ball player, who himself figured in a lot of controversies during his time with Ethel, is currently being linked to Baywalk Bodies member Palmolive Palma.
"I know Palmolive," admitted Alex nonchalantly. "We do go out. She's a good person."
Palmolive, in a separate interview, confirmed that she and Alex are dating. She failed to mention though if they're going out exclusively and how frequently they see each other.
The two met in a bar where they chatted while having a few drinks. Palmolive narrated that they capped their first meeting by exchanging numbers, which later on developed into real friendship.
"Sweet naman siya," is how Palmolive describes Alex.
Sitting in as a studio guest at Showbiz Central, Ethel watched the entire Alex-Palmolive feature through a large TV monitor.
Not to be outdone, Ethel likewise answered questions, particularly on her rumored budding romance with stage actor Janvier Daily.
"Bata pa siya," Ethel said. But she admitted that they're dating.
Janvier, in an interview, seconded Ethel's claim that they're constantly seeing each other.
"Lalaki lang naman ako," he vaguely replied on his relationship with the controversial comedienne.
ADVERTISEMENT - CONTINUE READING BELOW
With regard to Alex's take on Ethel's continuing notoriety—the most recent incident happened last June 18 at Decades Bar in Quezon City where Ethel got involved in a fracas with two women—the comedienne defended herself by saying: "Nagkakataon lang. Binastos naman kasi ako kesyo sinasabi na iba na naman daw ang lalaking kasama ko."
Despite all the troubles, Ethel claims that she's happy being single—at least for the moment.
"Masaya ako kasi single ako," she said flamboyantly.


But it's also obvious that she's inspired and perhaps in love, most probably because of Janvier, who was with her during the Decades Bar incident.
"I'm blooming now dahil sa bagong churva na nagpapaganda sa akin ngayon."