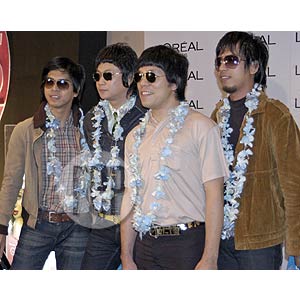 ---
Barely a week after it was confirmed that singer-songwriter Rico Blanco indeed left Rivermaya, another popular band reportedly found itself without a frontman, or at least, one of its frontmen.
Last June 26 at the Hard Rock Café during the Sony BMG Rock to Save a Life event, some music insiders were heard discussing the future of Orange & Lemons, particularly regarding the news that one of its vocalists, Clem Castro, bailed out and will pursue a solo career.
The band, which made waves two years ago, had just released its sophomore effort under a major label.
"They were still intact when they did the album. But because of what happened, well reportedly, the band will have to promote the album with a depleted lineup or perhaps with a new member," said one insider who requested anonymity.
According to those in the know, everything is still indefinite, though the buzz is starting to get louder among other bands and their managers. Some record executives and personnel were also starting to be aware of the rumor as of June 26.
Orange & Lemons made a name in the middle of 2005 through their somewhat retro fashion sense and their sound, which was obviously influenced by The Beatles, mixed with '80s music.
The band's momentum stalled considerably when they figured in a controversy. They were accused of ripping off the melody of an obscure new wave song for a popular reality TV show—"Pinoy Ako" for Pinoy Big Brother, which had commissioned them to write its theme song. Orange & Lemons denied allegations of direct infringement and plagiarism.
Orange & Lemons is composed of Clem Castro (vocals/electric guitar), Mcoy Fundales (vocals/bass guitar), JM del Mundo (bass), and Ace del Mundo (drums).
Other songs popularized by Orange & Lemons were "Hanggang Kailan," "Just like a Splendid Love Song," "Abot Kamay," and "Heaven Knows (Angel Has Flown)," among others.
ADVERTISEMENT - CONTINUE READING BELOW