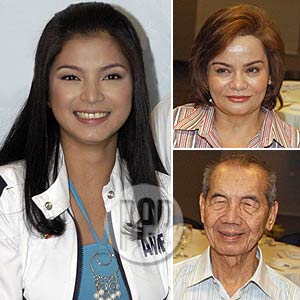 ---
"As soon as Angel gets back,we're signing," announced Becky Aguila, Angel Locsin's manager, lastFriday, August 3, in a press conference held at ABS-CBN's Training Room.
"It's official. Angel's movefrom GMA-7 to ABS-CBN is no longer just a mere option. "That was adecision that we have already made," said Becky.
AN ANGEL IS BORN. Angel's father, Angel Colmenares, narrated,"I was the one who suggested [her screen name] because her name isAngelica Colmenares. When we signed a contract with Becky, she was a minorthen, I was the one who signed it. We thought of a name, a screen name for her.Since my mother was a Locsin-Montelibano, we decided to give her the screenname 'Angel Locsin' because 'Angelica Colmenares' is too long."
The name stuck. Soon enough, Angelstarted appearing in the youth-oriented show Click. Becky had anagreement with Artist Center—the talent management arm of GMA-7 headed by YdaHenares—to co-manage the budding young actress.
Becky explained, "We had aregular show that time, Click. Kinausap ako ni Miss Gigi Santiago na,'Tatlo ang talents mo diyan, si Karen delos Reyes, Diane Delfin, Angel Locsin.Nag-i-start pa lang si Miss Yda, suportahan mo naman. Para magka-suportahankayo, bigay mo 'yong tatlo. Mag-co-manage kayo.'
"I said yes kasi kung ano angmai-improve sa mga alaga ko at mapapangalagaan at dalawa kamingmagkakatulungan, wala namang problema doon."
Indeed the relationship wasbeneficial for both parties. Angel was given the top projects—Mulawin,Darna, Majika, and Asian Treasures—and GMA-7 had a certified star.
"Wala naman kaming problema samga projects kasi talaga namang overwhelming ang suporta nila [GMA-7] kayAngel. And we truly appreciate that. Maraming artista ang gustong malagay saposisyon ni Angel dahil lahat naman ng magagandang show, 'yong big-budgetedshow, sa kanya napupunta. And we really appreciate Artist Center and Ma'amWilma for prioritizing Angel sa big-time soaps nila," admitted Becky.
ADVERTISEMENT - CONTINUE READING BELOW
SHOWBIZ ADOBO. What seemed to be a symbiotic relationshipturned sour somewhere along the way. Artist Center handled Angel's schedule, aschedule that Becky opposed.
Becky explained, "Di ba,nagkaroon kami ng gap ni Angel for almost two years? I'm the one who took overwith Artist Center, so kung ano ang latag ng schedule sa bata, 'yon angsinusundan namin.
"Iyon [schedule] talaga that'sthe number one concern ni Daddy, being the father, and Angel naman, being thedaughter, they want to spend time. May edad na si Daddy. Gusto ni Angel overthe weekend, makapag-bonding silang mag-ama at magkaroon sila ng mas magandangrelationship na magkakapatid because there's Angelo and Ella. Aside from that,gusto niyang magkaroon ng time for herself aside from what she is doing.
"Di ba, kahit naman sino, pagbigyan mo ng adobo from Monday to Sunday nagsasawa ka?"
Becky added that Angel is alsoventuring into business. Angel is teaming up with a group of youngentrepreneurs in putting up her very own sportswear line called Angel Active.This was mainly why Angel took up a short course in fashion design at theLondon School of Fashion.
"Angel is already 22,"Becky said. "She is a high school graduate. Angel's dad and I, wediscussed this a long time ago that she needs to move on, get an education.There was this opportunity for a business, a sportswear business, which wethought will be good for Angel."
"When she comes home from hertwo weeks [sic] course fashion designing, she's going to take up businessentrepreneurship. This is also in line with her business.
"May na-chismis na mayroon dawsiyang financier or boyfriend na ang pangalan ay Joel Tan. I already asked anapology doon sa father niya, si Lucio Tan. Hindi naman po totoo iyon. Andthere's no Joel Tan here, Joel Santos [mayroon].
"Actually, si Angel, hindi paniya gaano kilala nang lubusan ang business partners niya dahil nga saaraw-araw na pagtratrabaho niya, I was the one who was really negotiating withthese guys. Si Joel Santos kasi is identified with Vivian Tan. Vivian Tan is abusiness partner of East Asia Entrepreneurship na sa anak ni Lucio Tan. Soakala niya, Joey Tan and Lucio Tan pareho iyon."
ADVERTISEMENT - CONTINUE READING BELOW
DEAL OR NO DEAL. Angel's contract stipulated a five-yearco-management deal with Artist Center, which expired on March 31, 2007. Priorto the expiry of the contract, GMA-7's Senior Vice President Wilma Galvantepresented an offer to Angel to renew the said contract.
Becky recounted: "Before March31, pinatawag ng management si Angel prior to her departure to Bangkok. I thinkthat was around March 13. Nilapit sa kanya 'yong panibagong kontrata...
"Kinausap siya [ni Wilma] andAngel was being asked to sign, but Angel said, 'Tita, kausapin ninyo muna siTita Becky.' So when Angel got back, she told me and Daddy, 'May pinapapirmahanna kontrata, but I didn't sign kasi I really wanted you to take a look at it.'
"Nag-set-up sila ng appointmentfor me. Ako naman because I was also busy with Angels at that timenagkita kami ni Ma'am Wilma March 27, a few days before the expiration of thecontract, and diniscuss niya sa akin 'yong contents ng contract.
"There were some concernsregarding the renewal and I told her that I'll bring it home first and show itto my lawyer and show it to Angel's father—for Angel's father to check withtheir lawyer as well. Sabi niya, 'Pag okay na, balik mo na lang iyan dito.'
"During our conversation,nag-pop-out 'yong question ko, 'Can we no longer renew with Artist Center.'Kasi that was our outmost concern, e. Sabi niya at that time, 'Hindi, kasi siAngel, we created Angel. Angel is an Artist Center baby so you have to renewwith us.'
"[Sabi ko] 'Is there apossibility that we can have a similar contract as Richard?' But I didn'tspecify about talent fee. And she said, 'No, kasi iba naman ang kaso niRichard. Kasi Richard is not really from this station, but Angel started withthis station.'
"So I did ask Ma'am Wilma kungpuwede bang, let's say, ayusin ang schedule, kung puwede ba kaming magkaroon ngregular taping schedule, 'yong masusunod na this time. Sabi niya, 'She can gonaman to school, provided na she will bring naman her assignments and then justdo her homework either sa taping or kung ano 'yong available day na puwedesiya.'
ADVERTISEMENT - CONTINUE READING BELOW
"The most important part therewas that parang hindi siya sure kung four or three... Hindi niya mai-commit saamin kung ano ang regular taping days ni Angel.
"I brought it home anddiscussed it with Angel's dad and Ella. I made Ella read the contents of thecontract. We all decided na 'wag na lang munang pumirma sa Artist Center.
"A few weeks later, natapos naang contract, dumaan na ang March 31. Naging very busy na ako [sa Angels]dahil first venture ko iyon. I was working on Angels as P.A. [productionassistant], as overall, supervising the movie. It was very important for me natumutok. So hindi ko agad nabalikan si Ma'am Wilma. We were actually preparinga letter for her para to inform her na we are not signing the contract becausenga we don't agree with the co-manage anymore."
Becky clarified that the decisionnot to renew the co-management contract was not because she wanted thecommission for herself.
"Hindi naman dahil gusto koma-solo ang kumisyon. That's very unfair on my part. I've been sharing mycommission from day one," she argued.
She explained the co-managementdeal, "In the past, pag regular show, manager lang ang kumukuha. Kumukuhalang sila [Artist Center] sa guesting, 12.5 percent for them and 12.5 percentfor me, or kahit sinong involved sa Artist Center.
"Recently naglabas sila, Ithink that was last year, June, ng memo na effective that June, kukuha na silang 12.5 percent, so wala nang 20 percent ang manager or whatever is stipulatedin a manager's contract doon sa talent na nasa Artist Center. So naghahati natalaga, mainly because sila daw ang nagbibigay ng mga projects so entitled nasilang kumuha ng porsiyento. Kumbaga sa kanila galing iyong project, e. All theendorsements of Angel, they got 12.5 percent. Naghahati kami."
The contract expired, but stillthere was no word from Angel's camp. Yda Henares of Artist Center calledBecky's attention.
"Yda called me, 'Beck, what'shappening? Bakit hindi mo binabalikan si Ma'am Wilma? She's waiting. You bettertell her kung ano ang desisyon niyo.'
ADVERTISEMENT - CONTINUE READING BELOW
And I did tell her na I'm preparinga letter pa for [Ma'am Wilma] and I will advise her na we are no longer signingup with Artist Center. Pero kako, 'Yda, kahit na anong pumasok, like 'yong sacommercials, tuloy pa rin tayo. Basta we will honor all the contracts that areexisting at kung mag-renew pa 'yong endorsement na iyon, sige-sige pa rin.Tuluy-tuloy pa rin ang endorsement namin.'
Sabi niya, 'Why don't you call herand talk to her [Wilma] na lang?'
"And Redgie Magno [GMA-7production manager] also called me and I did tell her about my decision, ourdecision, that we are no longer signing with Artist Center. So after a fewweeks, kinatok ulit ako ni Redgie, 'Kamusta ka na? Why haven't you seen Ma'amWilma? Kung ano man ang pinaplano mo, sabihin mo na sa kaniya...' I think thatwas around May na.
"Nasabi ko, 'O sige, I'll setup an appointment.' Sabi niya, 'Whatever you have in mind, you better tell herkasi you're making her wait.' Sabi ko, 'It's not my intention to make her wait.It's just that hindi ko pa natatapos 'yong letter.'
"Hindi pa namin matapos-tapos'yon kasi nga we didn't know how to tell her because she's really expecting usto sign with Artist Center and I really didn't want to break Ma'am Wilma'sheart and siyempre doon nga naman nagsimula si Angel.
"Out of utang na loob,naghahati ang emotions namin. Should we or should we not? We were in theprocess of analyzing everything.
"After that, May 10, nag-set-upako ng appointment kay Ma'am Wilma and doon na kami mismo pumunta sa bahayniya, kami ni Daddy. Nakarating na siyempre sa kanya na hindi na kami pipirmawith Artist Center. We did not discuss a new contract dahil nauna ang tanongtungkol sa Marimar. Sabi niya, 'We have a project for Angel. It's Marimar.'"
ADVERTISEMENT - CONTINUE READING BELOW
To be continued...