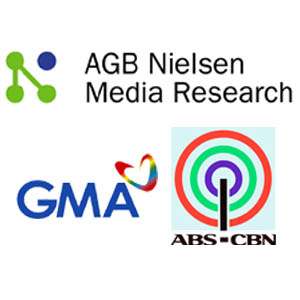 ---
The Holiday season may have affected the ratings of all theprograms, but not even the Temporary Restraining Order (TRO) issued by the Quezon City Regional Trial Court can stop the AGB Nielsen MediaResearch Philippines from releasing the overnight ratings among Mega Manilahouseholds.
As a result, ABS-CBN, who requested the TRO againstAGB, filed a contempt charge against the survey firm last December 26. ButAGB insists that the TRO only covered the Bacolod province, where the allegedtampering of sample households occurred, and not the other parts of thecountry, like Mega Manila.
AGB still released overnight ratings among Mega Manilahouseholds from December 21 to 25.
As mentioned earlier, the Christmas rush took its toll inthe ratings game as the figures obviously dipped, especially on Christmas eve(December 24) and on Christmas day (December 25).
The longest-running noontime show, Eat Bulaga! remainedstrong, topping the daytime race Friday, Saturday, and Monday. Although, Daisy Siete grabbed the number one spot on Christmas day. Meanwhile, GMA-7's musicalvariety show SOP took the lead last Sunday.
ADVERTISEMENT - CONTINUE READING BELOW
In the primetime race, Marimar continues its dominancealthough way below its usual 40-plus ratings. Marimar posted 38.6 percent lastDecember 21, 30.8 percent on Christmas eve, and 35.3 percent on Christmas day.
After just over a month of airing, Princess Sarah had itsfinal episode last Friday, Dec. 21, posting the highest rating of any ABS-CBNshows that day—22 percent. Princess Sarah has been replaced by a Koreanovela,Spring Waltz, which premiered on Christmas day.
Here are the Top 10 daytime and primetime shows fromDecember 21 to 25 based on overnight ratings conducted by AGB NielsenPhilippines among Mega Manila households:
December 21 (Friday)
Daytime:
Eat Bulaga! (GMA-7) - 22.4%
Daisy Siete (GMA-7) - 22.1%
Whammy! Push Your Luck (GMA-7) - 19.4%
Pasan Ko Ang Daigdig (GMA-7) - 18.2%
My Only Love (GMA-7) - 16.3%
Pilipinas, Game KNB? (ABS-CBN) - 15.5%
Takeshi's Castle (GMA-7) - 15.4%
Wowowee (ABS-CBN) - 15.1%
Come Back Soon-Ae (GMA-7) - 14.5%
Kapamilya, Deal Or No Deal (ABS-CBN) - 13.7%
Primetime:
Marimar (GMA-7) - 38.6%
Kamandag (GMA-7) - 35.9%
Zaido (GMA-7) - 31.3%
La Vendetta (GMA-7) - 30.6%
24 Oras (GMA-7) - 27%
Princess Sarah (ABS-CBN) - 22%
Pinoy Big Brother Celebrity Edition (ABS-CBN) - 21.9%
Lastikman (ABS-CBN) - 21.2%
Maalaala Mo Kaya (ABS-CBN) - 20.1%
TV Patrol World (ABS-CBN) - 19.9%
December 22 (Saturday)
Daytime:
Eat Bulaga! (GMA-7) 22%
Pinoy Records (GMA-7) - 19.5%
Wish Ko Lang (GMA-7) / Cinema FPJ (ABS-CBN) - 15.6%
Wowowee (ABS-CBN) - 14.2%
Takeshi's Castle (GMA-7) - 13.6%
StarTalk (GMA-7) - 11.9%
Pilipinas, Game KNB? (ABS-CBN) - 9.9%
Entertainment Live (ABS-CBN) - 9.3%
Primetime:
Kapuso Mo, Jessica Soho (GMA-7) - 30%
Bitoy's Funniest Videos (GMA-7) - 29.5%
Kakasa Ka Ba Sa Grade 5? (GMA-7) - 26.6%
Imbestigador (GMA-7) - 26.5%
Pinoy Big Brother Celebrity Edition (ABS-CBN) - 18.3%
TV Patrol World (ABS-CBN) - 18%
1 vs. 100 (ABS-CBN) - 16.6%
XXX (ABS-CBN) - 14.4%
Nuts Entertainment (GMA-7) - 14.2%
Sine Totoo (GMA-7) - 6.2%
December 23 (Sunday)
Daytime:
SOP (GMA-7) - 13.7%
Takeshi's Castle (GMA-7) - 12.4%
Showbiz Central (GMA-7) - 10.4%
ASAP '07 (ABS-CBN) - 10%
The Buzz (ABS-CBN) - 8.9%
Your Song (ABS-CBN) - 8.6%
Boys Nxt Door (GMA-7) - 8%
Movies In The Making: Resiklo (GMA-7) - 7.9%
Love Spell Presents Cindy-Rella (ABS-CBN) - 7.3%
Ka Pete Na! Totally Outrageous Behavior (ABS-CBN) - 5.3%
Primetime:
Tok! Tok! Tok! Isang Milyon Pasok (GMA-7) - 22.9%
Mel & Joey (GMA-7) - 22.2%
Kap's Amazing Stories (GMA-7) - 22%
All Star K (GMA-7) - 20.3%
Rated K (ABS-CBN) - 16.5%
Ful Haus (GMA-7) - 16.4%
Goin' Bulilit (ABS-CBN) - 15.9%
TV Patrol World (ABS-CBN) - 14.6%
Sharon (ABS-CBN) - 13.5%
Pinoy Big Brother Celebrity Edition (ABS-CBN) - 12.1%
December 24 (Monday)
Daytime:
Eat Bulaga! (GMA-7) - 19.3%
Daisy Siete (GMA-7) - 17.7%
Pasan Ko Ang Daigdig (GMA-7) - 16.2%
Whammy! Push Your Luck (GMA-7) / Kapamilya, Deal Or No Deal (ABS-CBN) - 14.5%
Wowowee (ABS-CBN) - 13.9%
Pilipinas, Game KNB? (ABS-CBN) - 13.1%
Takeshi's Castle (GMA-7) - 12.4%
My Only Love (GMA-7) - 11.8%
Come Back Soon-Ae (GMA-7) - 10.1%
Pinoy Movie Hits (ABS-CBN) - 9.7%
Primetime:
Marimar (GMA-7) - 30.8%
Kamandag (GMA-7) - 27.5%
Zaido (GMA-7) - 25.4%
La Vendetta (GMA-7) - 22.4%
TV Patrol World (ABS-CBN) - 19.8%
24 Oras (GMA-7) - 19.6%
Lastikman (ABS-CBN) - 17.9%
Hwang Jini (GMA-7) - 16.9%
Pinoy Big Brother Celebrity Edition (ABS-CBN) - 15.4%
Maging Sino Ka Man (ABS-CBN) - 15.3%
December 25 (Tuesday)
Daytime:
Daisy Siete (GMA-7) - 15.5%
Kapamilya, Deal Or No Deal (ABS-CBN) - 14.8%
Whammy! Push Your Luck (GMA-7) - 14.5%

Pilipinas, Game KNB? (ABS-CBN) - 14%
Wowowee (ABS-CBN) - 13.7%
Pasan Ko Ang Daigdig (GMA-7) - 13.2%
Eat Bulaga! (GMA-7) - 12.9%
Takeshi's Castle (GMA-7) - 10.1%
My Only Love (GMA-7) - 9%
SiS - 8.8%
Primetime:
Marimar (GMA-7) - 35.3%
Kamandag (GMA-7) - 30.9%
Zaido (GMA-7) - 26.4%
La Vendetta (GMA-7) - 24.9%
24 Oras (GMA-7) - 21.3%
TV Patrol World (ABS-CBN) - 20.2%
Lastikman (ABS-CBN) - 17.6%
Maging Sino Ka Man (ABS-CBN) - 17.4%
Hwang Jini (GMA-7) - 17%
Pinoy Big Brother Celebrity Edition (ABS-CBN) - 15.2%
Source: AGB Nielsen Philippines