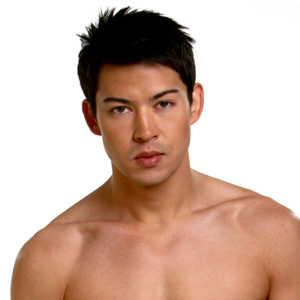 ---
A few days before the Big Night of Pinoy Big BrotherCelebrity Edition 2, one of the five remaining celebrity housemates wassanctioned with forced eviction for trying to sabotage the nomination and eviction process.
Last Saturday,December 29, Big Brother instructed the five housemates—Jon Avila, RubenGonzaga, Will Devaughn, Riza Santos, and Gaby dela Merced—to choose the personwhom they felt was the least deserving to be part of the Big Four. All thehousemates dreaded this task and one by one, they refused to nominate someonebecause they felt that they all deserved to remain and be called the BigFive.
For the second time, Big Brother asked the housemates tochoose the person whom they believe does not deserve to be part of the BigFour. While the housemates were talking, Jon asked them: "Should we boycott?"The English Outcast influencedhis housemates to have a five-way-tie in the nomination for eviction when he said, "Iseveryone thinking what I'm thinking? Five medallions are here, five peoplehere."
This resulted in everyone having a medallion, even thoughthere were those who would have voted differently if they did not agree toconspire with one another. When Big Brother asked Jon about his statement, themodel admitted, "I wanted everyone to nominate each other."
Itis stated in the PBB rulebook that "direct or indirect discussions aboutnominations outside the confession room is strictly forbidden." Because of theseriousness of this offense, Big Brother consulted with Endemol, the worldwideowner of the Big Brother reality show franchise, regarding the matter. BigBrother consultant Anuska Ban pointed out that the nomination process is sacredand no one is allowed to discuss it outside the confession room—which Jonviolated by manipulating the celebrity housemates into voting for a five-waytie result.
ADVERTISEMENT - CONTINUE READING BELOW
During the January 2episode of PBB Primetime Edition, Big Brother himself told the housemates thateven if they are all emotionally bonded to each other, they must not forgetthat they entered into a competition that has rules and has an eliminationprocess that they must go through.
It was thenannounced that Davao comedian Ruben Gonzaga, model-actor Will Devaughn, beautyqueen Riza Santos, and race car driver Gaby dela Merced are included in the BigFour who will compete in the Big Night scheduled this weekend.
The 4th Big Placerwill get P400,000; the 3rd Big Placer P600,000; and the 2nd Big PlacerP1,000,000. Meanwhile, the Big Winner of PBB Celebrity Edition 2 will receive aSony Bravia, a Goodah business franchise package, a condominium unit at ChateauValenzuela, and two-million pesos.
Who will be the Big Winner of Pinoy Big BrotherCelebrity Edition 2? Find out this Saturday, January 5, on ABS-CBN's PrimetimeBida.