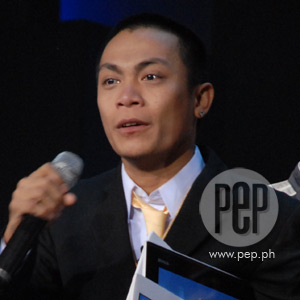 ---

After spending 84 days inside Big Brother's house, Ruben Gonzaga, a comedian from Davao City, was declared the Big Winner in Pinoy Big Brother Celebrity Edition 2. Ruben amassed a total of 506,402 text votes or 32.17 percent of the total votes.
The latest edition of this reality TV show started on October 14, and ended earlier tonight, January 5, at the Araneta Coliseum.
Fil-Canadian beauty queen Riza Santos was named Second Big Placer with 430,135 text votes or 27.33 percent.
Race driver Gaby dela Merced came in Third with 406,892 text votes (25.5 percent) while model turned actor Will Devaughn was Fourth with 230,509 text votes (14.65 perent).
It was supposed to end after 70 days last December 22 but Big Brother announced that he was extending this edition for a few more days, causing his chosen tenants to spend Christmas and New Year inside the closely-monitored house.
This edition is marked by the introduction of innovations such as the 2-in-1 housemates and the inclusion of the show's hosts as houseguests. Two celebrity housemates who are related in one way or another are considered as one unit or HM. Nominations for, text votes for, and eviction of one HM applies to the other as well. For this edition, the 2-in-1 housemates are the brother Baron and Donnie Geisler and 24K girls Marylaine Viernes and Jen Da Silva.
For the first time, there were also housemates who were turned into the Head of Household with special privileges such as automatic nomination for eviction and the use of a special shower inside the PBB house.
ADVERTISEMENT - CONTINUE READING BELOW
This new season also marks the hosting debut of PBB second season winner, Beatriz Saw, who was dubbed as the official Kuyarazzi for PBB updates.
It was reported in PEP (Philippine Entertainment Portal) that Riza Santos's fans were upset with houseguest Mariel Rodriguez after she cursed the Fil-Canadian beauty queen inside Big Brother's house.
The 4th Big Placer received P400,000; the 3rd Big Placer got P600,000; while the 2nd Big Placer was given P1,000,000. However, third Big Placer Gaby was outside of the PBB house for two weeks to attend to a racing seminar in the United States, which is why she only got P150,000 that night.

Big Winner Ruben received a Sony Bravia, a Goodah business franchise package, a condominium unit at Chateau Valenzuela, and P2 million pesos.
Ruben is the first male winner of Pinoy Big Brother, after Nene Tamayo (First Season), Keanna Reeves (Celebrity Edition 1), Kim Chiu (Teen Edition), and Beatriz Saw (Second Season).