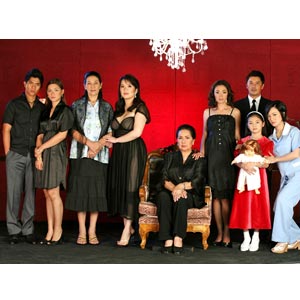 ---
Kris Aquino is once again proving that she really is theQueen of Horror. After her back-to-back box-office success in Star Cinema'sFeng Shui and Sukob, both directed by Chito Roño, Kris's latest horror project,Patayin sa Sindak si Barbara, is also sweeping the ratings game.
Shown nightly on ABS-CBN, Patayin sa Sindak si Barbara has been making its way on top since its premiere last Monday, January 7.
Based on the latest overnight ratings of Taylor NelsonSofres (TNS), the ABS-CBN horror-serye is now the third most-watched primetime showon television. Patayin sa Sindak si Barbara posted a rating of 32.8 percent last Wednesday (Jan. 9) and31.8 percent last night (Jan. 10).
Meanwhile, Marimar, continues its reign as the No. 1 overallprogram while Kamandag is at No. 2.
Eat Bulaga! ruled the daytime slot on Tuesday and Wednesday,but Daisy Siete grabbed the lead Thursday.
PEP (Philippine Entertainment Portal) received overnightratings from AGB Nielsen for Tuesday (Jan. 8) and from TNS for Wednesday andThursday.
Here are the overnight ratings from January 8 to 10conducted by AGB Nielsen (Jan. 8) and TNS (Jan. 9-10) among Mega Manilahouseholds:
January 8 (Tuesday)
Daytime:
Eat Bulaga! (GMA-7) - 20.7%
Daisy Siete (GMA-7) - 20.1%
Whammy! Push Your Luck (GMA-7) - 16.7%
Pasan Ko Ang Daigdig (GMA-7) - 16.4%
Wowowee (ABS-CBN) - 15.8%
Kapamilya, Deal Or No Deal (ABS-CBN) - 15.1%
Pilipinas, Game KNB? (ABS-CBN) - 15%
My Only Love (GMA-7) - 14.1%
Come Back Soon-Ae (GMA-7) - 13.8%
Takeshi's Castle (GMA-7) - 13.1%
Primetime:
Marimar (GMA-7) - 39.6%
Kamandag (GMA-7) - 36.5%
Zaido (GMA-7) - 33.2%
24 Oras (GMA-7) - 31.7%
La Vendetta (GMA-7) - 27.4%
Patayin Sa Sindak Si Barbara (ABS-CBN) - 26.7%
Coffee Prince (GMA-7) - 24.9%
TV Patrol World (ABS-CBN) / Lastikman (ABS-CBN) - 24.5%
Maging Sino Ka Man (ABS-CBN) - 21.2%
Ysabella (ABS-CBN) - 17.9%
Source: AGB Nielsen
January 9 (Wednesday)
Daytime:
Eat Bulaga! (GMA-7) - 19.8%
Whammy! Push Your Luck (GMA-7) - 19.4%
Daisy Siete (GMA-7) - 17.5%
Kapamilya, Deal Or No Deal (ABS-CBN) - 15.2%
Pasan Ko Ang Daigdig (GMA-7) - 15%
Wowowee (ABS-CBN) - 14.9%
Pilipinas, Game KNB? (ABS-CBN) - 14.6%
Takeshi's Castle (GMA-7) / My Only Love (GMA-7) - 12.5%
Pinoy Movie Hits (ABS-CBN) - 11.7%
Come Back Soon-Ae (GMA-7) / Prinsesa Ng Banyera (ABS-CBN) - 10.2%
Primetime:
Marimar (GMA-7) - 37%
Kamandag (GMA-7) - 35.6%
Patayin Sa Sindak Si Barbara (ABS-CBN) - 32.8%
24 Oras (GMA-7) - 31.8%
Zaido (GMA-7) - 31%
Lastikman (ABS-CBN) - 30.1%
La Vendetta (GMA-7) - 27.3%
TV Patrol World (ABS-CBN) - 25.2%
Coffee Prince (GMA-7) - 21.6%
Maging Sino Ka Man (ABS-CBN) - 21.1%
Source: TNS
January 10 (Thursday)
Daytime:
Daisy Siete (GMA-7) - 19.6%
Eat Bulaga! (GMA-7) - 19%
Pasan Ko Ang Daigdig (GMA-7) - 17.9%
Wowowee (ABS-CBN) - 16.7%
Whammy! Push Your Luck (GMA-7) - 16.3%
Kapamilya, Deal Or No Deal (ABS-CBN) - 16%
Pilipinas, Game KNB? (ABS-CBN) - 14.6%
My Only Love (GMA-7) - 14.1%
Takeshi's Castle (GMA-7) - 13.9%
Pinoy Movie Hits (ABS-CBN) - 11.5%
Primetime:
Marimar (GMA-7) - 37.6%
Kamandag (GMA-7) - 32.6%
Patayin Sa Sindak Si Barbara (ABS-CBN) - 31.8%
Lastikman (ABS-CBN) - 30.9%
24 Oras (GMA-7) - 30.1%
Zaido (GMA-7) - 30%
La Vendetta (GMA-7) - 29.9%
TV Patrol World (ABS-CBN) - 25.6%
Coffee Prince (GMA-7) - 22.1%
Maging Sino Ka Man (ABS-CBN) - 21.9%
Source: TNS