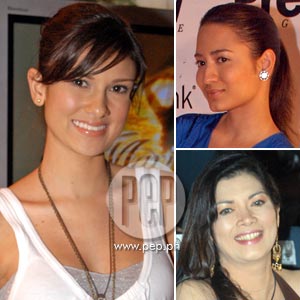 ---

Showbiz Central immediately got Bianca King's reaction on Jean Saburit's allegation that she is a bad influence on Jean's daughter , Nicole Anderson. A dispute between the mother and daughter had escalated to the point where Nicole allegedly attacked Jean physically and ran away from home.
In an interview with The Buzz yesterday, January 13, Jean said that Bianca is a bad influence on her daughter.
Jean said, "Simula nangmabarkada kina Bianca, this was two years ago, nag-argument kami [Nicole]. Tinext ba naman siya ni Bianca, 'You'restupid, b*tch, mom.' And who is she to tell me na b*tch ako? Na stupid ako?"
"Kung talagang kaibigan mosila, bakit ka nila ie-encourage na maglayas? Dapat ine-encourage niya [Bianca] yung anak ko na bumalik sa akin, diba? Na asikasuhin yung pag-aaral saStates?"
Bianca, who was immediately available for comment, denied this in a phone-patch interview with Raymond Gutierrez and John "Sweet" Lapus in Showbiz Central the same afternoon.
"If there's one thing that I am to Nicole," Bianca explained, "is that I have always been the best influence to her since we have become friends and Tita Jean knows that."
Bianca related a story about her recent communication with Jean before Christmas.
"When Nicole arrived from the States, I texted Ttita Jean saying, 'Hi Tita Jean! I miss you! I'm sleeping in your house!' and she replied to me saying, 'Okay! And I liked the way Nicole has been lately. I like that she tells me where she is, and what she's doing. Thank you for guiding her and thank you for being her friend.'"
ADVERTISEMENT - CONTINUE READING BELOW
Bianca also said that when she arrived at Nicole and Jean's house, there was even a gift for her from Jean. Upon hearing this, Raymond asked, "So you've always had good communication with Tita Jean, right?"
"Especially in the past couple of months," answered Bianca. "And especially in the last few weeks that Nicole has been here, that's why it's so strange that it's coming out of nowhere na. Tita Jean just told me a couple of days ago, thanking me for guiding her daughter."
NICOLE'S SIDE. At this point in the interview, Bianca told the Raymond and Sweet that Nicole gave her permission to air Nicole's side in the story.
"Nicole and I just spoke and she gave me permission to share her side," said Bianca. "She's now with her dad, they're out of town, vacationing; they're trying to figure out on what Nicole should do now and the rest of year."
Bianca added, "That claim that Tita Jean said that Nicole kicked her in the stomach? It's not true. Tita Jean already gave the keyword na nilabanan siya, meaning Tita Jean was the one attacking her. Nicole merely pushed her off in self-defense. So she [Jean] herself said it the first time na nilabanan siya ni Nicole. Nicole has never, ever fought back."
Raymond, one of Nicole and Bianca's close friends, also spoke. He commented how negative the issue was and he pointed out that Nicole is a very positive girl, jolly, and academically getting straight A's and B's in school. To end speculations, he said, "Wala po siyang [Nicole] boyfriend, hindi po siya nagtanan, at hindi siya nagda-drugs."
ADVERTISEMENT - CONTINUE READING BELOW
SHOCKING ACCOUNT. John Lapus asked Bianca if there were any suspicions on Jean's part that may have prompted her to confront Nicole, thus starting the argument.
Bianca rebuffed this theory by saying: "No. Actually, ang away na nangyari that night, it was just a petty argument na normal na nangyayari. It was again taken out of proportion. I'm very sorry to say this, and with all due respect to Tita Jean: Everyone knows that she does have a tendency to become violent and verbally abusive sometimes because Nicole is very open about that—to her friends and to the parents of her friends.
"In fact, my Mom even witnessed it one time, like she [Jean] was pulling off Nicole's hair and swearing at her and hitting her in the middle of Robinson's Galleria Mall last year. It was my Mom who was advising Tita Jean that that was not the proper way to get your daughter to be on your side," Bianca narrated.
BIANCA'S EMBARRASSMENT. Bianca, whose voice was now shaking, admitted how hurt her family is when they saw and heard Jean's claim about Bianca being a bad influence. It was just the other way around for Bianca since she always advises Nicole to talk to and get back to Jean's good graces, make peace to her. However, as Bianca would say, "Pero hindi pa rin gumana kasi natatakot siya sa nanay niya."
Bianca narrated, "That night that Nicole called me up to pick her up sa bahay niya, I consulted my parents. That was the proper thing to do. I picked up Nicole and saw cuts and bruises on her, crying, and her mom wasn't even home. If Tita Jean genuinely wanted her daughter under her care, there were many things that she could have done... Come here to our house to have a proper talk with Nicole and pick her up and not do it on a showbiz program.
ADVERTISEMENT - CONTINUE READING BELOW
"Nakakaawa si Nicole because how can Tita Jean expect her to come back to her now? We are educated people and we are a good family and we've always cared about her," stressed the young actress.
At the end of the interview, Bianca suddenly remembered a conversation Nicole told her about her and her mother last Friday. Nicole said that she was ready to come home to Jean this weekend.
"Nag-usap na sila," Bianca revealed. "'Mom, I'm coming home.' Nicole said and Tita Jean answered 'okay.' So, what's happening today? Where is this coming from? Sana lang Tita Jean find it in her heart na to end this today and discuss the matter with Nicole privately."