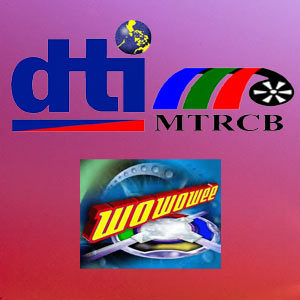 ---
The Department of Trade and Industry(DTI) committee said that the investigation on the "Wilyonaryo" incident last August20, 2007 is still ongoing. Nevertheless, further investigation onthe rules and mechanics of the "Wilyonaryo" segment may find ABS-CBN liable for aConsumer Act violation since the DTI fact-finding committee found "probablecause" to charge ABS-CBN of administrative charges.
The DTIcommittee made it clear that the filing of administrative charges againstABS-CBN is for the possible violation of the Consumer Act and notbecause of alleged cheating.
The committee also said that Wowoweehost Wille Revillame may be called to a hearing if the prosecution wishes to do so.
As a precaution to futureindiscretions, the DTI recommended that all TV game shows first secure a permitfrom the agency for all their game segments. ABS-CBN, however, contested this bysaying that no DTI permits are necessary since game-show segments are notsales and promotional activities.
Also, ABS-CBN has already denied anyallegation that they attempted to rig the results of "Wilyonaryo" andreported that the "cheating" was merely a design flaw in the props used duringthe incident. The segment was already scrapped from the show after thiscontroversy erupted.
Meanwhile, the Movie Television Review and Classification Board (MTRCB) has decided to file administrativecharges against ABS-CBN since, according to them, "Wilyonaryo" showed irregularities.
MTRCB chairperson Consoliza Laguardia refused to give the details on thesaid recommendations, though she confirmed that one of them was filingadministrative charges against ABS-CBN. The decision to file charges was basedon DTI's fact-finding committee.
"I think lahat ng panelists naman ay naging fair sa lahat ngnaging decisions nila at sa lahat ng recommendations nila, as far as 'Wilyonaryo' segment of Wowowee is concerned," Laguardia said.
ADVERTISEMENT - CONTINUE READING BELOW
Laguardia then proceeded to remind allgame show hosts to be more careful about what they say since children are watching their shows.
"Be more cautious, be more careful, andbe more sensitive to the contestants and the viewing public para masabi na angmga game shows ay talagang walang halong pandaraya," Laguardia warned.