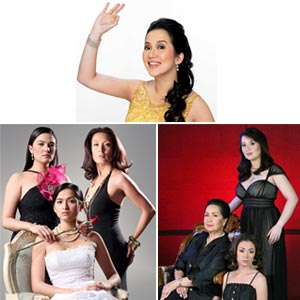 ---
Despite the escalating conflict concerning the ratingscontroversies, AGB Nielsen continues to release overnight ratings among Mega Manila households.
Kris Aquino isproving to be ABS-CBN's top drawer as both of her shows topped the daytime andprimetime slots among Kapamilya programs. Kris's new game show, Wheel ofFortune, premiered last Jan. 14 at No. 4 with 17.2 percent and it moved toNo. 3 the following day, Jan. 15, and held on to it until yesterday, Jan. 17.
Meanwhile, Kris's horror series, Patayin Sa Sindak SiBarbara, is also the best rater among ABS-CBN primetime shows, although it justmanaged to grab the seventh slot behind six GMA-7 shows.
The Kapuso network's very own horror series, La Vendetta, isenjoying its best numbers yet as it comes to an end tonight, Jan. 18. Afteropening the week at No. 5, La Vendetta moved to No. 3 on Tuesday and movedagain to No. 2 on Wednesday and Thursday.
Daisy Siete and Eat Bulaga! alternately took the No. 1 slotin the daytime race. Daisy Siete was on top on Monday and Wednesday while EatBulaga! was No. 1 on Tuesday and Thursday.
Marimar, on the other hand, continues to hold on to itsposition as the No. 1 primetime program.
Here are the Top 10 daytime and primetime programs fromJanuary 14 to 17 based on the overnight ratings conducted by AGB Nielsen amongMega Manila households.
January 14 (Monday)
Daytime:
Daisy Siete (GMA-7) - 24.1%
My Only Love (GMA-7) - 23%
Eat Bulaga! (GMA-7) - 22.6%
Wheel of Fortune (ABS-CBN) - 17.2%
Whammy! Push Your Luck (GMA-7) - 16.3%
Come Back Soon-Ae (GMA-7) - 15.7%
Wowowee (ABS-CBN) - 15%
Takeshi's Castle (GMA-7) - 14.8%
Pilipinas, Game KNB? (ABS-CBN)
SiS (GMA-7) - 10.8%
Primetime:
Marimar (GMA-7) - 36.6%
24 Oras (GMA-7) - 32.7%
Kamandag (GMA-7) - 32.4%
Zaido (GMA-7) - 31%
La Vendetta (GMA-7) - 29.7%
Coffee Prince (GMA-7) - 27.5%
Patayin Sa Sindak Si Barbara (ABS-CBN) - 25.8%
Lastikman (ABS-CBN) - 23.7%
TV Patrol World (ABS-CBN) - 23.4%
Maging Sino Ka Man (ABS-CBN) - 20.9%
January 15 (Tuesday)
Daytime:
Eat Bulaga! (GMA-7) - 21.2%
Daisy Siete (GMA-7) - 20%
Wheel of Fortune (ABS-CBN) - 19.5%
Whammy! Push Your Luck (GMA-7) - 16.3%
My Only Love (GMA-7) - 15.3%
Wowowee (ABS-CBN) - 15.1%
Takeshi's Castle (GMA-7) - 14.5%
Pilipinas, Game KNB? (ABS-CBN) - 13.1%
Come Back Soon-Ae (GMA-7) - 12.1%
SiS (GMA-7) - 11%
Primetime:
Marimar (GMA-7) - 36.3 %
Kamandag (GMA-7) - 32.8%
La Vendetta (GMA-7) - 32.4%
24 Oras (GMA-7) - 31.6%
Zaido (GMA-7) - 30.4%
Coffee Prince (GMA-7) - 29.8%
Patayin Sa Sindak Si Barbara (ABS-CBN) - 28.7%
Lastikman (ABS-CBN) - 27.2%
TV Patrol World (ABS-CBN) - 25%
Maging Sino Ka Man (ABS-CBN) - 22%
January 16 (Wednesday)
Daytime:
Daisy Siete (GMA-7) - 22.8%
Eat Bulaga! (GMA-7) - 20.7%
Wheel of Fortune (ABS-CBN) - 17.5%
My Only Love (GMA-7) - 16.7%
Whammy! Push Your Luck (GMA-7) - 14.6%
Takeshi's Castle (GMA-7) - 14.4%
Wowowee (ABS-CBN) - 14.1%
Pilipinas, Game KNB? (ABS-CBN) - 13.7%
Come Back Soon-Ae (GMA-7) - 12%
Pinoy Movie Hits (ABS-CBN) - 9.8%
Primetime:
Marimar (GMA-7) - 38.1%
La Vendetta (GMA-7) - 34%
Kamandag (GMA-7) - 32.7%
Zaido (GMA-7) - 30.8%
24 Oras (GMA-7) - 29.8%
Coffee Prince (GMA-7) - 28.8%
Patayin Sa Sindak Si Barbara (ABS-CBN) - 27.7%
Lastikman (ABS-CBN) - 25.3%
TV Patrol World (ABS-CBN) - 21.8%
Ysabella (ABS-CBN) - 21.4%
January 17 (Thursday)
Daytime:
Eat Bulaga! (GMA-7) - 22.5%
Daisy Siete (GMA-7) - 21.3%
Wheel of Fortune (ABS-CBN) - 20.5%
My Only Love (GMA-7) - 19.2%
Takeshi's Castle (GMA-7) - 16.3%
Whammy! Push Your Luck (GMA-7) - 15.6%
Pilipinas, Game KNB? (ABS-CBN) - 15.5%
Wowowee (ABS-CBN) - 15%
Come Back Soon-Ae (GMA-7) - 13.4%
SiS (GMA-7) - 12.7%
Primetime:
Marimar (GMA-7) - 38.8%
La Vendetta (GMA-7) - 33.9%
Kamandag (GMA-7) - 30.8%
Coffee Prince (GMA-7) - 29.1%
24 Oras (GMA-7) - 29%
Zaido (GMA-7) - 28.7%
Patayin Sa Sindak Si Barbara (ABS-CBN) - 28.4%
Lastikman (ABS-CBN) - 25.2%
TV Patrol World (ABS-CBN) - 24%
Ysabella (ABS-CBN) - 20.6%
Source: AGB Niselen