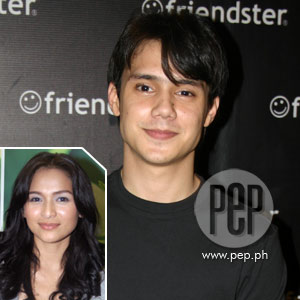 ---
Patrick Garcia is all prepared for the coming of his babywith girlfriend Jennylyn Mercado, who is now almost two months pregnant.
During the launching of the Friendster Fan Profile earlier today, January 23, at the Ascend Bar on Bonicafio High Street, Taguig City, the 26-year-old actor told PEP (Philippine EntertainmentPortal) that he is not only the one who is excited about having a baby, but alsohis parents because the child will be the first "apo" in their family.
This is the same excitement that Mommy Lydia and DaddyRoger, Jennylyn's adoptive parents, are feeling right now. In fact, Patrick said, everybody seems to bepreparing for it.
He added, "I thinkthey're excited din. I think the pressure is on na. They're excited already, I mean, they're all preparing for thebaby."
Although Patrick and Jennylyn are not yet done with shopping for their baby,the expectant dad said that they are already preparing their parents' houses for thebaby. He and Jennylyn still live intheir parents' homes but they already plan to have a separate roomfor the baby.
"Well, of course, with Jenn, maybe have aseparate room. And in my house, yungisang room, I'm having it ready in case the baby is going to stay there, atleast one room is vacant," explained Patrick.

Meanwhile, Patrick admitted that somehow he has learned tostretch his patience with Jennylyn's mood swings, which is normal for pregnantwomen.
Patrick narrated, "May mga moodswings lang siya na minsan inaaway ako nang walang dahilan. It's part of itdaw, so I'm being more patient with her mood swings and I'm trying to give hereverything she wants sometimes."
ADVERTISEMENT - CONTINUE READING BELOW
And to understand more about her girlfriend's pregnancy,Patrick said that he's reading some books to learn how to takecare of Jennylyn.
Patrick said, "Para alam ko yung pinagdadaananniya, let's say, especially this stage, the most important stage sapagbubuntis—the first three months. Dapat hindi siya na-i-istress kasi doon pa lang nade-develop ang mgaorgans, yung brain ng baby, yung ganun."
Less than seven months before the birth of his first-born, can Patrick say that he is now ready to become a father?
"I don't know," Patrick replied. "Hopefully I'll become a good one but, of course, nobody has everprepared to become a father, you know. As they got to it, that's when they learn how to become a father."