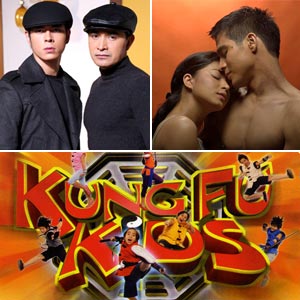 ---
ABS-CBN launched three new primetime programs last night, January 28, to kick off their 55th anniversary celebration. These new programs are Kung Fu Kids, Lobo, and Palos. Although the numbers that these three ABS-CBN programs got based on the overnight ratings of AGB are quite high, they still failed to beat the strong lineup of existing GMA-7 primetime shows.
Among the three shows, Lobo topbilled by the tandem ofPiolo Pascual and Angel Locsin had the best pilot showing with 27.7 percent, which is also the highest overall among ABS-CBN programs last night. Lobo finished at No. 6 while its direct competitor from GMA-7, Kamandag (starring Angel's former screen partner Richard Gutierrez), rated 33.1 percent to grab the second place overall.
The action-packed Kung Fu Kids, headlined by child stars, came up with 26.6 percent on its pilot episode to place seventh overall. Kung Fu Kids went up against Kapuso network's metal hero series Zaido, which crunched 28.9 percent rating to nab the fifth spot.
Finally, the tandem of Cesar Montano and Jake Cuenca in Palos attracted 23.6 percent to take the No. 8 position. Palos had the unfortunate position of going up against the current No. 1 show, Marimar, which stood its ground by posting a 36.8 percent rating to retain its position.
Completing the Top 10 primetime programs were Coffee Prince (31.2 percent) at No. 3; 24 Oras (30.5 percent) at No. 4; TV Patrol World (23 percent) at No. 9; and Kung Ako Ikaw (14.8 percent) at No. 10. Maging Sino Ka Man just missed the winning circle with its 13.3 percent rating.
In the daytime race, Eat Bulaga! and Daisy Siete tied at No. 1 with identical 22.8 percent rating. The new Japanese drama series Hana Yori Dango 2 debuted at second place with 18.7 percent.
ADVERTISEMENT - CONTINUE READING BELOW
Meanwhile, the last episodes of ABS-CBN's Lastikman and Patayin sa Sindak si Barbara last Friday, January 25, also got impressive numbers. Lastikman placed fourth overall with 30.7 percent while Patayin sa Sindak followed at No. 5 with 28.3 percent.
Marimar was still on top with 37 percent with Coffee Prince a far second with 32.3 percent; closely followed by Kamandag with 32.2 percent.
GMA-7's game show, Whammy! Push Your Luck, also had its final episode last Friday. It posted a rating of 15.5 percent to grab the fifth spot in the daytime race, behind Daisy Siete (23.8 percent), Eat Bulaga! (20.5 percent), Maging Akin Ka Lamang (17.4 percent), and My Only Love (15.7 percent).
The TV version of Ai-Ai delas Alas's hit movie, Volta, premiered last Saturday, January 26, with 20.1 percent to grab the second spot in the daytime race behind Eat Bulaga's 26.7 percent.
In the primetime race, Bitoy's Funniest Videos once again ruled the lot with 34.8 percent; followed by Kapuso Mo, Jessica Soho (33.1 percent), Kakasa Ka Ba Sa Grade 5? (26.8 percent); Imbestigador (25.9 percent); and 1 vs. 100 (19.7 percent) to complete the Top 5.
ABS-CBN's primer on their three new primetime programs—Kung Fu Kids, Lobo, and Palos—placed sixth with 17.9 percent.
SOP took the lead among daytime programs last Sunday, January 27 with 18.8 percent. It was followed by the rerun of GMA Films' Lovestruck with 17.9 percent. Showbiz Central ruled the battle of Sunday showbiz talks shows with 15.8 percent to take the third spot versus The Buzz's 11 percent at No. 6.
Finally, the primetime race was won again by Kap's Amazing Stories with 28 percent while Mel & Joey came in second with 27.1 percent.
ADVERTISEMENT - CONTINUE READING BELOW
Here are the Top 10 daytime and primetime programs from January 25-28 based on overnight ratings conducted by AGB Nielsen Philippines among Mega Manila households:
January 25 (Friday)
Daytime:
Daisy Siete (GMA-7) - 23.8%
Eat Bulaga! (gma-7) - 20.5%
Maging Akin Ka Lamang (GMA-7) - 17.4%
My Only Love (GMA-7) - 15.7%
Whammy! Push Your Luck (GMA-7) - 15.5%
Wowowee (ABS-CBN) / Come Back Soon-Ae (GMA-7) - 15.4%
Wheel Of Fortune (ABS-CBN) - 15.1%
Pilipinas, Game KNB? (ABS-CBN) - 13.9%
Takeshi's Castle (GMA-7) - 13%
SiS (GMA-7) - 10.3%
Primetime:
Marimar (GMA-7) - 37%
Coffee Prince (GMA-7) - 32.3%
Kamandag (GMA-7) - 32.2%
Lastikman (ABS-CBN) - 30.7%
Patayin Sa Sindak Si Barbara (ABS-CBN) - 28.3%
Zaido (GMA-7) - 27.2%
24 Oras (GMA-7) - 26.4%
TV Patrol World (ABS-CBN) - 23.8%
Bubble Gang (GMA-7) - 18.3%
Maging Sino Ka Man (ABS-CBN) - 17.5%
January 26 (Saturday)
Daytime:
Eat Bulaga! (GMA-7) - 26.7%
Volta (ABS-CBN) - 20.2%
Wish Ko Lang (GMA-7) - 19.1%
Pinoy Records (GMA-7) - 18.5%
Wowowee (ABS-CBN) - 16.9%
StarTalk (GMA-7) - 14.6%
Takeshi's Castle (GMA-7) - 13.1%
Cinema FPJ (ABS-CBN) - 12.8%
Entertainment Live (ABS-CBN) - 10.8%
Pilipinas, Game KNB? (ABS-CBN) - 9.7%
Primetime:
Bitoy's Funniest Videos (GMA-7) - 34.8%
Kapuso Mo, Jessica Soho (GMA-7) - 33.1%
Kakasa Ka Ba Sa Grade 5? (GMA-7) - 26.8%
Imbestigador (GMA-7) - 25.9%
1 vs. 100 (ABS-CBN) - 19.7%
Primetime Bida Primer: Back To Back To Back (ABS-CBN) - 17.9%
XXX (ABS-CBN) - 17.4%
TV Patrol World (ABS-CBN) - 17.2%
Nuts Entertainment (GMA-7) - 14.3%
Sabado Movie Special: Magkapatid (ABS-CBN) / Sine Totoo (GMA-7) - 8.7%
January 27 (Sunday)
Daytime:
SOP (GMA-7) - 18.8%
Kapuso Sine Special: Lovestruck (GMA-7) - 17.9%
Showbiz Central (GMA-7) - 15.8%
Takeshshi's Castle (GMA-7) - 15.6%
ASAP '08 (ABS-CBN) - 11.5%
The Buzz (ABS-CBN) - 11%
Love Spell (ABS-CBN) - 10.1%
Your Song (ABS-CBN) - 8.2%
Ka Pete Na! Totally Outrageous Behavior (ABS-CBN) - 5.8%
Primetime:
Kap's Amazing Stories (GMA-7) - 28%
Mel & Joey (GMA-7) - 27.1%
Tok! Tok! Tok! Isang Milyon Pasok (GMA-7) - 24.5%
All Star K (GMA-7) - 21.4%
Rated K (ABS-CBN) - 20.3%
Goin' Bulilit (ABS-CBN) - 19.5%
Sharon (ABS-CBN) - 15.5%
Ful Haus (GMA-7) - 15%
TV Patrol World (ABS-CBN) - 14.2%
That's My Doc (ABS-CBN) - 10.9%
January 28 (Monday)
Daytime:
Eat Bulaga! (GMA-7) / Daisy Siete (GMA-7) - 22.8%
Hana Yori Dango 2 (GMA-7) - 18.7%
Takeshi's Castle (GMA-7) - 17.4%
Maging Akin Ka Lamang (GMA-7) - 16.9%
My Only Love (GMA-7) - 16.7%
Come Back Soon-Ae (GMA-7) - 14.7%
Pilipinas, Game KNB? (ABS-CBN) - 14.5%
Wowowee (ABS-CBN) - 14%
Wheel Of Fortune (ABS-CBN) - 13.7%
SiS (GMA-7) - 12.9%
Primetime:
Marimar (GMA-7) - 36.8%
Kamandag (GMA-7) - 33.1%
Coffee Prince (GMA-7) - 31.2%
24 Oras (GMA-7) - 30.5%
Zaido (GMA-7) - 28.9%
Lobo (ABS-CBN) - 27.7%
Kung Fu Kids (ABS-CBN) - 26.6%
Palos (ABS-CBN) - 23.6%
TV Patrol World (ABS-CBN) - 23%
Kung Ako Ikaw (GMA-7) - 14.8%
Source: AGB Nielsen Philippines