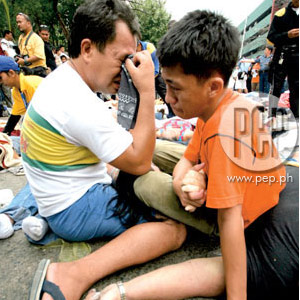 ---
The Second Division of the Supreme Court junked the petition filed by ABS-CBN Corporation questioning the capacity of the Department of Justice (DOJ) to investigate the Wowowee stampede at the Ultra stadium gates in Pasig City on February 4, 2006. The decision was released this morning, January 29.
The complaint filed by ABS-CBN, it questioned the capacity of the DOJ to conduct a simultaneous criminal and preliminary investigation on the case. It also claimed that DOJ Secretary Raul Gonzales had prejudged the case when he said that ABS-CBN was negligent in its duty to oversee the big event, resulting in the stampede. ABS-CBN also stated that there was no complaint affidavit filed against them.
As reported by GMA News, the Supreme Court determined that the DOJ has the power over the incident. The criminal and preliminary investigation was not done at the same time. The National Bureau of Investigation (NBI) did the first criminal investigation separately.
The Court of Appeals already ruled that there were signed affidavits that could become the basis for the case. There was no evidence that Gonzales meddled in the investigation by his statements to media.
The Supreme Court's decision would give way for the continuation of the proceedings, which means charges can now be filed at the lower court against ABS-CBN officials for reckless imprudence resulting in multiple homicide and injury.
The ABS-CBN executives named in the case were Executive Vice President Charo Santos-Concio, Senior Vice President Cory Vidanes, and Business Unit Head Marilou Almaden. Also included in the case were Head of Security Cipriano Luspo and five other staff members of Wowowee. ULTRA and Golden Security Services were included in the complaint.
ADVERTISEMENT - CONTINUE READING BELOW
However, Wowowee host Willie Revillame was not included in the complaint. According to the DOJ, Willie is not liable because he was just the host of the show.
The Supreme Court gave ABS-CBN Corporation 15 days to submit a motion for reconsideration.