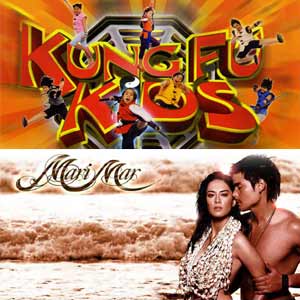 ---
There were no changes in the ranking of the Top 5 primetimeshows from February 4 to 5. All fiveshows came from the very strong lineup of GMA-7's Telebabad block: Marimar,Kamandag, Coffee Prince, Zaido, and 24 Oras.
Aside from being the overall No. 1 show, Marimar continuesto pull away from the competition, especially now that it has regained its40-plus ratings.
Marimar posted its highest rating this week last Wednesdaywith 46 percent. Its rating for the rest of the week are as follows: 40.8 percent(Monday), 45.2 percent (Tuesday), and 45.4 percent (Thursday).
But to date, the soap opera of Marian Rivera and DingdongDantes has yet to reach the 50 percent mark, which the Kapuso Network and the fanshope to reach before the drama series ends in March.
Also consistent in their positions as the second and thirdmost-watched primetime shows are Richard Gutierrez's Kamandag and theKoreanovela Coffee Prince, respectively.
Except for Tuesday, Zaido's hold on the fourth position isalso very firm, while the primetime newscast 24 Oras is untouchable at No. 5.Zaido will end its run tonight, February 8.
Meanwhile, four shows from ABS-CBN and one from GMA-7 areoccupying the sixth to tenth slots.
Although Piolo Pascual and Angel Locsin's Lobo took thesixth slot last Monday, Kung Fu Kids managed to overtake it from Tuesday toThursday. TV Patrol World grabbed the No. 8 position in all nights, except lastTuesday when it dropped to No. 10.
Jake Cuenca and Cesar Montano's Palos, in the meantime, wasalso firm at No. 9 but it was able to climb to No. 8 Wednesday.
The reality show Kung Ako Ikaw took the last spot on Mondayand Tuesday, although it moved to No. 9 on Wednesday.
ADVERTISEMENT - CONTINUE READING BELOW
GMA-7's new horror-drama anthology, E.S.P. starring IzaCalzado, debuted at No. 10 last night, February 7, with 18.6 percent.
In the daytime race, Eat Bulaga! only relinquished its crownonce when Daisy Siete managed to pull ahead last Tuesday.
PEP (Philippine Entertainment Portal) also received AGB Nielsen's ratings in NUTAM (Nationwide Urban TV Audience Measurement), Mega Manila, Metro Manila, and the Suburbs from January 27 to February 2, 2008.
ABS-CBN's Kung Fu Kids ruled the NUTAM, which is based on sample homes all over the country, with 37.1 percent. Lobo came in second with 36.3 percent. Third place went to Marimar with 32.7 percent, followed by TV Patrol World with 31.6 percent and Palos with 29.3 percent.
Marimar, on the other hand, leads in Mega, Metro, and the Suburbs. The GMA-7 drama series averaged 39.9 percent in Mega Manila, 37.3 percent in Metro, and a very high 44.8 percent in the Suburbs.
Here are the Top 10 daytime and primetime programs fromFebruary 4 to 7, based on the overnight ratings conducted by AGB NielsenPhilippines among Mega Manila households:
February 4 (Monday)
Daytime:
Eat Bulaga! (GMA-7) - 20.1%
Daisy Siete (GMA-7) - 19.8%
Takeshi's Castle (GMA-7) - 16.4%
Maging Akin Ka Lamang (GMA-7) - 16%
My Only Love (GMA-7) - 15.8%
Hana Yori Dango 2 (GMA-7) - 15.1%
Wowowee (ABS-CBN) - 14.5%
Come Back Soon-Ae (GMA-7) - 14.3%
Wheel Of Fortune (ABS-CBN) - 14%
Pilipinas, Game KNB? (ABS-CBN) - 13%
Primetime:
Marimar (GMA-7) - 40.8%
Kamandag (GMA-7) - 35.8%
Coffee Prince (GMA-7) - 32.7%
Zaido (GMA-7) - 30.5%
24 Oras (GMA-7) - 28.6%
Lobo (ABS-CBN) - 24.8%
Kung Fu Kids (ABS-CBN) - 24.2%
TV Patrol World (ABS-CBN) - 22.6%
Palos (ABS-CBN) - 19.4%
Kung Ako Ikaw (GMA-7) - 18.2%
February 5 (Tuesday)
Daytime:
Daisy Siete (GMA-7) - 21.8%
Eat Bulaga! (GMA-7) - 21%
Hana Yori Dango 2 (GMA-7) - 16.8%
Wowowee (ABS-CBN) - 16.6%
Takeshi's Castle (GMA-7) - 16.4%
Maging Akin Ka Lamang (GMA-7) - 16.3%
Pilipinas, Game KNB? (ABS-CBN) - 15.5%
Wheel Of Fortune (ABS-CBN) - 13.9%
My Only Love (GMA-7) - 13%
Come Back Soon-Ae (GMA-7) - 12.9%
Primetime:
Marimar (GMA-7) - 45.2%
Kamandag (GMA-7) - 38.4%
Coffee Prince (GMA-7) - 34.1%
24 Oras (GMA-7) - 31.1%
Zaido (GMA-7) - 29.7%
Kung Fu Kids (ABS-CBN) - 24.2%
Lobo (ABS-CBN) - 24.1%
TV Patrol World (ABS-CBN) - 22.5%
Palos (ABS-CBN) - 20.5%
Kung Ako Ikaw (GMA-7) - 19.6%
February 6 (Wednesday)
Daytime:
Eat Bulaga! (GMA-7) - 23.9%
Daisy Siete (GMA-7) - 21.8%
Takeshi's Castle (GMA-7) - 16.2%
Wowowee (ABS-CBN) - 16.1%
Pilipinas, Game KNB? (ABS-CBN) - 15.3%
Maging Akin Ka Lamang (GMA-7) - 14.5%
My Only Love (GMA-7) - 14.2%
Wheel Of Fortune (ABS-CBN) - 13.9%
Come Back Soon-Ae (GMA-7) - 13.8%
SiS (GMA-7) - 12%
Primetime:
Marimar (GMA-7) - 46%
Kamandag (GMA-7) - 36.4%
Coffee Prince (GMA-7) - 35.6%
Zaido (GMA-7) - 32.2%
24 Oras (GMA-7) - 25%
Kung Fu Kids (ABS-CBN) - 23.7%
Lobo (ABS-CBN) - 23.6%
Palos (ABS-CBN) - 20.3%
Kung Ako Ikaw (GMA-7) - 19.4%
TV Patrol World (ABS-CBN) - 19.2%
February 7 (Thursday)
Daytime:
Eat Bulaga! (GMA-7) - 23.6%
Daisy Siete (GMA-7) - 22.5%
Wheel Of Fortune (ABS-CBN) - 17.1%
Takeshi's Castle (GMA-7) - 16.6%
Wowowee (ABS-CBN) - 16.3%
Maging Akin Ka Lamang (GMA-7) - 15.7%
Pilipinas, Game KNB? (ABS-CBN) - 15.5%
My Only Love (GMA-7) - 14.8%
Hana Yori Dango 2 (GMA-7) - 14.6%
Come Back Soon-Ae (GMA-7) - 12.9%
Primetime:
Marimar (GMA-7) - 45.4%
Kamandag (GMA-7) - 36.4%
Coffee Prince (GMA-7) - 34.7%
Zaido (GMA-7) - 32.9%
24 Oras (GMA-7) - 30.1%
Kung Fu Kids (ABS-CBN) - 25.2%
Lobo (ABS-CBN) - 24.6%
TV Patrol World (ABS-CBN) - 24.3%
Palos (ABS-CBN) - 21.3%
E.S.P. (GMA-7) - 18.6%
Source: AGB Nielsen Philippines