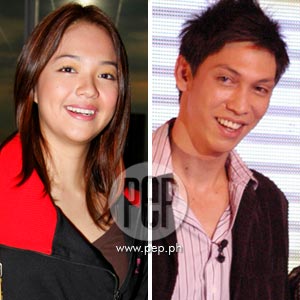 ---
Pinoy Big Brother Celebrity Edition 2 brought together two sports-minded people who became special friends during the show. Race-car driver and FHM cover girl Gaby dela Merced and taekwondo jin Donald Geisler found that special friendship inside the house and rumor has it that the couple have been seeing each other even after their stint in the reality show.
Since then, people have been speculating on the true relationship between Gaby and Donald, the older brother of actor Baron Geisler. Through the exclusive interview of Entertainment Live! earlier today, February 9, fans of the two athletes finally know the real score. EL's sole male co-host Luis Manzano was in charge of this romantically charged interview with Gaby.
"I'm sure ever since lumabas ka ng bahay ni Kuya, e, katakot-takot na offers ang dumating sa iyo—TV, movies, ganyan. Kaunting kwento naman," Luis began.
"Yes," answered Gaby. "Obviously the doors just blew wide open. There are a lot of offers and it's nice that there are a lot of offers. I'm also having a show!"
ADVERTISEMENT - CONTINUE READING BELOW
When asked about what genre the show was going to be, Gaby answered, "It's very family-oriented. I'll keep it a mystery. I can only tell you that it's starting at the end of February or early March."
"Paano na racing mo?" Luis asked.
"It's still going to be there. Yun ang mahal ko talaga," Gaby answered. "I think that this is my world—both entertainment and racing."
Luis smiled, "But, of course, since you said you're in entertainment, e, ito na ang mga intriga talaga—kamusta na kayo ni Donnie? Ano na estado ninyo mula nung PBB?"
"Well, especially during the latter parts sobrang naging close kami ni Donnie," Gaby explained as giggles erupted from the audience. "With the help of Mariel, sobrang naging close kami! Pero, that bond really is more on friendship."
The EL host halted the interview briefly to welcome a new guest. "Ok, but Gaby, I love talking to you but I do want to hear from someone else," Luis said as he tried to keep a straight face. "And he's here...Donnie, please join us!"
ADVERTISEMENT - CONTINUE READING BELOW
The tall, athletic Donald Geisler entered the stage with a bouquet of flowers for Gaby. The fans went wild as he handed the flowers to her and the screams were still resonating when Donnie sat down beside Gaby. Donnie was dubbed the "Good Brother" while Gaby was known as the "Racing Goddess" during their stint inside the PBB house.
Sensing the fans' desire to know the real score between the two, Luis went straight to the point by asking Donald what his plans were for Gaby and himself now that they were considered an item.
"I always find time to text Gaby and, you know, say 'Hi' to her," a nervous but still cool Donald replied. "She's been really busy lang with family—ako rin busy, and you know, basta may time..."
"Napakilala mo na ba si Gaby sa mommy mo?" Luis quickly interrupted.
"No, but I already met her mom," Donald said.
ADVERTISEMENT - CONTINUE READING BELOW
Gaby pointed out, "He—more or less—met the whole family."
The EL host then asked: "Gaano kayo ka-importante sa isa't isa?"
"You know Gaby has been always important," a very nervous Donald answered as the crowd giggled and screamed approvingly. As he mumbled some incoherent words, Luis reached over and laughingly exclaimed, "Relax lang, nanginginig ka!"
With Luis's assurance, Donald continued, "You know, in the house I would do anything for Gaby—up to now. She knows that."
"And Donnie's a sweetheart," concluded Gaby. "Especially nung latter part na yun nga, we really grew a bond and now that we're outside, e, we obviously both have our lives but we make it a point na we both keep in touch."