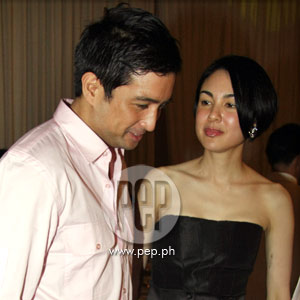 ---
Gretchen Barretto, right before her rift with old friend Nadia Montenegro took place, managed to mend fences with Bobby Yan who had been regarded as a family foe for six years.
A LOOK BACK. The untimely death of Rico Yan on March 29, 2002, drove a sharp wedge between his family and the Barrettos. Official autopsy findings stated acute hemorrhagic pancreatitis as the cause of his death.
Nonetheless, there was also this nagging belief that the young actor's depression over his floundering romance with Claudine Barretto had contributed to his untimely demise. Claudine, who is now married to actor Raymart Santiago, is Gretchen's younger sister.
Although the suicide angle was brushed off even by Rico's immediate family, their coldness towards the Barrettos painted a murky picture. Observers could only surmise that perhaps, Rico's family held Claudine accountable for the tragedy.
LEAVING IT ALL BEHIND. Last Saturday, February 16, and almost six years since Rico's death, Claudine's Ate Gretchen and Rico's Kuya Bobby come face to face.
During Jinggoy Estrada's 45th birthday celebration at the Blue Leaf Events Pavilion in Fort Bonifacio, Taguig City, Bobby Yan and Gretchen Barretto put the bitter past behind them.
PEP (Philippine Entertainment Portal) caught Gretchen and Bobby chatting good-naturedly, exchanging phone numbers, and sharing a toast to end the bitter episode that once shook the lives of their respective families.
"Let's all move on," said Bobby to all the onlookers. Gretchen, who was standing beside Bobby, could only smile and agree.
Time heals all wounds indeed.