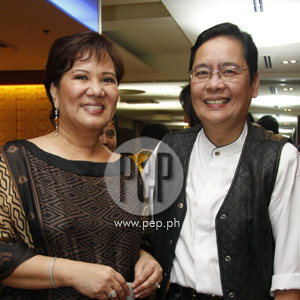 ---
Noranians have reason to celebrate: Their idol is taking the necessary steps to return to the country.
After being away for the past three years and six months, Nora Aunor has just filed for her green card in the U.S. This permanent residence card will allow her to live and work permanently there. And when she gets her card, the Superstar of Philippine cinema will be able to leave the U.S. freely for vacation or work purposes.
In fact, manager Norie Sayo is in the Philippines to facilitate the return of her ward, who will definitely resume her showbiz career.
PEP (Philippine Entertainment Portal) had a talk with Norie during Ms. Wilma Galvante's posh birthday party last night, February 22, at the Imperial Palace Suites in Quezon City. Norie was present during the 56th birthday celebration of GMA-7's senior vice-president for entertainment to oversee the performance of her band Spirit of '67.
ADVERTISEMENT - CONTINUE READING BELOW
She explains that they are waiting for the approval of the Immigration and Naturalization Service (INS) before Nora can finally return to the Philippines, where her legions of fans are waiting. Norie reveals that Nora filed for her green card only last December 2007.
CONTROVERSIES. Despite the fact the Nora is in the U.S., controversiees continued to chase the Superstar. Last year, PEP reported that Nora had married her manager Norie. In the Marriage Inquiry System of Clark County in Las Vegas, there isan entry indicating that she and Nora got married in May 22, 2000.
Norie Sayo finally spoke up regarding her supposed marriage with Nora Aunor. She denied it.
According to her, Massachusetts is the only state that allows same-sex marriage, so it would be impossible for them to get married in Las Vegas. Norie even pointed out that they are staying in separate homes: Nora lives in Los Angeles, while she resides in San Francisco.


After talking to her lawyers, she surmised that someone else applied for this permit, which is why an entry bearing their names was included in the said database.
ADVERTISEMENT - CONTINUE READING BELOW
Norie also clarified that Nora did not spend time in prison and that all her drug tests turned out negative. This is in reaction to the drug charges filed against Ate Guy (Nora's nickname) in 2005 for alleged possession of methamphetamine or shabu. The case was dismissed by the Superior Court of Los Angeles after she completed an 18-month drug rehabilitation program.
When asked about Nora's reaction to these controversial news items about her, she said Nora just laughs it off and they ask themselves, "Saan na naman nanggaling yun?"
Norie also recalled an instance when Nora told her, "May sumulat na uuwi na raw ako, gagawa raw ako ng teleserye, ng movie."
"Paano mangyayari yun, e, wala pa naman akong nakausap? Where is this all coming from? I really don't know," said the perplexed manager.
Does Nora miss the Philippines? Norie paused before answering, "Doon, nakakapaglakad siya. Nagpupunta siya sa grocery...She can do things there that she cannot do here."
ADVERTISEMENT - CONTINUE READING BELOW
When her papers are fixed, will Nora be returning to the Philippines? "Definitely," assured Norie. "I'm here para ihanda ko ang pagbalik niya pero I can't even make preparations kasi paano ako makikipag-usap sa isang producer kung hindi ko pa alam kung kelan ang dating niya? When we get a go-signal from the immigration lawyer na nagha-handle ng papeles namin, saka lang ako kikilos.
"The most logical thing to do is to wait for the advice of the immigration lawyers," ends Norie.