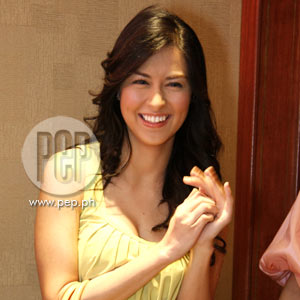 ---
Televisa, a giant network based in Mexico, was reportedly so impressed with Marian Rivera's performance in the local adaptation of Marimar that network heads are offering a scholarship at the Centro de Educacion Artistica.
Televisa owns the rights to Marimar,which was originally popularized by Mexican soap actress Thalia.
StarTalk host and entertainment columnist Butch Francisco reported today, March 11, in his Philippine Star column that the offer was relayed through GMA-7 senior vice president for entertainment Wilma Galvante when she recently paid a visit at Televisa's studios in Mexico. GMA-7 AVP for Entertainment Darling de Jesus accompanied Ms. Galvante, along with GMA Worldwide head Roxanne Barcelona.
During their three-day stay, the Kapuso Network executives learned that Televisa was consistently monitoring the show's progress and was very happy with Marimar's performance in terms of ratings and audience response.
"They are so impressed with the Philippine version that when Televisa sells Marimar to other countries, they use the GMA-7 kit," wrote Butch.
ADVERTISEMENT - CONTINUE READING BELOW
Centro de Educacion Artistica was founded to provide extensive training on acting, voice, dance, and movement. The duration of the course takes three years to finish and the school accepts applicants from Latin American countries every January. As an act of goodwill, the school offers scholarships but only 50 are admitted out of a thousand applicants.
Given Marian's workload and rosy career, the possibility of settling in Mexico for three years is remote. However, the Televisa bigwigs were reportedly willing to grant Marian a three-week crash course to accommodate the young actress's busy schedule.
Another factor that raised the interest of the Televisa bosses was the fact that Marian is "half-Spaniard and speaks the Castillian language fluently." They firmly believe that Marian's acting would improve even more with the right training and education.
So, is GMA-7 ready to let go of Marian, at least for three weeks, to avail of the special scholarship?
ADVERTISEMENT - CONTINUE READING BELOW
Ms. Wilma Galvante's reply, as revealed by Butch, was a cool, "Oh, we will find a window for that."